By Kat J. McAlpine
It took the dedication of three women—Kathleen "Betty" Anderson, Ruth Ernst, and Rosalie Fiske—and their love for science and our natural world to give us the Manomet we know today.
In the fall of 1966, at the property that is now Manomet's Plymouth, Massachusetts, 40-acre headquarters location, a crew of volunteers began putting leg bands on birds to study migration along the East Coast.
After visiting other bird observatories and realizing the potential long-term significance the property could have, Anderson, Fiske, and her husband John approached Ruth Ernst, the property owner at the time, to bequeath her house and land to establish their own environmental research nonprofit. In August 1969, the Manomet Bird Observatory was created with Anderson as its founding director, seven months before the first Earth Day and three years before Title IX, a law intending to protect women from sex discrimination in education, was enacted.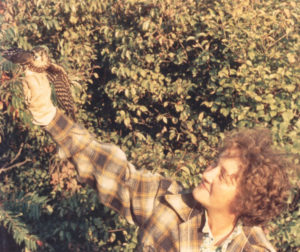 Anderson, who passed away in August 2018, set Manomet up to be a leader in science, as well as a leader in inclusive workplaces. "[Betty] was well-regarded as one of the better-informed natural historians, and for her ability to attract talented people to Manomet and foster a lifelong interest in natural science," says Brian Harrington, who came to work for Anderson as a budding shorebird biologist in 1972.
Since Manomet's beginnings as a bird banding station 53 years ago, the organization has evolved: its science programs and research sites have branched out across the Western Hemisphere, stretching from the Arctic to Patagonia. With its work in shorebird recovery, habitat management, forestry, climate science, aquaculture and fisheries, coastal engineering, and more, Manomet uses science, collaboration with local partners, and coordination across research sites to solve environmental, economic, sustainability, and climate-related challenges facing our world.
MAKING SCIENCE INCLUSIVE
Women have continued to shape Manomet's research and impact. Today, with women making up more than half its staff, the organization is led by Lizzie Schueler, Manomet's president since 2020, who brings to the helm a formidable track record of leading teams and organizations across nonprofit, corporate, and government sectors, and expertise in building and sustaining mission-driven public/private partnerships. Nancy Dempze, a highly-accomplished partner at Hemenway & Barnes law firm, chairs the Board of Trustees. 
Molly Jacobs, Manomet's VP for environmental education and outreach, leads a team developing engaging, hands-on science curricula for K-12 classrooms as well as outdoor learning and fieldwork opportunities for students. She says inclusivity is front of mind when designing content and activities.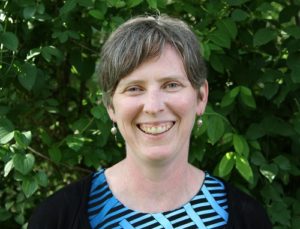 "We try to be very conscious about empowering students to do science themselves, putting students in situations where they can engage with doing fieldwork or observations, rather than just having them raise their hands to offer up ideas or questions," she says. "We also know that having a variety of tasks built into an activity is important, so that within a diverse group of students, each person can contribute to the team from their own unique experience and expertise. In group learning, and in science, a diversity of skills within a team combines and leads to great data collection and results."
Jacobs, who oversees the bird banding program at Manomet Observatory, earned her PhD in biology from University of Washington. "In biology and ecology, things have been changing for a while and there are a lot of amazing women and leaders in the field," she says, recalling that about half of the faculty in her undergraduate program at Swarthmore College were women. 
She adds, however, that in academia, women have not yet trickled up into as many senior faculty and leadership positions as men. For example, in the United States, there are more women in biology and ecology graduate programs than men. But historically, more women than men exit their academic careers after earning PhDs. "We could have a whole separate conversation about the reasons for that," she says.
MENTORSHIP IN THE FIELD
"Role models are really important," Jacobs says. "I love that our bird banding crew is overwhelmingly made up of women, it's really great for young people to see role models of women doing field work."
Jessie Batchelder, Manomet's fisheries project manager based in Brunswick, Maine, couldn't agree more. Throughout her life, she's been surrounded by women in science. Growing up, she was inspired by her mother, who works in the environmental field. That, and a conversation with a high school teacher who encouraged her to delve into chemistry coursework and other hard sciences, propelled Batchelder to pursue a bachelor's degree in environmental science at Colby College. There, she seized internship opportunities that exposed her to even more mentors.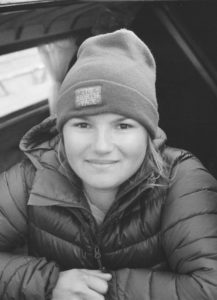 As an intern at the Hurricane Island Center for Science and Leadership, conducting research related to scallop aquaculture, Batchelder worked with women-led science teams, finding herself some lifelong mentors along the way: former director of science and research at Hurricane Island, Caitlin Cleaver, who is now director of the Bates–Morse Mountain Conservation Area and the Bates College Coastal Center; Phoebe Jekielek, lead scientist at Hurricane Island; and Bailey Moritz, who is now an aquaculture program officer at World Wildlife Fund.
It was on dive trips, conducting research with Cleaver, that Batchelder first met Marissa McMahan, Manomet's director of fisheries. "Marissa would help us out on dive days–having that community of women in my early career was important," Batchelder says. "Their support was totally instrumental in keeping me on this path; I've relied on and really value their advice."
Fishing is a male-dominated industry, and Batchelder admired the level of respect that her mentors could command from all the fishers they worked with.
Now, years later and working at Manomet, she is again on a team of women scientists, working alongside McMahan as well as Emily Farr, Manomet's senior fisheries program manager. As part of that team, Batchelder says she is looking forward to doing more work with environmental DNA–sequencing the genes of organic matter captured from environmental samples–to learn about local species and nutrient abundance; developing ecological surveys that look at the health of entire habitats occupied by many diverse species; and expanding their current portfolio of aquaculture research into quahog farming and harvesting.
"It's been important for me to see other women, further along in their careers than mine, in positions that I can envision for myself down the line," she says. 
Part of this story was originally authored by Danielle Smaha.