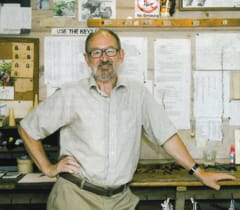 ​Trevor Lloyd-Evans
​Director, Landbird Conservation Program
Project Overview
Spring Migration Banding 2020 – Provisionally Canceled
Due to the COVID-19 pandemic, all Manomet buildings are closed to the public until further notice; this includes the Banding Lab and the net lanes. We do not expect to hold any classes or bird banding visits this spring.
With great reluctance, and after over 50 years of full spring migration monitoring, we very sadly informed seasonal staff and volunteers that the potential risks of COVID-19 infection outweigh the collection of full banding data from all 50 nets at the standardized locations.
What can we do safely while ensuring the health and safety of both our staff and the birds?
According to the Council of the North American Banding Council guidelines created in light of the COVID-19 pandemic, our three full-time banding staff, on separate days of the week, will conduct a complete walking census of the netting area, the Holmes Farm, and a watch of seabirds recorded from our coast.  This will continue during the migration unless the virus conditions and Commonwealth mandates suddenly improve—an unlikely scenario before the end of the spring migration.  We will report these results on our website on a weekly basis and record bird data on e-bird. To stay informed via email, sign up for our newsletter on landbird conservation.
People are detached from nature more than ever before because of our reliance on technology. We are losing touch with the significant effects of climate change in our own back yards. Birds have long been popular and sensitive indicators of environmental change and can help illustrate these wide-ranging changes. At Manomet's Banding Lab, we use science and education to create opportunities that connect people to nature.
Collecting data to benefit research and educate our communities through interactive learning and hands-on training. For more than 50 years, Manomet has maintained a spring and fall migration banding program. Bird Banding is an effective method of research that helps answer important questions in issues from conservation to climate change. Manomet's banding lab, one of the first bird observatories established in North America, focuses on areas including:
Migration: When and where birds arrive can tell us about habitat and food availability. This information can be used to inform habitat management and land use strategies.
Population: With the data we collect in the lab, we can produce estimates on changes in population and notate trends over time.
Life history: Banding contributes valuable information on longevity, habitat, diet, and other physiological trends across species.
Productivity: Banding helps us detect shifts in age or sex ratios that would otherwise go undetected.