From "wow" to straight-up weird, we're breaking down the top bird sightings that caught us by surprise last year
By Alan Kneidel
More than 300 bird species have called Manomet's headquarters in Plymouth, Massachusetts, home over the last century. With recorded observations dating back as early as 1941 from the Ernst family — the property's previous owners before they donated the land in 1969 — you can imagine how many rare and unusual species have taken birdwatchers by surprise over the years. (Including those that made the 2021 Top 10 Birds at Manomet's Headquarters list.)
Manomet's headquarters include a variety of habitats, including freshwater wetlands, a coastal forest, upland meadows, gardens, and an oceanfront bluff overlooking Cape Cod Bay. This abundance of natural resources makes the property an ideal spot for birds to either rest and refuel after a long migratory journey, or even settle down and raise young during the breeding season. For scientists, birdwatchers, and casual naturalists, Manomet's headquarters property is the perfect place to find a broad diversity of birdlife any time of year, from nesting Eastern Bluebirds and Tree Swallows in the spring to Northern Gannets and Kittiwakes in the winter.
In this list, we rank the top six bird records of 2022, gauging their significance by cross-referencing Manomet's eBird database, bird banding lab records, and journal entries from previous staff over the course of Manomet's more-than-50-year history. (Thousands of bird encounters through the decades may not have been recorded for posterity; here, a "first record," for example, refers to the second time a species has been entered into our official files.)
Here are the top six birds observed at Manomet's headquarters in 2022.
Manomet's top 6 birds of the year
Click or tap the link below each bird to view its record on eBird.
6. Wilson's Snipe
Fourth record on April 12, 2022
We had two Wilson's Snipe stop over at Manomet from April 1—12. Several observers saw the two birds over that period along the edge and inside the Bennett and Jewel Bogs closest to Manomet Point Road. This represents the fourth record since 2015 with no prior records. This increase in snipe sightings may be a testament to Manomet's new habitat management strategies that prioritize shallow water during shorebird migration in the property's retired cranberry bogs. These birds were very secretive during their stay, often invisible for hours as they methodically probed for food. All of our recent records except one have occurred between April 8—18.
5. Ruddy Duck
October 31, 2022 — first record since 1950
While not rare regionally, Ruddy Duck is a very local species with a distinct preference for large lakes and sheltered bays. Therefore, much like Lesser Scaup and Common Merganser, this is not a species that we expect to see at Manomet very frequently. This made it particularly thrilling when Lisa Schibley, North American Coordinator for the International Shorebird Survey, sent out a notified the staff at headquarters that she found a raft of 31 Ruddy Ducks at nearby Manomet Point. I took the opportunity to head down to the beach below the office building and climb atop a rock to officially add the species to the property list. This is the first record since November 12, 1950, when Roger and Ruth Ersnt reported two in their journal. The raft slowly floated southeast towards the canal before disappearing, never to be seen again.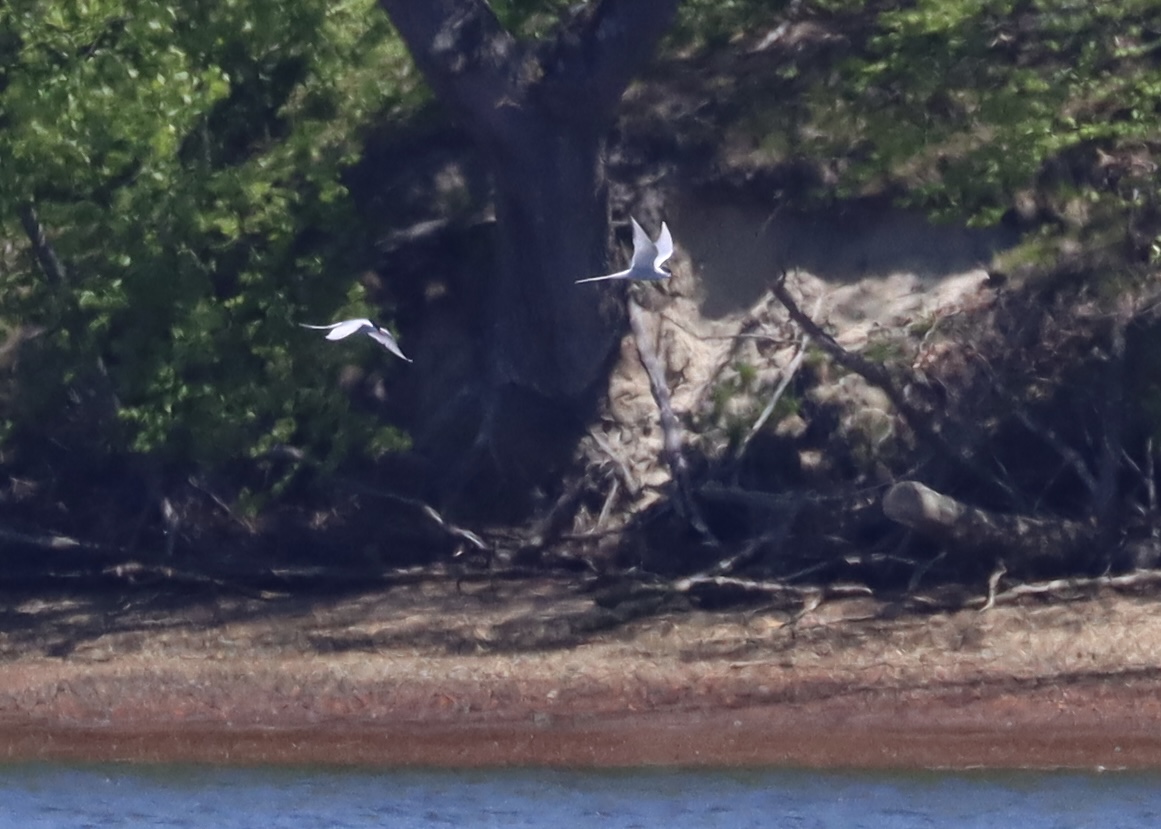 4. Arctic Tern
May 15, 2022 — first record since 2008
Arctic Terns used to be more common around Manomet when they bred on nearby Plymouth Beach. In recent years, however, they have been very tricky to find and are only pushed in from their oceanic migratory route during unusual weather conditions. Such a phenomenon occurred in extreme fashion in 2022, when an unprecedented wave of Arctic Terns were pushed inland over a few-day period in mid-May.
Over these few days, Arctic Terns popped up on dozens of inland lakes and rivers, many of which had never had records before. Manomet was able to get in on the action, with the spring bird banding crew spotting six off the bluff on May 15. Their exciting details can be read in full in their linked eBird checklist.  The "Arctic Tern Invasion" of 2022 is a moment that is going to live on in the minds of birders for several years.
3. Bicknell's Thrush
Third record on October 27, 2022
Bicknell's Thrush was only described as a species in the 1990s, being split from the Gray-cheeked Thrush. Since then, Manomet's banding lab has captured two other Bicknell's on June 5, 2008, and October 21, 2014.
Nearly impossible to do from field markings alone, the most reliable way to tell a Gray-cheeked from a Bicknell's Thrush is the length of their wing feathers, specifically their primary feathers. Manomet Observatory Director Evan Dalton dug into the banding data and noticed that in the over 400 Gray-cheeked Thrushes Manomet's banding lab caught over the past 50+ years, about 40 have a wing chord (length) of less than 93 millimeters (nearing the threshold for Bicknell's). It is likely that some of those birds represent Bicknell's but hard to say for sure.
Some fun notes from the banding lab for how the 2022 Bicknell's identification was confirmed: "Thrush narrowed down to GCTH/BITH by wing emarginations and coloration. Separation between GCTH/BITH done with the use of wing length (88mm), tail length, PP COVS – P10, P8 – P6, P8 – P1. Color of legs and amount of dark coloration on the lower mandible were also useful."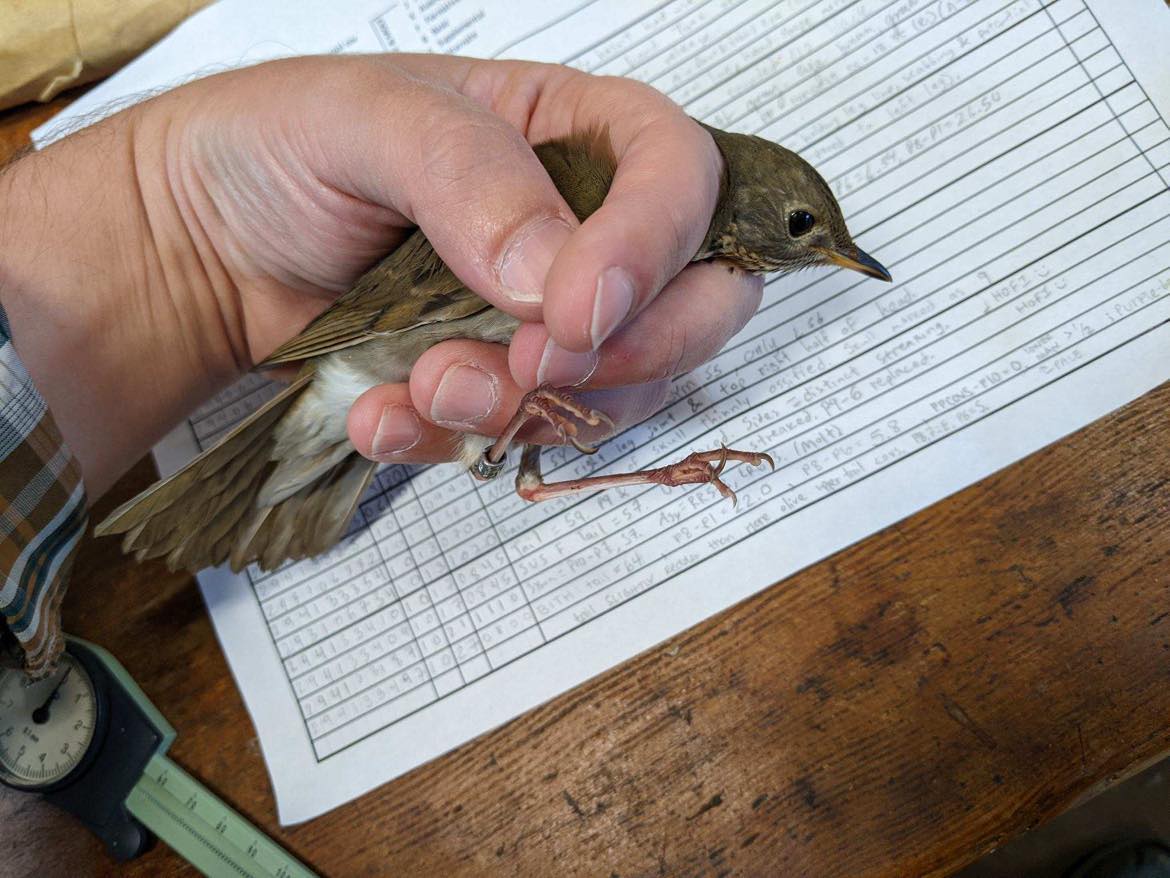 2. Cave Swallow
Second record on November 7, 2022
Swallows are not a common sight in November in Massachusetts, with only Tree Swallows being regularly seen through October. If swallows are spotted in November onward, it is usually during a period of warm weather with consistent southwest winds. Such was the case in early November 2022, and a group of Manomet staff were able to pick out a Cave Swallow among dozens of Barn Swallows and a very late Bank Swallow. This Cave Swallow record marks almost five years to the day from the only other sighting on November 6, 2017, and under similar conditions. In addition to this sighting, many other Cave Swallows were spotted in the East, including along the shores of the Great Lakes and elsewhere on Atlantic coast promontories.
1. Snow Goose
It's not often that a first sighting of a species involves 45 individuals, but so was the case on March 8th when headquarters visitors Steven van der Veen and Katherine Zhang spotted 45 Snow Geese flying over the ocean. As their field notes described, they were astonished to see 40-50 geese in a "ragged chevron formation," almost all white with black wingtips — and one or two blue morphs (see here for a description of different Snow Goose morphs) — flying in formation over the ocean. 
While Snow Geese are rare in Massachusetts, March is often the best time to encounter large groups of them, typically seen in flight just like this as they migrate northward. Sometimes a bout of westerly winds will push flocks closer to the coast, whereas normally they are migrating through the interior of the northeast. 
---
Will you be the next to find a new bird record for Manomet's headquarters in 2023? Visitors are welcome year-round to enjoy Manomet's diverse habitats and the wildlife they attract, from birds to mammals to insects and more! Plan your visit now and look out for updates on the installation of Manomet's new interpretive trail coming soon.
See here for a full list of Manomet all-time bird species.