In Georgia, an educator spread shorebird conservation awareness through a student-run community festival — and yes, costumes were involved
By Emily Renaud
Fly south along the U.S. Atlantic coast and you'll start to notice a change in the geography as you reach southern South Carolina and Georgia. The smooth, curving coastline becomes jagged and piecey, as if struck with a hammer that broke the coast into little offshore islands running parallel to the mainland. These are the barrier islands of the southeast U.S., home to a rich community of birdlife that rely on this landscape throughout their annual lifecycles.
Dynamic and constantly changing, the barrier islands move and shift with ocean currents and strong winds. They are separated by a network of braided channels carrying nutrients that cling to the sand before being swept out into the ocean. At low tide, they turn into giant platters of worms, crabs, and other tasty invertebrates, drawing tens of thousands of shorebirds to stop and refuel during their up-to-10,000-mile journeys from the Arctic to Central and South America.
"Offshore sand bars, extensive mudflats, and barrier island sand spits are all-day banquets for shorebirds," says Allie Hayser, shorebird biologist for Manomet's Georgia Bight Shorebird Conservation Initiative. "The tide rises and falls a whopping eight feet twice every day, providing a huge window of time for birds to feed."
Georgia's barrier islands are a safe haven for birds. Fourteen in total, they stretch across all one hundred miles of the state's coast, sheltering the mainland from the ocean, interspersed with vibrant, golden-green salt marshes teeming with life. They're also remote — many are federally protected or private and see little human traffic year-round, making them all the more valuable to shorebirds whose habitats are rapidly disappearing due to sea level rise and development throughout their hemispheric ranges.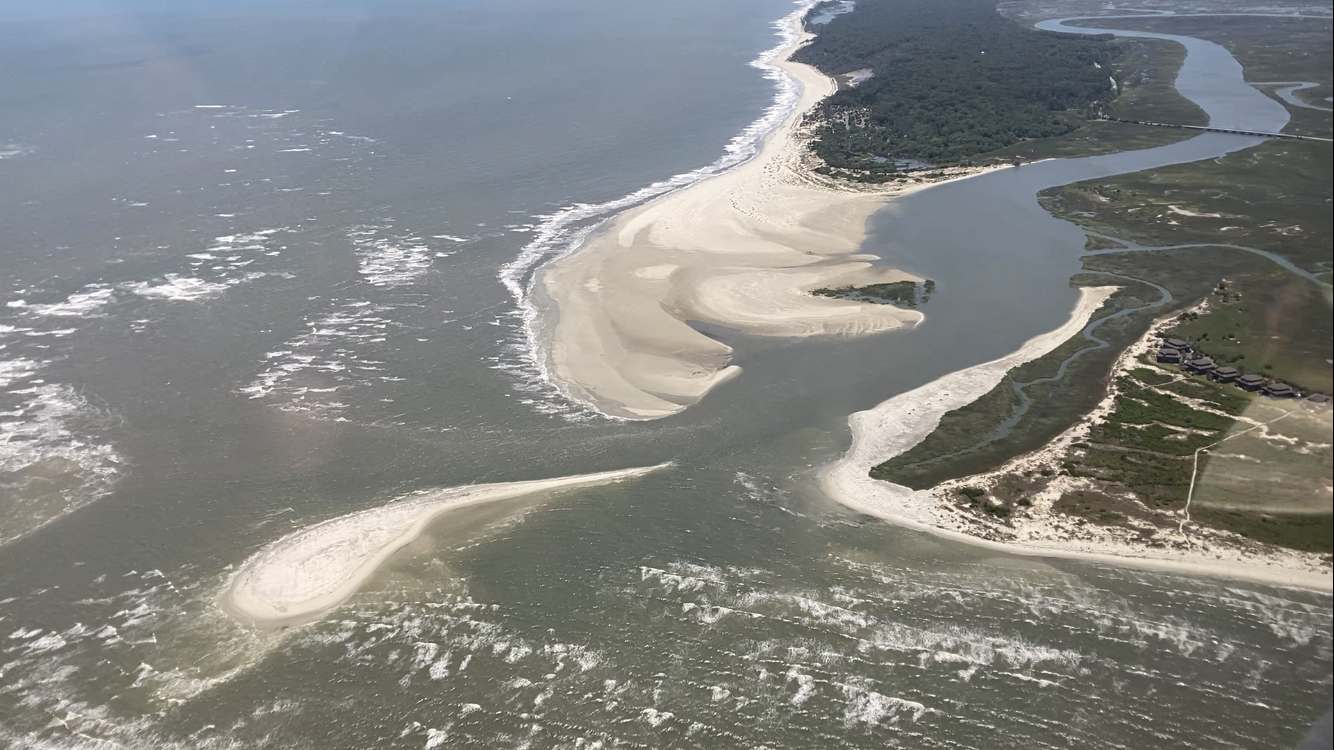 But despite being mostly undeveloped, this area isn't just for the birds. "Some barrier islands have communities living on them, like Jekyll Island and St. Simon's Island, and some are major ecotourism spots like Tybee Island," says Hayser.
Hayser lives and works on Tybee Island, a barrier island with a town of just over 3,000 people about 20 miles east of Savannah. Tybee is one of the few barrier islands accessible by car, welcoming visitors to enjoy the pristine beaches and local residents' affable charm. It also supports several shorebird species year-round, including the federally endangered Piping Plover that not only use Tybee as a stop-over during migration, but also a place to spend the winter until they head back to their northern breeding grounds in the spring.
Launched in 2018, Manomet's Georgia Bight Shorebird Conservation Initiative aims to conserve and raise awareness about shorebird habitat and what it means to protect the areas along coastal Georgia birds rely on most — even on the more populous barrier islands. Together with Dr. Abby Sterling, the initiative's director, Hayser works to improve environmental outreach and education efforts on Tybee. "Education is power, and Abby and I are always finding ways and new partnerships to reach as many people as possible to make Tybee an even better rest stop for long-distance migratory birds," says Hayser.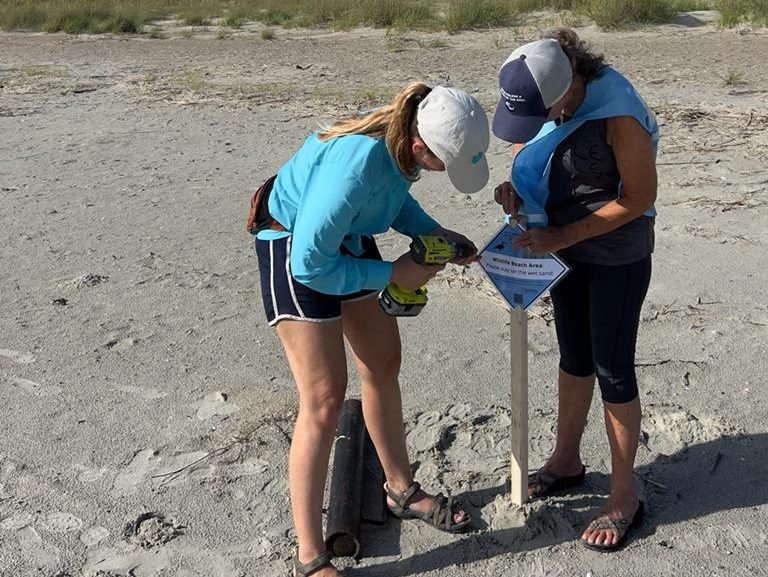 Last winter, while co-leading an ecotourism course with the University of Georgia Marine Extension/Georgia Sea Grant, Hayser met Katie Holliday, an earth and environmental science teacher at the Tybee Island Maritime Academy (TIMA), a charter school on Tybee. Holliday attended the course to plan an ecotourism project for her sixth-grade students — she didn't expect to leave with a new perspective on the habitat she had used in her curricula for over a decade.
"I had no idea we had shorebirds here," says Holliday. "I consider myself well-versed in coastal ecology, so it was amazing to hear Allie talk about these long-distance migratory birds in the course I attended."
With a shared goal of community awareness — and now a shared passion for shorebird ecology — Holliday and Hayser teamed up to plan one of TIMA's most ambitious environmental science projects yet: a student-run shorebird festival.
"Katie and I got together and talked about what mattered to us as educators, and one of our takeaways from that conversation was this idea of local pride," says Hayser. "She was already planning to make shorebird ecology part of her curriculum this year, so we decided to combine the excitement of talking about shorebirds and increasing local pride on Tybee into the idea of doing a festival and inviting the whole community."
Holliday encouraged her students to take the reins on planning and executing the event after working shorebird ecology into her sixth-, seventh-, and eighth-grade curriculum for the first time this fall. She invited Sterling and Hayser to give a presentation to her students at the beginning of the school year about shorebird population declines and the importance of the Georgia coast. Students learned about different species, the problems that they face along the flyway, and solutions that could exist on Tybee.
"I started taking students on regular walks along Tybee's beaches to look for birds. We began by looking for birds in general and learning overall identification techniques, then narrowed down to shorebirds after we got the hang of birdwatching," says Holliday. She introduced them to eBird, a community science platform with millions of bird sightings from birdwatchers worldwide, and taught them to find and identify birds in the field.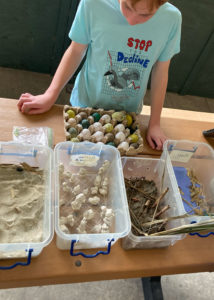 A few weeks later, students had to choose a shorebird and create a species profile including important details about the bird's life cycle, like areas it relies on throughout the year. About two weeks before the festival, Holliday had students take everything they learned and come up with ideas for what they wanted to do for the event. Some students designed games, some created costumes to wear and show the different adaptations birds have, and some planned booths to simply share educational materials and talk about why birds matter.
By mid-October, the TIMA students were ready to show off what they had learned. On the morning of the festival, Holliday, her colleagues, Sterling, Hayser, and 400 students hauled tents, tables, giant homemade bird wings, and other event gear out to Tybee Island Memorial Park, a grassy field on the east edge of Tybee within walking distance of TIMA. After setting up, students split into groups to manage the different stations and activities they had designed. One group ran the welcome area, another facilitated the games, a handful of students dressed up as birds and walked the festival grounds greeting guests and posing for pictures, and even the school's band formed a group to serenade attendees with bird-themed tunes.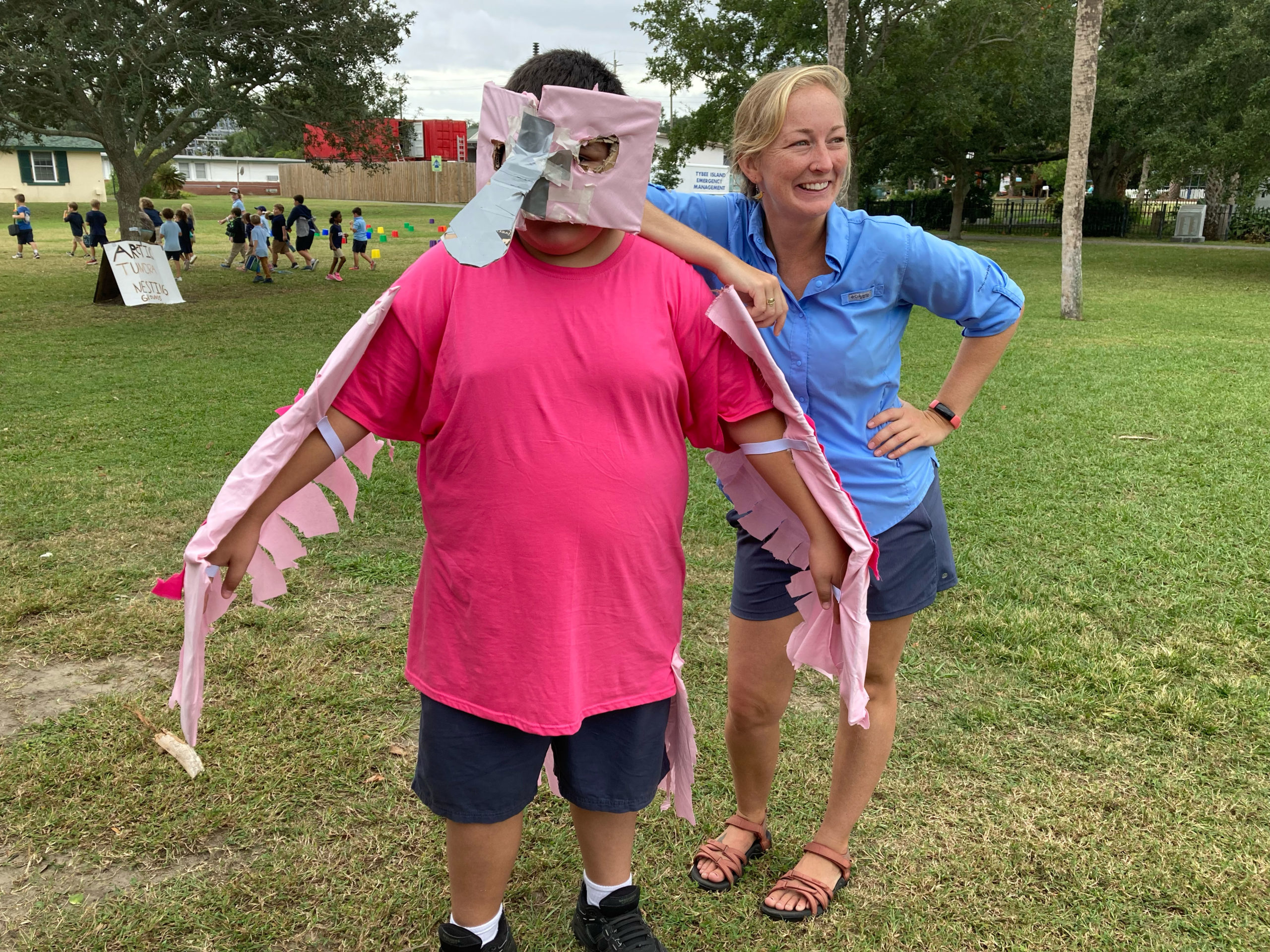 Guests poured in throughout the day and visited booth after booth, singing along with the band, snapping pictures with students dressed as birds, and role-playing as different bird species, camouflaging their "eggs" (painted wooden balls) and getting chased by "unleashed dogs" (other students). At the heart of all the fun was the goal of connecting the Tybee community with the shorebirds that use Georgia's coast, spreading awareness and creating a shared responsibility to protect the areas birds rely on most.
"The TIMA shorebird festival brought to life so much of the education and outreach work Manomet has been doing on Tybee," says Hayser. "Students teaching their peers and engaging with members of the Tybee community — it was just amazing to see this display of local pride in our community and shared appreciation of how important Tybee is to both people and wildlife."
After the festival, Holliday's students praised each other for their hard work, celebrating with a day in the park and reflecting on the event's success. Their hard work resulted in a festival like none Tybee had ever seen, embedding the feeling of local pride Holliday, Sterling, and Hayser set out to achieve with TIMA's students months earlier.
"To me, the Georgia coast is the most beautiful place in the world, and I want this habitat to be conserved forever," says Holliday. "My goal as an educator is to get my students to become environmental stewards and encourage their community to love this place, too. With this festival and our partnership with Allie and Manomet, I think we reached that goal."