Our banders can typically expect one day per spring to be exceptionally busier than the rest. This is a day when the weather is just right, a hearty southwest wind picks up the night before, and somewhere south of Plymouth lies a giant hoard of migrant birds just waiting for the ideal opportunity to make their way through our oceanside research facility at Manomet. This spring, however, the lab experienced not one, not two, but THREE jam-packed days of 200+ birds captured, processed, and released. Between Wednesday and Friday (May 17 through 19), our banders captured a total of 789 birds and tallied 16 "Firsts of Season" for their species list. What caused such a huge rush and how did the team tackle the immense flood of birds?
"A push of warm weather in late April through the southern U.S. and Central America probably brought many migrant birds to New Jersey and New York who remained there for about a week," explains Evan Dalton, Manomet's Lead Instructor of Landbird Conservation. "With the cold north winds staunching migration, everyone was pinned down. This weather pattern is not unprecedented…though the longer it lasts, the more birds are bottled up before being pushed north."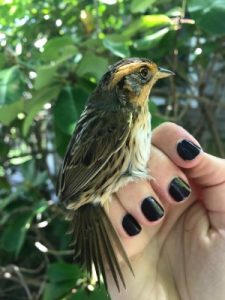 Migration, on the whole, is almost entirely weather-dependent; temperature, precipitation, and wind direction will dictate when birds get the opportunity to move towards their desired destination. There is, however, one big difference between spring and fall migration when it comes to expecting a swell in numbers such as this.  Dalton added, "…spring migration is so time-dependent… this is what can give us impressive numbers over a short time."
The pressure to arrive at a suitable site in time to find a mate, build a nest, rear their young and prepare for fall migration can cause significant masses of individuals to move northwards as fast as possible in spring. That's why, when the weather allows, we get instances such as the one we saw this past week; thousands (maybe tens of thousands) of birds zooming by to reach the northerly end of their range 'while the getting's good.'
In the past, the Manomet banding lab has recorded bigger weeks, though this is one of the biggest ones in recent memory. So, how did this season's team take it?
"That was probably almost twice as many per day as most of the biggest days I've ever had," says bander Maina Handmaker. "Trevor and I looked this morning and he said that we have not had three consecutive 200-bird days since at least the 1990s…we think that because north winds and cold weather and rain created a pileup of migrants somewhere south of us, the winds switching on Tuesday night caused them to all come at once."
"It was exciting…and kind of stressful," Elsa Chen and Sarah Duff, members of the banding team, agree. Few banding labs in this region will experience such an overwhelming capture rate at once; this can be credited to several nets being kept open for long hours each day. Many banding stations operate ten or so mist nets for about five to six hours a day; Manomet's research team, however, keeps 50 mist nets running from dawn until dusk, weather and bird safety permitting.
No matter how exhausting it can get, though, there's always time to pause and appreciate an especially exhilarating species.
"Even amidst the craziness, Lauren (lead bander) sends a text message on a net run: "Dope sparrow, dudes!" recalls Maina. The team caught their first Saltmarsh Sparrow since 2012; this year's bird being the second banded in Manomet's 50 years of data collection!
We applaud the team for their tireless efforts and stellar performance last week—we couldn't conduct the level of research we do without their talent. For your chance to meet our banders and get a feel for what it's like to be a member of the Banding Lab here, join us on June 3 for our spring Family Day from 8:30 to 10:30 AM. Click here for more details.
Be sure to follow the Manomet Banding lab on Twitter and on Instagram for up-to-date tweets and pictures featuring all the latest captures, facts, and ID quizzes from the banders!