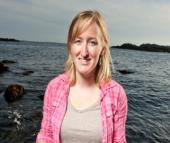 ​Marissa McMahan
​Senior Fisheries Scientist
Portfolio Overview
The vast Gulf of Maine extends from Cape Cod to the Bay of Fundy. It was once one of the most productive marine ecosystems on earth. It still is.
But the Gulf of Maine is warming faster than 99% of the world's oceans. Some fish species, like northern shrimp, are moving out, and other potentially valuable species, such as black sea bass and dogfish, are moving in.
Fishing is fundamental to the New England culture. To sustain this heritage, fishermen, scientists, and even fish consumers will need to adapt to the changing system.
The aim of Manomet's work is to strengthen and diversify fisheries in the Gulf of Maine. The main areas that Manomet is focusing on include restoring and growing the soft-shell clam industry in Maine; determining the viability of a soft-shell green crab industry in New England; and exploring the viability of quahog clam aquaculture in midcoast and southern Maine.
Soft-shell Clams
Soft-shell clams are the second most valuable fishery in Maine—valued at about $18 million in 2014. Unfortunately, soft-shell clam landings in many coastal communities have declined in recent years—due to the effects of climate change and an increase in invasive predators like the European green crab (Carcinus maenus) and the milky ribbon worm. Clam farming can be a low-cost, effective way to protect growing clams from green crabs and help restore clam populations and local fisheries. Clam farming involves putting small hatchery-raised "seed" clams in local mud flats and then covering the clams with protective netting. The netting protects the clams from green crabs.
Funded by a NOAA Saltonstall-Kennnedy grant, Manomet's clam project helps coastal towns in Maine learn about soft-shell clam farming and will launch five new farms in Maine. Manomet also hosts local schools to teach students about clams, clam flats, and clam farming at The Heal Eddy Clam Farm, the first commercial scale clam farm in Maine.