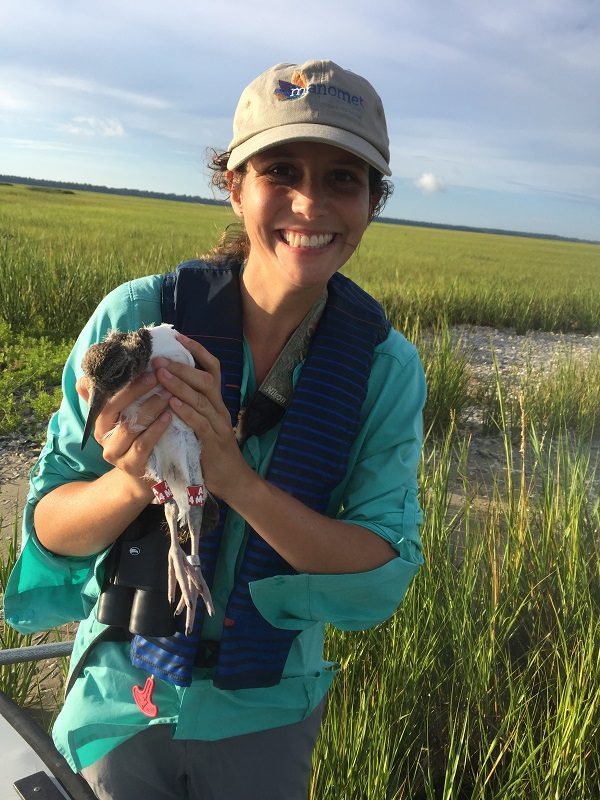 Abby Sterling
Shorebird Biologist
Join Audubon and Manomet for a Virtual Bird Walk to explore some Atlanta metro area birding hot spots. Abby Sterling, a shorebird biologist with Manomet's Georgia Bight Shorebird Conservation Initiative, will be joining from the Georgia coast to talk about Manomet's work with Georgia's coastal species.
Join us on the Atlanta Audubon Facebook page on Friday at 9:00 AM! Hope to "see" you there!
About Abby and the GA Bight Shorebird Conservation Initiative
The Georgia Bight is a region with incredible habitat for shorebirds throughout the year, ranging from expansive marshes, mud flats, and sand bars, to undeveloped barrier island beaches which provide sites for nesting, feeding and roosting. The Georgia Bight Shorebird Conservation Initiative is part of the Shorebird Habitat Management Program, and focuses on advancing progress for sustaining shorebird populations within the Atlantic Flyway by increasing attention to the Southeast. By working with the stakeholders actively involved in shorebird conservation, identifying research and management objectives, building education and outreach efforts, and increasing partnerships, we will achieve measurable progress for shorebirds along the South Carolina, Georgia, and Northern Florida coasts.
Abby earned her doctorate from the University of Georgia, where she studied how habitat and landscape features influence beach-nesting shorebirds and chick survival. Prior to her degree, she lived on Little St. Simons Island in Georgia, working as a naturalist guide and assisted on a variety of environmental projects, educated visitors about coastal ecology, and explored the Southeastern coast. When she's not birding or working, she enjoys spending time with friends and family, going on adventures, learning new things, and snuggling with her dog, Baxley.