Emily Renaud
Communications Coordinator
Young birders in Massachusetts have a new opportunity to connect and share their passion for birdwatching with others.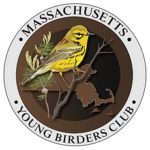 The Massachusetts Young Birders Club (MYBC's) mission is to create and empower a sustainable community of young birders—12-20 years old—in Massachusetts.  The club was created for young people of all backgrounds to connect and foster a passion for birding and nature alongside a community of their peers. Manomet, along with the Hampshire Bird Club, Birds & Beans, and The Dorr Foundation, is a sponsor of the MYBC. Eventually, members will run the club with help from near-peer mentors, or guides.
On February 12, MYBC co-coordinators Evan Dalton (Manomet's Lead Instructor of Landbird Conservation), Kit Straley, and Jeremy Spool hosted the first introductory meeting for prospective volunteer guides. As described on the MYBC's website, guides are volunteers who assist with event coordination and act as mentors for members. The diverse group of young men and women met virtually on Zoom to get to know each other and learn more about the club's goals as it gets off the ground this year.