Lizzie Schueler
President
As Black Heritage Month comes to an end, I wanted to share some small steps Manomet has taken to become a more open, just, and diverse organization. Shortly after joining Manomet in April 2020 as its 4th president, anti-racism protests exploded across the world. The #BlackLivesMatter and #BlackBirdersWeek hashtags lit up social media channels. While our strategic planning process already incorporated the review of Manomet's diversity, equity, and inclusion (DEI) policies and practices, our efforts redoubled, and DEI now is one of three foundational principles for Manomet.
Manomet is a historically white organization in North America, yet one-third of its staff working in Latin America are of native descent. We are fortunate to have this staff diversity as we strive to earnestly invoke policies and procedures to be more open, inclusive, and equitable and to encourage all races, ethnicities, genders, and backgrounds to participate in our work. In so doing, it's important that we understand our relevance to a broader audience in order to attract more diverse talent. We need to be realistic about how quickly we can move, and act with humility. There is a lot we don't know and much we need to learn!
In June 2020, Manomet established a staff-driven DEI committee, and fifteen staff from across the Americas volunteered to serve. The DEI committee surveyed employees on their perceptions of DEI at Manomet, offered all employees an online course on equity and bias, and established an internal working group to continue discussions and share resources on DEI-related matters.  The committee drafted an initial action plan outlining recommended improvements in Human Resources, Governance, Communications, and Programming, which was presented to the Board of Trustees in September 2020.
We recognized that to make real progress, we need advice from experts in this field. We identified over ten consultants and earlier this month began working with VISIONS, Inc., a nonprofit training and consulting organization specializing in diversity and inclusion based in Dorchester, MA.
Additionally, I have asked Nadia Elysse to lead our efforts as the Director of Diversity and Belonging. Nadia joined Manomet as my special assistant over four months ago from Northeastern University, where she worked as the Special Assistant and Project Manager for the Dean of the College of Arts, Media, and Design. In her expanded role, Nadia will oversee developing and executing an action plan for Manomet and facilitate the Manomet DEI committee and the combined Board/Council committee comprised of five members of Manomet's Governance.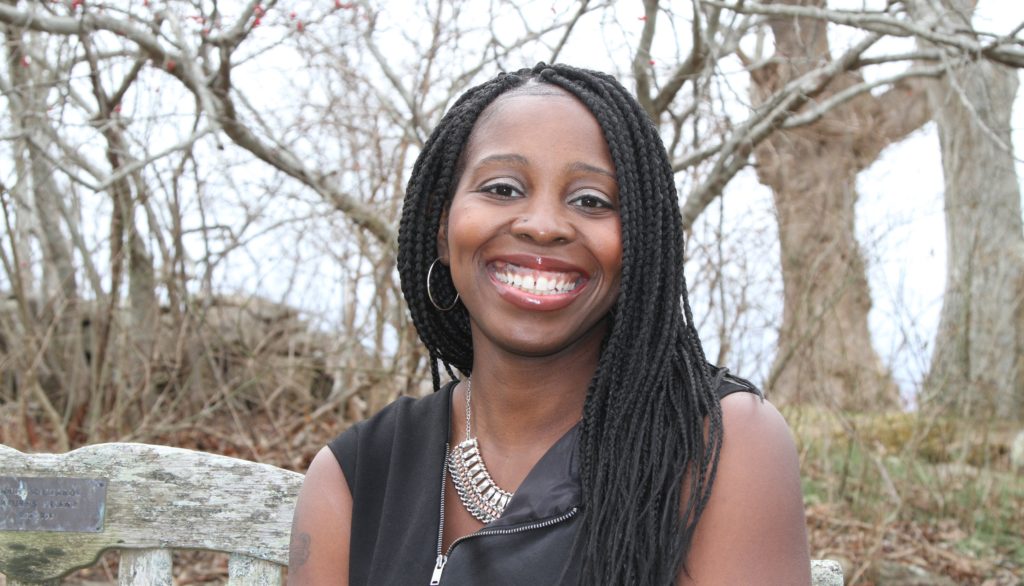 We are so fortunate to have Nadia's knowledge, enthusiasm, and leadership to help Manomet navigate this journey. "This is hard work that will ultimately strengthen the entire organization and make a serious impact on the communities we serve," says Ms. Elysse. "We know that there are many tough and uncomfortable conversations ahead as we move to ensure that equity and inclusion are represented broadly across all of Manomet's efforts. The staff and board are very committed to this work, and I am so excited to work with everyone to lead this change."
In addition to developing our preliminary plan for DEI across Manomet, we have been able to act in the short-term to integrate DEI more effectively into our education programming.
For over fifty years, Manomet has been banding migratory birds at its Observatory in Plymouth, MA. We hope to attract more diverse students to our bird banding lab through work with the Black and Latinx Birders Scholarship. We learn as much from our banders as they do from us. Banding internships offer a unique opportunity for students to be exposed to intensive research methods and for us to garner novel perspectives on our work.
This year, we have significantly diversified the U360 internship/college program to comprise a class of 45% non-white students, inspiring the experience for all students as they learn from each person's distinct perspective and heritage. Our relationships with Bottom Line and Posse Foundation are also helping us further broaden our recruitment efforts.
In January, we began collaborating with Wildlands Trust, the preeminent land trust in Southeastern Massachusetts, to support their science training program for the Envirothon team at Brockton High School. Envirothon is a national competition, and Manomet scientists have provided seminars on woodland ecology, tree identification, and coastal resilience in the Taunton River Watershed to the Brockton students during weekly training sessions.
These are just a few steps we have been able to take to broaden our reach. I am thrilled with the enthusiasm with which the Manomet staff has embraced the opportunity and need to be more just, equitable, diverse, and inclusive. This is a journey indeed, and we need to walk before we can run. But, we are committed to making science and nature welcoming, offering more access to it where we can, and understanding how Manomet can be more attractive and relevant to all.