By using local knowledge and cutting-edge imaging technology, researchers aim to better understand how climate change will impact Maine's shellfish industry and the communities that rely on it
This year, a team of Manomet scientists, shellfish harvesters, and partners will launch new research to better understand the impending effects of climate-change-driven sea level rise on Maine's shellfish resources and coastal communities. Led by Dr. Marissa McMahan, Manomet's director of fisheries, this research is made possible by a newly-awarded grant of $142,000 with multiple partners.
What were once distant projections on TV and in newspapers have now made it to the doorsteps of thousands of coastal residents in Maine: sea levels are rising at an alarming rate, with some areas in the state experiencing water levels eight inches higher than what they were in 1950. Estimates show that sea level rise will only continue to accelerate in coming decades, threatening to submerge more than half of Maine's coastline by 2100.
Most current sea level rise planning and adaptation is targeted toward coastal infrastructure and maintaining beaches and dunes to preserve Maine's tourism industry. What's missing from these plans, says McMahan, is an understanding of how rising seas will impact one of the state's most critical economic industries.
"The soft-shell clam fishery was the second most valuable in the state in 2021, and the quahog industry has increased in value by over 600 percent in the past 10 years," she says. "Loss of intertidal habitat and access to these fisheries presents a potentially significant economic hardship for coastal communities."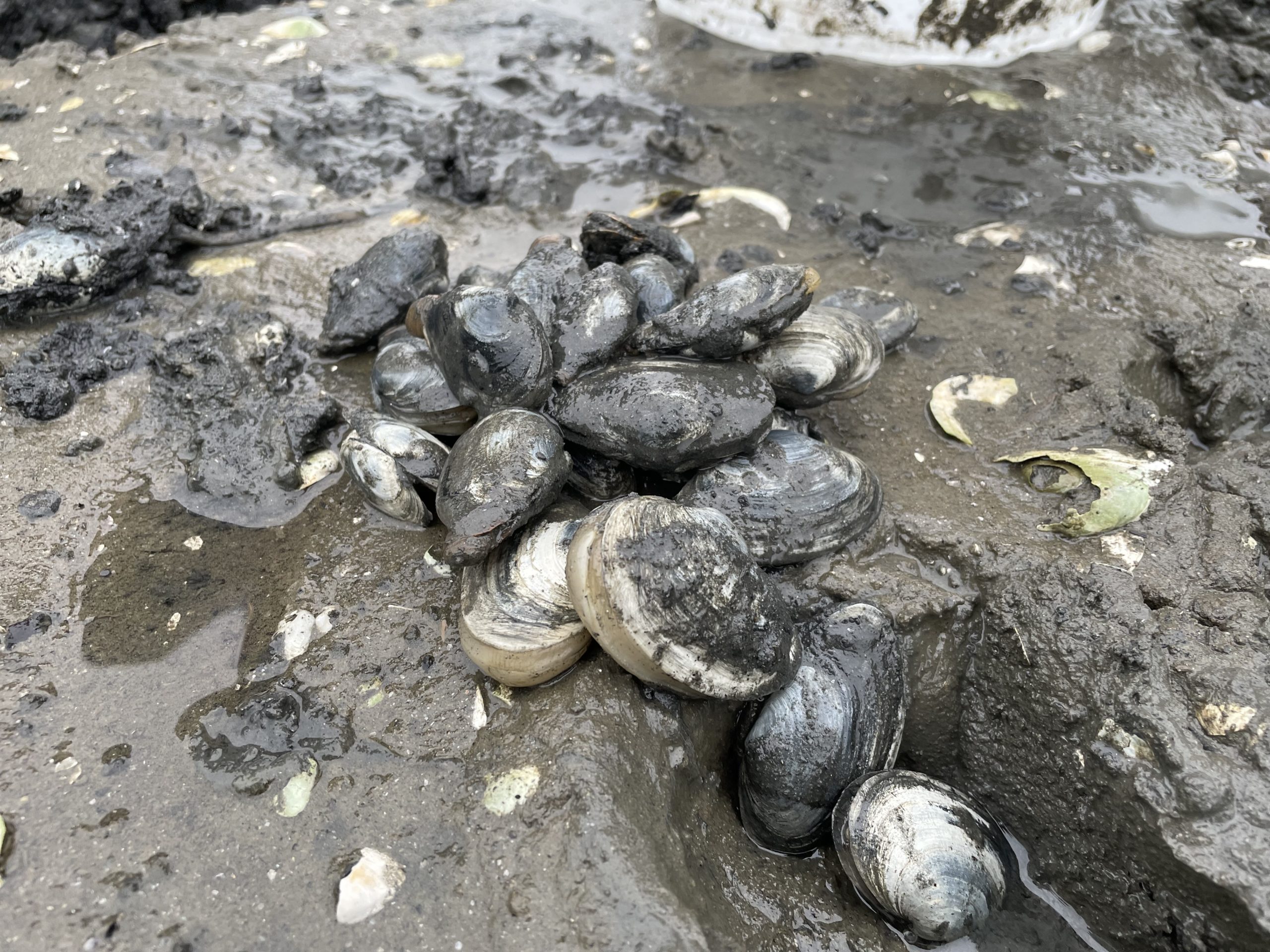 Maine's intertidal habitat — where most hard- and soft-shell clams grow and are harvested — is a vital resource for harvesters whose livelihoods depend on access to these areas. Sea level rise not only threatens to change the dynamics of the Gulf of Maine ecosystem, but also limits access for harvesters, exacerbating the already negative impacts of gentrification along the coast. 
Furthermore, McMahan says, Wabanaki tribes are denied access to shellfish resources outside of their reservations, which greatly limits their adaptive capacity. "Sea level rise will only make these injustices of colonization and gentrification worse, which makes planning and adaptation strategies that account for impacts to mudflat habitat critical for supporting Maine's shellfish industry, tribal governments, and harvester livelihoods."
To help prepare for impending changes to the intertidal zone and reduce the potential blow to Maine's shellfish industry and coastal communities, McMahan's team is developing new strategies to understand how sea level rise will affect intertidal habitat and shellfish resources. Their findings will go toward developing tools and strategies that will support the areas impacted most, as well as municipal and tribal shellfish programs.
"Our goal is to elevate the importance of understanding sea level rise and coastal impacts to mudflat habitat and shellfish resources," says McMahan. "Local knowledge is key to this work, and we're also excited to use cutting-edge technology to inform planning and management strategies."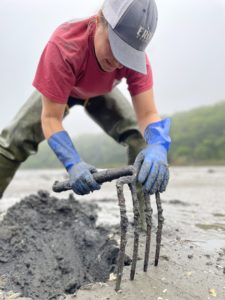 With the new grant, McMahan's team will use a multi-pronged approach including collaborating with local community members and applying multiple forms of scientific knowledge — community science, digital mapping, harvester knowledge, and historic records — to conduct their research. In partnership with UMaine and the Maine Center for Coastal Fisheries, as well as aerial drone and GIS experts, McMahan and her colleagues Emily Farr, Manomet's senior fisheries manager, and Jessie Batchelder, fisheries project manager, aim to produce a more complete picture of how sea level rise will impact Maine's coast.
This research is planned to begin in summer 2023 and will continue over the next two years. In addition to informing Maine's sea level rise adaptation strategies, McMahan says she also hopes to  continue to empower local stakeholders and community members to participate in management of fisheries, research, and the future of sustainable aquaculture.
"We're working to help Maine prepare for what sea level rise has to bring," says McMahan. "We're eager to continue building relationships with many of the important partners and communities that are involved in sea level rise planning already and to better understand not just how climate change continues to impact Maine's coast, but how our work can support the needs of these local communities for years to come."