In December 2021, Asociación Ambiente Sur and the Centro de Rehabilitación de Aves Leñadura (CRAL) conducted the first binational survey for the Magellanic Plover (Pluvianellus socialis), a species of shorebird that lives in Patagonia and is only found in its range of southern Argentina and southern Chile. The survey, supported by Manomet and its shorebird scientists, suggests the Magellanic Plover may be even more rare than previously thought and deserving of highly-prioritized conservation efforts.
With its total population estimated between 1,500 to 7,000 individuals according to BirdLife International, both Argentina and Chile have designated the species as threatened. But a range-wide survey across Argentina and Chile had never been conducted until now. Recent observation data and sightings hinted to biologists that the Magellanic Plover's numbers could be less than BirdLife's low-end estimate of 1,500 individuals. If that's the case, that would make it one of the rarest species of shorebird in the Western Hemisphere.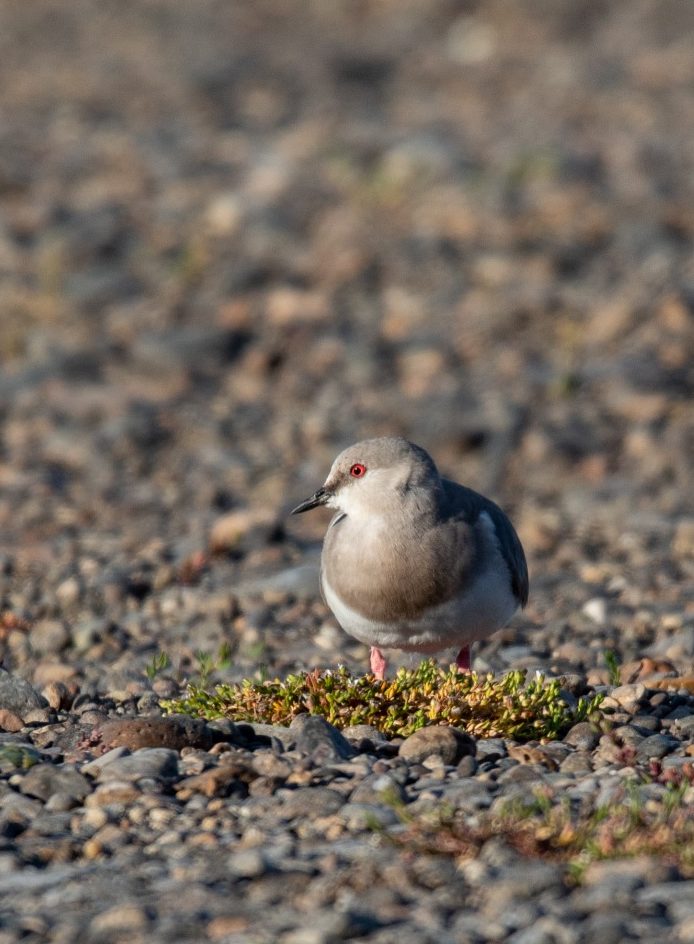 The binational survey, carried out over 10 days of the South American spring in December 2021, was conducted by 20 experienced fieldworkers from various non-governmental organizations (NGOs). The group was challenged by the strong Patagonian winds and rough, offroad terrains they had to cross to reach the birds' nesting grounds. Altogether they visited more than 180 lagoons and ponds, driving over 8,000 km through the Argentinian and Chilean steppe. The sites included some spots where the species had been previously recorded, as well as new sites containing habitats the team felt suitable to the Magellanic Plover. 
Although the team had good ideas of where to look, the birds are difficult to spot. During its breeding season between September and December, the Magellanic Plover can be found along the pebble-studded and mud-lined coasts of shallow ponds, lagoons, and lakes that dot the Patagonian Steppe. Its soft grayish upperparts and white underparts makes it extremely inconspicuous in this habitat, although to the trained eye, its bright reddish-pinkish feet stand out quite clearly as it strolls and looks for food along these inland Patagonian shores.
Feet on the ground, eyes on Magellanic Plovers 
To survey the sites, fieldworkers walked slowly along the coast, keeping a minimum distance of 30 meters from the water, ensuring they would not startle the birds into moving around, which could risk surveyors double-counting some individuals. 
Over the course of 10 days, the first binational Magellanic Plover survey counted only 264 individuals, falling well short of the current population estimate. Now, the team is working to extrapolate what that count could mean for the total number of Magellanic Plovers left on the earth.