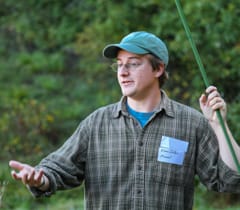 Evan Dalton
Lead Instructor, Landbird Conservation
Join Manomet for a series of all-inclusive birding crash courses and to celebrate the return of our favorite spring migrants!
Birding has become a popular pastime, so take your skills to the next
level with Birding 101! Through a series of activities, we'll run through
and practice some key skills of bird identification and observation.
Bring your binoculars and favorite field guide (if you have one).
$10 for members
$20 for nonmembers
Don't miss out—participation is limited and spots will fill quickly!