Evan Dalton
Director, Manomet Observatory
On June 10, Manomet's Landbird Conservation team banded the first brood of Tree Swallows of the season at headquarters in Plymouth. This is the culmination of our increased environmental monitoring efforts on Manomet's grounds this year. Although we were unable to operate our banding lab normally this spring, we made lemonade out of what COVID-19 gave us; we began conducting walking surveys for birds on the Holmes Farm and along our research areas, piloting a project to sample local tree frog populations, and started a regular monitoring program for the 14 nesting boxes on the Holmes Farm. This spring and summer, the boxes were used by several pairs of Tree Swallows, a couple of House Sparrows, and one pair of Eastern Bluebirds. Each species successfully raised young this year, which is great news.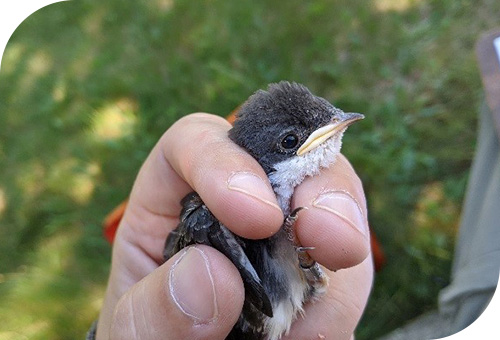 Tree Swallows are highly sensitive to climate change; over the last 50 years, other Tree Swallow monitoring projects have shown that they now start nesting over a week earlier compared with previous nesting seasons. Earlier nesting can sometimes have disastrous consequences. We know from our nesting box cleanout last year that several Tree Swallows perished over the course of the 2019 breeding season. Much of the blame can be placed on the exceptionally cold, damp spring weather that made it difficult for the swallows to find enough food to sustain their young and, in one case, even themselves. We are happy to report that in 2020, despite another cold and wet spring, all the Tree Swallows using boxes have successfully raised and fledged young and no adults succumbed to the cold.
What does this tell us?
Survival and breeding success (in the case of these birds: successfully raising and fledging young) indicates that the Tree Swallows were able to find enough food in the immediate area to raise their young, and sustain themselves. Tree Swallows belong to a group of birds known as aerial (?) insectivores. As a group, aerial (?) insectivores like swallows, swifts, and nightjars are rapidly declining throughout much of North America. One of the major drivers of these declines is a lower density of flying insect food over much of their range. Our ongoing wetland restoration and property management practices not only result in healthier wetlands, they also result in more insect food for birds, like our Tree Swallows. Our monitoring efforts are helping document the health of the birds and other wildlife on the property.
We have been able to band five Tree Swallow broods so far this season. Doing this will allow us to identify returning individuals and we may even have one of our birds show up somewhere else. Only time will tell… fortunately, we specialize in long-term research at Manomet!
Want to build your own nest box for next year's nesting season? Watch this nest box building tutorial and give next year's nesters a place to raise young in your own yard!