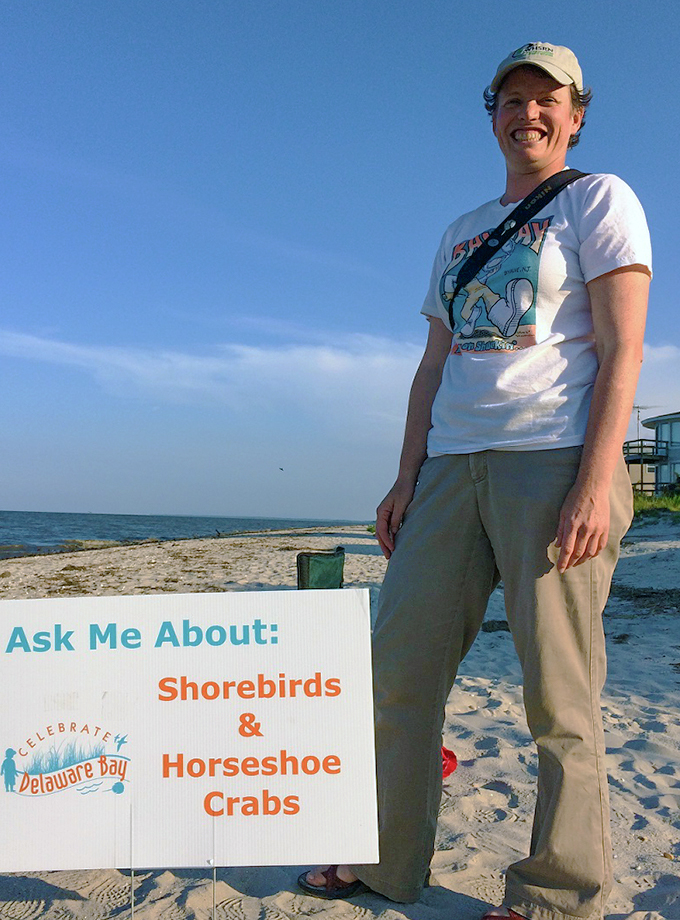 Laura Chamberlin
Assistant Director for North America, WHSRN Executive Office
From Maine to Florida, 'tis the season to keep your eyes out for horseshoe crabs. You may just see a few here and there, spawning in clusters on a calm, sandy beach. But if you happen to live near or visit the Delaware Bay, perhaps you've seen a 'cobblestone' high tide in May.
Horseshoe crabs can be found all along the US's entire Atlantic Coast, but nowhere are they found in such high numbers as on Delaware Bay, which has the world's largest spawning population. As horseshoe crab populations struggle to recover from overharvest for the bait and the biomedical industry, many crabs also face challenges when spawning. These include being overturned by waves or stuck in rubble or other hazards, which puts them at risk for predation and desiccation.
Since 2013, hundreds of volunteers, with the support of reTURN the Favor partners, have rescued stranded crabs in New Jersey, saving the lives of over 500,000 crabs, protecting shorebird habitat, and inspiring their friends and family to also take action. In 2019, this dedication was recognized by the New Jersey Department of Environment Protection when the program received the Governor's Excellence Award for its work in contributing to a healthy ecosystem.
Half a million and counting
During the seven years of the program, reTURN the Favor has grown exponentially with great success meeting two of its key goals: rescuing stranded horseshoe crabs and building a constituency of people taking action for shorebirds and horseshoe crabs. Over the last seven years, volunteers have contributed 11,802 hours on over 3,300 walks, rescuing 505,629 horseshoe crabs on 22 beaches in New Jersey.
And this commitment has continued this year even with additional challenges. Just as volunteers and coordinators were preparing for the 2020 season, we were all faced with the personal and community challenges of the rapidly changing pandemic world. With many volunteers eager to feel that they can make a contribution to the world, coordinators were able to work with local authorities to allow reTURN the Favor to safely continue with additional guidelines and safety measures. Guidelines include maintaining six feet distance, only rescuing with household members, no groups of more than four people, wearing face coverings, and limiting travel distance. The program has expanded every year by adding new volunteers, so one of the most challenging restrictions this year was to limit activities to experienced volunteers. Without in-person trainings and walks, new volunteers would not be sufficiently supported.