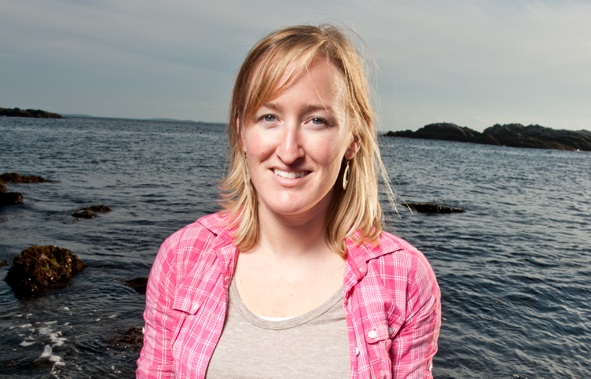 Marissa McMahan
Senior Fisheries Scientist
More than 75 fishermen, chefs, consumers, regulators, scientists and educators came together in Portland, Maine, earlier this month to talk about how to develop a viable fishery and markets for the invasive green crab. Manomet worked with New Hampshire Sea Grant to convene 'The Green Crab Working Summit,' which attracted nationwide attention.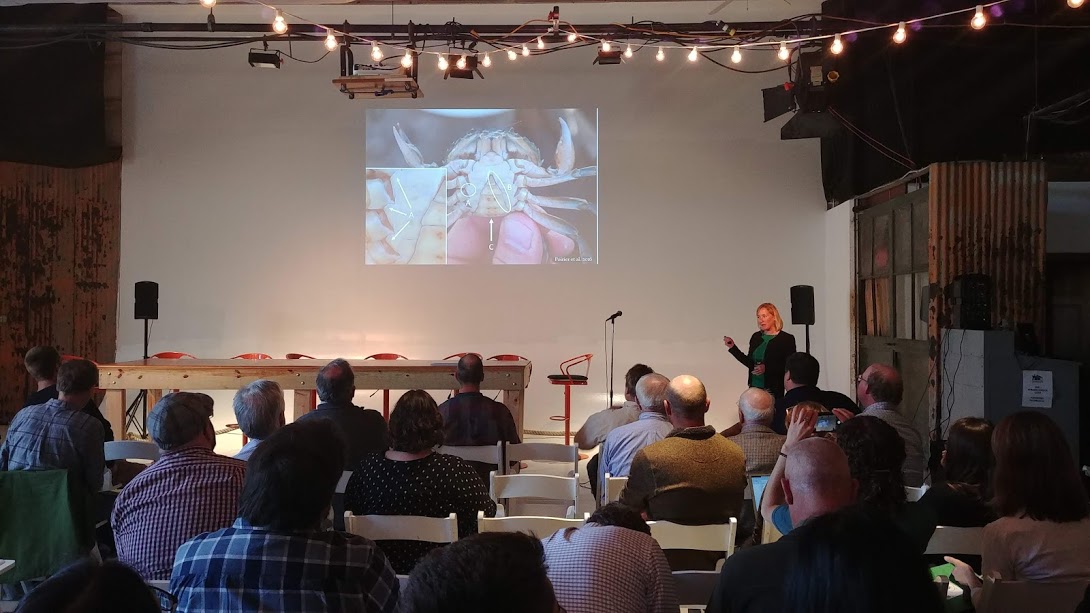 The two-day program included speakers from chefs to fishermen to educators to scientists, as well as cooking demonstrations, all focused on how best to mitigate the impacts of this invader. Participants learned about many ongoing projects, including creating markets for soft-shell green crab, green crab roe, and green crab mince, as well as ongoing efforts to expand the green crab bait market (e.g., using green crab bait in the whelk fishery). There were also updates on the impacts of green crabs on soft-shell clam populations and salt marsh habitat. We also learned about mitigation efforts spanning from New England to Nova Scotia to California, which resulted in a better understanding of how future mitigation efforts should be focused. There were also many hands-on activities, including training for participants on how to extract roe from female green crabs and identify pre-molt green crabs to produce soft-shell product. Discussions also focused on monitoring efforts throughout the US and Canada, and how to increase networking/collaboration to achieve a more cohesive path forward.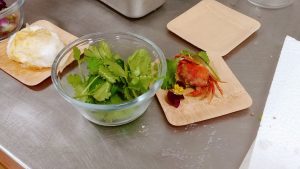 SeafoodSource is one of the media outlets that covered the Summit noting that 'the consequences are already being felt in the state's soft-shell clam industry. Landings in 2017 were the lowest they'd been since 1930 at just 6.8 million pounds. The mussel harvest also hit a historic low last year. If the [green crab] population continues to rise and nothing is done, the soft-shell clam industry, and many other native species, could be decimated in the coming decades.'
Inc. Magazine also wrote about this important event and focused on the entrepreneurs and chefs who are finding business success with the green crab. Jamie Bassett, who runs Green Crab Nation, told Inc. that 'replacing horseshoe crab bait with green crab is a more affordable option for fishermen and a short-term solution for dealing with the invasive species. He added that a longer-term solution is bringing the green crab to the culinary market. However, one of the challenges is raising awareness.'
In the weeks following the Summit, Manomet and NH Sea Grant will be compiling notes, presentations, and videos from the Summit to create a Green Crab Working Summit proceedings document that will be distributed to participants and available to the public online. We hope to highlight the most important themes resulting from the Summit, and also provide an opportunity for continued conversation and collaboration.
You can do your part to take a few of these invasive green crabs out of circulation by attending Manomet's Future of Fishing Tasting event on July 26 on Boston's Fish Pier! Come enjoy deliciously-prepared seafood while talking to and learning from the chefs, fishermen, and scientists who are working to ensure that our Gulf of Maine is a viable fishery for decades to come.