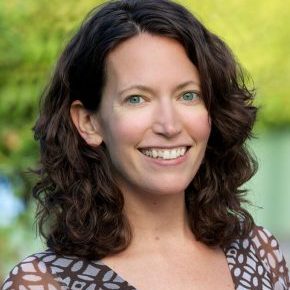 Danielle Smaha
Director of Marketing and Communications
As part of our 50th Anniversary celebrations, we'll be sharing interviews with Manomet's current and past staff, former interns, and Board members. We're kicking this off by catching up with Jason "the Birdnerd" St. Sauver, Director of Education & Outreach for Audubon Nebraska and a Manomet banding intern back in 2006-07.
Jason recently was awarded the 2019 "Educator of the Year" by National Audubon Society. Looking back, Trevor Lloyd-Evans, Manomet's Director of Landbird Conservation, recalls Jason as "a very charismatic teacher for groups when he was a banding intern here at Manomet" so he wasn't surprised by this "very well-deserved recognition of Jason's talent for teaching, innovation, and leadership."
"Manomet – and Trevor's – impact on young banders/biologists cannot be understated, and has created an incredible and enduring legacy," adds Deb Harrison, Manomet Trustee. "The 'ripple effect' of Jason in his work in Nebraska as well as what he has done in the LGBTQ community is testament to this. He was inspired at Manomet by Trevor and Manomet's mission; now he inspires others, and they will go on to inspire others. Stories like this one powerfully demonstrate the far-reaching impact of Manomet."
We were excited to sit down with Jason and learn a little bit more about how his days at Manomet have shaped where he is today.
Manomet: Can you tell us what drew you to Manomet?
St. Sauver: I had originally gone to school for zoology with a major in music and theater and then worked in New York for a long time.
Eventually when I realized, this is not going to cut it, I wanted to get back into my first love, which was outdoors and environmental education, especially around birds. I use the title bird nerd now a lot because I work with kids most of the time. I was considering going back to school when the position came up for a banding intern at Manomet. And I just found it absolutely almost perfect because it had housing; it wasn't too far from the New York City where I was living at the time and I had friends in Massachusetts. And most importantly, it was just all birds all the time, which I really wanted to explore further. I thought at the time that I was an expert birder, but it turned out I was very much an amateur birder.
Manomet: Are there things that you learned while you were interning at Manomet that you still use today?
St. Sauver: Yeah, definitely. One, I still go banding every time I get a chance.
So I worked for just over eight years with the U.S. Fish and Wildlife Service after Manomet and now at Audubon. I've been all across the country with different positions and I've always tried to meet the local banders and bring banding into environment, education, and programming in some way. There's nothing like seeing a bird that close and to be able to educate about them and what they do. So that's a big part of it.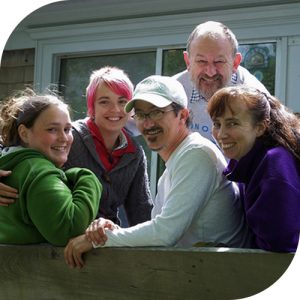 When field trips were coming, Trevor gave me the opportunity to be able to do some of the environmental education and show the kids about banding and the birds. And I think that really solidified in me that that's what I want to do. With my theater background, if I can be the person that does the outreach and the education, I enjoy that. And that's ultimately what I did. I did a few more years of bio technician positions, but ultimately became a park ranger with Fish and Wildlife, and then education director with Audubon for the past six years.
Manomet: Did you do Manomet's Bird-A-Thon this year?
St. Sauver: Trevor emails me each year. Unfortunately, this year I didn't have the time, but for at least three or four years, maybe more, I always try to support. Because it literally was one of the highlights of my life working there…just nonstop banding. And all I learned in such a short, amazing time at that beautiful spot. So I help with the Bird-A-Thon, wherever I am in the country, to add to the funds supporting the banding lab. Plus, it's really fun.
Manomet: What are you up to now?
St. Sauver: So, I just recently became the director of education for Audubon Nebraska. I oversee our education programs here at Spring Creek Prairie, plus we also have another center out in the center of Nebraska working on crane migration along the Platte River.
One of the things that I'm the most passionate about, other than just bird conservation and science, is trying to outreach to non-traditional audiences, some that have either just been ignored, but also those that we really want to have a voice in what we're doing.
We know that it goes both ways. If we save birds, we're also helping us. But similarly, when we're helping communities to have healthier, more environmentally friendly areas to live in, we're going to help the birds as well. So that's a lot of what I do, which I find really exciting.
I've been working on finding community connections, and not trying to do what I feel a lot of conservation or green groups did in the past, which was 'we know what we're doing, we're going to do this, and you guys should care about it.' I have a lot of meetings where I ask what people are interested in, and try to find out where the connections are in food or culture or conservation or nature. And then how can we play a role in that in some way.
Just last night, we had another program with the Lincoln public schools and their visually impaired and blind program. We had a bunch of their students out on our trails learning about birding by ear, mainly because that's one of my specialties. And I love seeing them all really listening and learning.
The program that's gotten the most attention is LGBT, or Let's Go Birding Together, which I created back in 2016. I was on the board of our local LGBT center and thought that this is a group that really hasn't been invited to the table either. So I thought that it would be really easy to say 'hey, would you guys enjoy a banding trip?' We got a really great turnout. We have several folks from that original group that are now longtime volunteers or are on our board. And it was such a simple model, that we're using that 'let's go birding together' idea of just inviting people to go birding to start a conversation. Right now, we're extending that to several of our tribal partners here in the state.
It is all about relationships, and so much of conservation is really about the people, it's not always about the science. If you don't have people caring about what the result is, it's only going to go so far, right? So what we found is, don't rush it. Our goal is that we continue to create those partnerships so that the conversations can happen to find what would be the best project to do with them. That's tough sometimes when we're dealing with issues like climate right now and know we need to work faster. But the other option is that we don't have the partners that we need bringing their voices to the table.