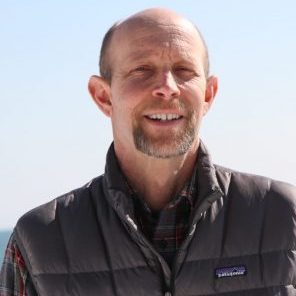 Eric Walberg
Program Leader, Climate Services
What do you get when you mix a beautiful late summer day, kayaks and canoes, a scenic location, and a great group of folks? The answer is the most recent addition to the 'Manomet in the Field' series, a kayak tour of the lower Taunton River. Eric Walberg and Jennifer Hushaw of Manomet's Climate Services program led the September 9 tour out of Dighton Rock State Park. We launched on an incoming tide allowing for an easy paddle upstream, transitioning from the broad, estuary-like section of the river adjacent to the park to the comparatively narrow upper reaches of the river. This stretch of the river has a rural feel with long sections of intact riparian forest. These forested areas at the river's edge buffer adjacent development from flooding, protect water quality, and provide rich habitat. This makes for great birding and we saw many species including ospreys, herons, kingfishers, red wing blackbirds, and a bald eagle.  Check out photos from our trip on Facebook!
At the midpoint in the trip we took a break at Berkeley Park to have a snack and learn a bit about the work that Manomet is doing to help protect the rich assemblage of natural areas in the Taunton Watershed. Eric and Jennifer explained the Resilient Taunton Watershed Network, a consortium of governmental and nongovernmental organizations working together to identify and protect high value natural resources. Manomet's primary contribution to this effort thus far is a green infrastructure analysis of the watershed, with the next step being some modeling work to analyze the costs and benefits of differing future land use scenarios in meeting water quality goals. The Taunton green infrastructure network includes lands that are important due to high biodiversity, occurrence of rare species, protection of water quality, limiting damage from freshwater and storm surge flooding, and resilience to climate change. The riparian forests and adjacent wetlands viewed on the trip are great examples of high value green infrastructure.
Heading back out on the river we went a bit further upstream, pausing frequently for bird watching and discussion. By the time we turned around to head back, the tide had flipped, making for a quick ride downstream. Upon arriving at the put in we had lunch and toured the small museum that houses Dighton Rock. For those not familiar, Dighton Rock is a 40-ton boulder with the river-facing side covered in petroglyphs. The origins of the petroglyphs are unknown and four competing hypotheses are explained and illustrated in the museum or on Wikipedia.
All in all, a great day on the river and we thank all who came along. If you missed this trip, stay tuned, we are already talking about a kayak outing on the upper reaches of the Taunton in the spring!