NAME: Emma Chen
U360 YEAR: 2019-2020
HOMETOWN: Sanmenxia, Henan, China
COLLEGE: Mount Holyoke College
GRADUATION YEAR & DEGREE(S): May 2022, Bachelor of Arts in Philosophy and Theatre Arts
What have you been up to since completing U360, and what are you doing now?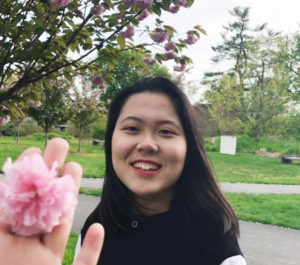 After our virtual capstone competition in June 2020, my U360 journey as an intern came to an end. But it marks the start of becoming a U360 Alum Assistant to help with the 2020-2021 U360 class. It is joyful to stay with the U360 family and to see how business outreach unfolds under the unique context of a pandemic.
U360's Capstone project of creating sustainable action plans for businesses we interviewed drew me to the fascinating problem-solving part of consulting. In the summer of 2020, I worked with a Mount Holyoke alum on developing and launching an IOS App Liklist. It enables people to share their recommendations or experiences in an audio format, which speaks to a growing habit of listening to podcasts or radio. Utilizing my U360 toolkit of conducting market research and outreach, I narrowed down Liklist's competitive advantage, sketched target customers' profiles, compiled lists of influencers to become content creators for the initial Liklist community, and invited them through outreach. This spring, I joined the MHC 180 Degrees Consulting Club that works on consulting projects from local businesses and organizations. As a Kickstarter of this semester, we are writing a market research article on The COVID-19 impacts on the agriculture value chain.
In theatrical pursuits, I played Borachio in MHC audio production Much Ado about Nothing in Fall 2020 and appeared as Seth in MHC video production Language of Angels in Spring 2021. Currently, I am researching devised theatre pedagogy with the goal of organizing a group of students to create an original devised performance in Fall 2021. I'm also participating in the creative development process for the script of a feature film called Land and Liberty. There is a possibility that I will be able to be part of the student team who help create the film on set, and I can't wait to embark on that adventure!
What are your professional aspirations? What would you like to do over the next five years?
Genuinely, I can see myself going in two directions for professional pursuits over the next five years: one is pursuing a career in consulting to help small businesses work towards a sustainable future; the other is becoming a professional actor. I believe that constantly learning about one field and experiencing it will lead me to a clearer answer, so I fully commit myself to explore both of them to find that answer. There is one thing that I'm certain about: I'm truly energized when doing meaningful work that has a positive effect. With that in mind, I know that wherever I end up in the future, I will not go astray.
How do you envision creating a more sustainable world through your career, and how did Manomet's U360 prepare you?
If I choose consulting, I want to work with businesses to find their way to sustainability. It can be having a sustainable business structure or playing a role in contributing to environmental sustainability through their daily practices, or it can be a sustainable company culture that values equality and respect towards employees. Broadening my previous understanding of sustainability as only environmental sustainability, U360 guided me to think about sustainability in multiple dimensions. When I talked to business owners and realized how impactful and important that multi-dimensional sustainability is in a real-world context, my "want" of working with businesses towards sustainability emerged. U360 hands me the valuable modes of thinking about sustainability that transform my understanding and what I want to do.
If I work in the theatre industry, I aim to discover and promote sustainable practices, such as costumes/props swapping programs among local theaters and implementing water stations rather than providing bottles of water during theatre festivals, all of which I learned from the interviews with theatre company owners I conducted as a U360 intern. On the other hand, I want to create theatrical works that can excite the audience to discuss and contemplate the connection between the environment and human existence.
What other sustainability issues are you passionate about?
As an international student from China, I experienced exclusion based on my racial and national identity myself, and I cannot take my eyes away from violence and false accusations towards the Asian community during COVID-19. I regard racial justice as a crucial part of sustainability because just like a company that respects employees can have stronger morale in working towards the same goal, a country can thrive in the long run when its citizens receive respectful treatments. This issue is difficult to tackle, but I believe change will appear when we all do what we can at our own positions in society.
Return to the Building Skills Outside Of The Classroom article>>