Story and photos by Emily Renaud
Portland, Maine | May 23, 2022
There was a pleasantly briney smell in the air as I walked up the stairs to the second-floor outdoor section at Luke's Lobster in Portland. From the patio, I overlooked a cluster of docked lobster boats below as Casco Bay, an inlet of the Gulf of Maine, gleamed under the late afternoon sun's slanting rays. Hungry guests began to trickle in for the evening's 'Discover Maine Clams' event, which was hosted by Manomet and partners Tidal Bay Consulting, Luke's, Casco Bay Shellfish, and the Casco Bay Regional Working Group. 
The Gulf of Maine is warming faster than 99 percent of the world's oceans, forcing it through a unique set of challenges. The ecosystem is rapidly changing, and Maine's fishers are having to grow and adapt along with it, finding new species to market to steadfast seafood consumers. This tasting event was designed to showcase Maine's diverse and sustainable shellfish to regional seafood consumers and the producers who deliver them from farm (or mudflat) to table.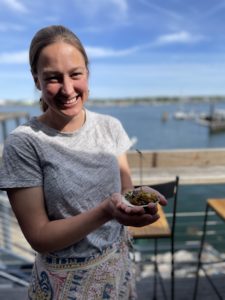 "Our fisheries work is based here in the Gulf of Maine, where we're working to create resilience in fishing communities," said Emily Farr, Manomet's senior fisheries program manager. "One of the ways we approach that work is through diversification of fishing and aquaculture opportunities, which is why we're so excited to have this diversity of clams featured here in these delicious appetizers the Luke's team has made."
If there's one thing the modern consumer has come to expect from their dining experience, it's having a diverse menu of choices. Most people nowadays prefer–perhaps even require–the ability to choose whatever they'd like to eat, request that it be prepared in a specific way, and know exactly where it came from. And many grocery stores and restaurants are keeping up with these demands. 
But several restaurants' and stores' seafood sections still lack the representation their nearest coastal ecosystem offers. Salmon filets, frozen Gulf shrimp, and other species not found in New England often dominate menus throughout the Northeast and nationwide, influencing what types of seafood customers think they have to choose from. 
In 2019, Tidal Bay Consulting and Manomet founded the Casco Bay Regional Shellfish Working Group, which works to sustain shellfish resources and the local Maine jobs that depend on fisheries.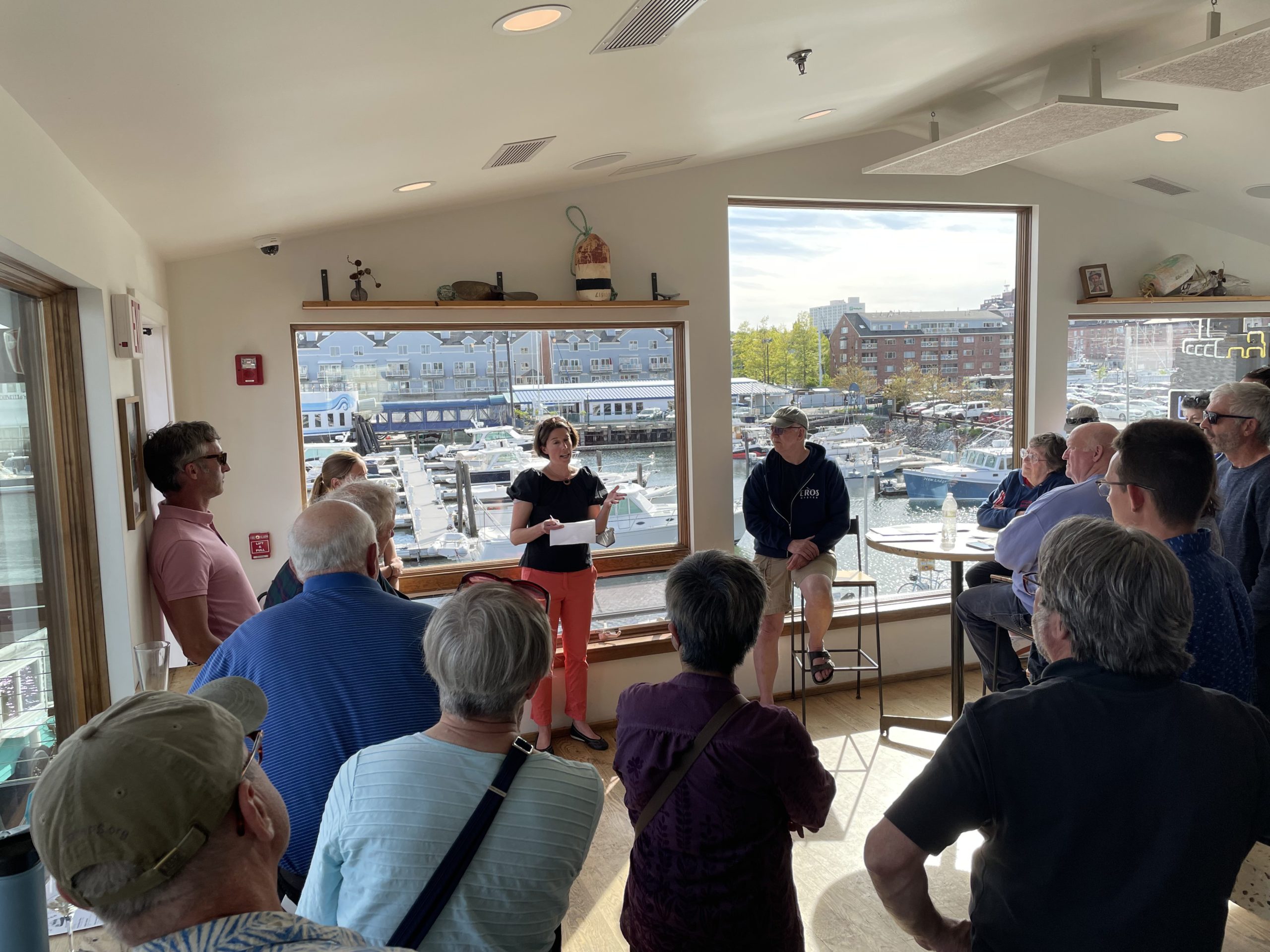 "We realized that while we work with the shellfish harvesters every day harvesting diverse species along Maine's coast, there are usually only a few dishes on Maine restaurants' menus, like steamers, soft-shell clams, or fried clam rolls," said Jessica Joyce, principal of Tidal Bay Consulting. "We know that there's a whole bunch of different culinary options that you can do with clams. We thought [this event] would be a great way to introduce the general public to how to experiment with different ways to eat clams."
Spread before us at the event was a unique menu of appetizers prepared by the chefs at Luke's, dishes starring locally harvested soft-shell and hard-shell clams. First up: a quahog dip served in a clamshell topped with capers, greens, and fried local root vegetables. The chopped quahogs were slightly sweet, with just the right amount of plumpness and firmness, and perfectly mixed with the creamy, cheesy dip. 
"Soft-shell clams, like steamers, are the second most valuable fishery in the state," said Emily. "But they're also susceptible to predation from green crabs and impacted by climate change, and as waters are warming, hard-shell clams like quahogs are becoming more prevalent in the coastal waters of Maine. This is providing an opportunity for both wild fisheries and aquaculture."
Many towns in Downeast Maine engage in conservation work to enhance the wild quahog fishery and provide a resource for wild harvesters, and some oyster growers are growing quahogs as a secondary crop on their farms.
"I'm part of this experiment to see if we–Maine oyster farmers–can be motivated to grow quahogs," said Mike Gaffney of Eros Oyster, whose just-harvested quahogs were part of the event's dishes. "We know how to grow an oyster, we know how much they sell for, and we know how much work is involved. We also know that clams sell for about half of what an oyster sells for. The math says if we can grow these clams at about half the labor and the capital that it takes to grow an oyster, then it would be a good addition."
Servers continued circulating appetizers to guests (including a clam-stuffed mushroom, an herby, earthy delight I need to make next Thanksgiving to replace whatever boring stuffing was my old stand-by before) while Mike and Jessie Batchelder, Manomet's fisheries research technician, began shucking quahogs to be served on the half shell. This is a first for Mike, and he hopes to receive feedback on whether or not the clams will make a suitable substitute for his famously delicious oysters.
"I'm hoping to find out if these clams are as sweet as the oysters I grow," he said. "[The oysters and quahogs] eat the same stuff, they're in the same location, so the merrior (think "terrior" with wine) is the same."
"This kind of diversification, not just what we fish and grow in the state but also what all of us as consumers are eating, is really important for building resilience both in communities and ecosystems," said Emily.
As guests filed out at the end of the program, Mike and Jessie passed out the shucked quahogs with a squeeze of lemon and bright, oniony mignonette. People's eyes closed as they savored the clam, letting out "mmm's" and "wow's" while they headed down the stairs and onto the sun-warmed street. I can confirm that they are, as Mike hoped, sweet as his oysters. I hope to see them at more local restaurants soon.