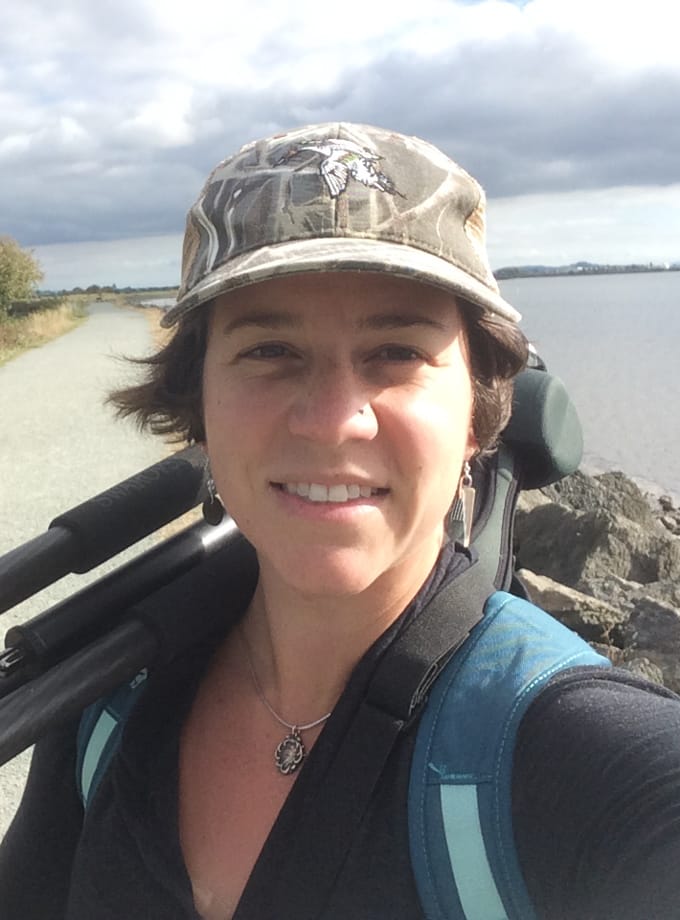 Monica Iglecia
Assistant Director of Shorebird Habitat Management
"I honestly finally feel like I can tackle shorebirds, with some level of comfort and confidence. I am so excited to get back out and practice!"
Natalya Lawrence, a program officer at the Environmental Awareness Group in Antigua, had just returned from an International Training Workshop on Conserving Caribbean Shorebirds and Their Habitats. She was excited by her rich experience at the workshop, which was hosted by BirdsCaribbean and Manomet in partnership with local NGO Sociedad Ornitológica Puertorriqueña (SOPI). The workshop took place at the Cabo Rojo National Wildlife Refuge in Puerto Rico, February 11 – 15, 2019. The lessons, developed by BirdsCaribbean and Manomet's Habitats for Shorebirds Project, help local leaders protect shorebirds in the Caribbean.
Shorebirds, including sandpipers, plovers, and oystercatchers, are among the most threatened groups of birds in the world. Many species migrate, making annual long-distance movements between nesting areas in the far north and nonbreeding areas in the tropics and South America. Their steady decline in numbers over the past four decades is connected with human activities such as habitat loss and development, environmental pollution, and hunting.
The group of 33 Caribbean conservationists learned about how these and other threats affect not only shorebirds and waterbirds, but also the places where they live and work. They also learned how to identify and count the birds and carry out conservation actions. "We were thrilled to work with this enthusiastic group of conservationists this week," said Lisa Sorenson, Executive Director of BirdsCaribbean. "They have all have pledged to use what they learned to help study and protect threatened shorebirds in their home countries."
The group of students, wildlife managers, and educators from both the government and the non-profit sectors came from 14 island nations: Antigua, the Bahamas, Dominica, Dominican Republic, Grenada, Haiti, Jamaica, Montserrat, Puerto Rico, Saint Lucia, Saint Vincent and the Grenadines, Sint Maarten, Trinidad and Tobago, and the US Virgin Islands. Over five days, they shared ideas, compared experiences, visited watery habitats, and learned about two critical monitoring programs, the Caribbean Waterbird Census (CWC) and the International Shorebird Survey (ISS).
Participants were energized throughout the training, which included 30 hours of classroom learning and six field trips to local wetlands and beaches. The field trips around Cabo Rojo offered students the opportunity to identify birds and to practice estimating the number of birds in a flock. "The workshop was amazing!" said Zoya Buckmire of the Grenada Fund for Conservation. "We went to a variety of wetland habitats from salt ponds to lakes. We got to see many different birds and learned some fantastic techniques for identifying and counting them."
A major threat to Caribbean shorebirds is plastic pollution. The theme of World Migratory Bird Day 2019, Protect Birds: Be the Solution to Plastic Pollution, reflects this. With a growing awareness of the harmful impact of plastic across the region on both public health and the environment, the group was soon busy with a cleanup at one of the field trip sites, collecting 50 pounds of trash. The exercise was led by Sheylda Diaz Mendez of Environment for the Americas (EFTA) and representatives from the Scuba Dogs Society. This was an excellent hands-on exercise for participants on the management and organization of a cleanup (which is not as easy as it sounds). Plus, the participants had fun and were delighted to receive cleanup kits to take back home, thanks to EFTA.
"There are many threats to shorebirds throughout the year, but by working locally at sites in the Caribbean and beyond, we can support the conservation of their great migrations. This workshop is the start of great things ahead," commented Monica Iglecia, Assistant Director of Shorebird Habitat Management, Manomet.
While the first three days focused on bird identification, ecology, and collecting and exploring data, the final two days turned to conservation solutions. After sharing the challenges they face in their countries, many of which are similar, trainees and their facilitators shared ideas and strategies for reducing threats. In the coming days, participants will have the opportunity to apply for funding from BirdsCaribbean to carry out conservation activities. They will receive support for their efforts from both Manomet and BirdsCaribbean.
Most Caribbean people live on or near the coast, but many do not know about the resident and migratory birds that inhabit their seashores and wetlands. One of these was participant Reneive Rhoden, from Jamaica's National Environment and Planning Agency. "I grew up on the seaside and I didn't know anything about shorebirds – and now I know a lot! I can now teach my kids, children in school, and Jamaicans that I work with in my job." said Reneive.
The participants came away with plans to share their newfound knowledge with colleagues and new tools to help them in their efforts. "Thank you so much for always providing opportunities for conservationists in the Caribbean like myself," wrote Laura Baboolal from Trinidad. She aims to start a shorebird monitoring program for Trinidadian wetlands. All participants also received new Vortex binoculars and ten organizations received a new Vortex spotting scope and tripod – "must-have" equipment for monitoring programs and ensuring proper identification. The group also received field guides and other resources for bird identification and data collection.
We are very grateful to the following generous sponsors and partners for contributing to this workshop: Western Hemisphere Shorebird Reserve Network; Sociedad Ornitológica Puertorriqueña; US Fish and Wildlife Service (Neotropical Migratory Bird Conservation Act Fund); US Forest Service International Programs; Environment Canada; The Cornell Lab of Ornithology; Cabo Rojo National Wildlife Refuge, Para La Naturaleza; Optics for the Tropics, Inc.; Environment for the Americas; Puerto Rico Department of Natural and Environmental Resources, and Vortex Optics.
About Manomet
Manomet is a nonprofit organization that believes people can live and work today in ways that will enable our world to thrive and prosper tomorrow. Manomet's mission: applying science and engaging people to sustain our world. Our Shorebird Recovery Program engages a diverse coalition of people and organizations across the Americas—including state and federal agencies, nonprofit organizations, private and public wetland managers, local communities, and landowners—to develop and implement science-based solutions to conserve critical sites and improve the quality and availability of habitats for imperiled shorebirds. Visit www.manomet.org for more information.
Contact:
Danielle Smaha, Director of Marketing and Communications
E-mail: dsmaha@manomet.org
About BirdsCaribbean
BirdsCaribbean is a vibrant international network of members and partners committed to conserving Caribbean birds and their habitats. Now in our 30th year, we raise awareness, promote sound science, and empower local partners to build a region where people appreciate, conserve and benefit from thriving bird populations and ecosystems. We are a non-profit (501 (c) 3) membership organization. More than 100,000 people participate in our programs each year, making BirdsCaribbean the most broad-based conservation organization in the region. You can learn more about us, our work, and how to join at: http://www.birdscaribbean.org.
Jessica Rozek, Caribbean Waterbird Program Manager, BirdsCaribbean
Phone: 508-655-1940
E-mail: lisa.sorenson@birdscaribbean.org