Danielle Smaha
Director, Marketing and Communications
Congratulations to this year's winner of Manomet's "Next Generation" Award and scholarship: Lily Brown, an Environmental Science major who just graduated from University of Vermont! A big round of applause also goes out to Desiree Dator of SUNY Maritime College (1st runner-up) and Alex Savage of Kean University (2nd runner-up). We had a truly exceptional class of students this year in Manomet's U360 and we are so proud of all they accomplished!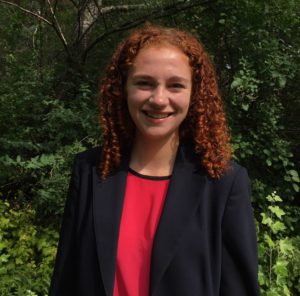 Lily, Alex, and Desiree competed for the "Next Generation" Award at our annual U360 Capstone Competition on May 25, 2021. The Capstone is the culmination of Manomet's U360 Business Sustainability Internship, an experiential educational program for college students. By giving the next generation practical sustainability knowledge coupled with professional and interpersonal skills, Manomet's U360 program helps these individuals gain agency over their futures and become active and effective change-makers.
"Alex and Desiree both had extremely strong presentations, so I thought the winner could be any of the three of us," says Lily. "I just wanted to do the best I could on my Action Plan and get as much as possible out of the experience. Of course, however, it is really nice to see that all the hard work I put into this project paid off!"
At the Capstone, the students presented the Sustainability Action Plans they created for one small business composed of highly-researched, customized, and practical recommendations for improving its overall sustainability. A panel of judges asked the students questions to defend their action plans and then selected the winner. We want to thank all of our judges throughout the entire competition, especially our Capstone judges: Scot Case, National Retail Federation; Victoria Marino, Hudson County Community College; and Katherine Berry, Manomet's 2020 Next Generation Scholar.