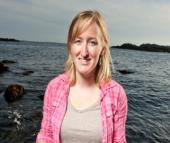 Marissa McMahan
Senior Fisheries Scientist
Enjoy appetizers prepared by Chef Ali Waks-Adams made from green crabs and other local ingredients.
Hear from Manomet Senior Fisheries Scientist, Dr. Marissa McMahan, and fisherman Chris Jamison about their work to create a market for green crabs.  It will be a fun, informative, and delicious evening!
Tickets: $30 per person.  Appetizers, beer, and wine included
Space is limited.
Want to learn more?
The invasive green crab  Green crabs invaded North America over 200 years ago. Transported from their native home in Europe via ship ballast water, these sneaky stowaways are now found on every continent except Antarctica.  Cold Maine winters have helped keep green crab populations in check for many years, but rapidly warming water temperatures in the Gulf of Maine are resulting in an expansion of green crab populations.  This increase in green crabs is harmful both for Maine's native species and our fishing economy.  Green crabs make headlines as a cause of historically low landings of soft-shell clams and mussels, but they also destroy important nursery habitat for many marine species, including lobsters.
If you can't beat 'em, eat 'em! Manomet is working to create a financially viable fishery for the green crab and create a new revenue opportunity for Maine's fishers.  An important part of this fishery development is utilizing green crabs in the culinary market.  Green crabs add a delicious umami flavor to seafood stock, as well as other dishes such as crab rangoons and risotto.  The most popular green crab dish is the soft-shell crab, a Venetian delicacy, fried and eaten whole.  When soft-shell green crab appears as a featured menu item in mid-coast restaurants they sell out immediately!
Join us on June 19th!  Sample dishes made from green crabs and take home recipes to share with your friends and family!  Hear how Manomet is working with scientists, fishermen, chefs, and students to create a market for green crabs.
All proceeds from this event will go to support Manomet's green crab research.
Questions? Call 207-721-9040 ext 103