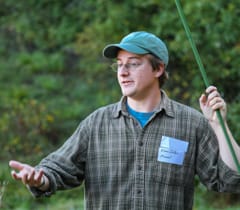 Evan Dalton
Lead Instructor, Landbird Conservation
Join Manomet for a series of all-inclusive birding crash courses and to celebrate the return of our favorite spring migrants!
Join us for a fun, family-friendly event at Manomet on International Migratory Bird Day! You'll get a behind-the-scenes tour of the Manomet Banding Lab and learn more about how we band birds and what over 50 years of doing so can tell us about our changing environment. Plus, our research scientists will lead you on a short hike around the Manomet campus to see our banding nets up close.
We'll begin promptly at 8:30 AM. Be sure to wear closed-toe shoes you don't mind getting dirty and don't forget to pack your sunscreen and water. Feel free to bring along a snack to enjoy on our bluff overlooking Cape Cod Bay.
Just $5 for kids. Adults are $10 for Members / $20 for non-members.
Don't miss out—participation is limited and spots will fill quickly!