Manomet's U360 Business Sustainability Internship gives college students real-world experience in three vital areas that are not taught in the classroom: applied business sustainability, career skills, and how to engage people with differing viewpoints.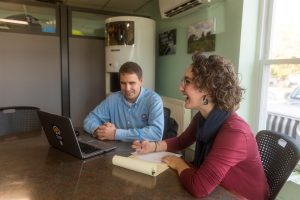 Over the course of two semesters, each student leads up to 25 small business owners through Manomet's assessment of their environmental, social, and governance practices. By discussing sustainability with dozens of business owners around the country, students are forced to see the world through the business owner's eyes. Through these experiences, U360 students develop both confidence and humility, and leave the program prepared to bring their communication and professional skills and ability to create practical, sustainable business solutions to any job or industry.
More than 1,000 businesses across the united states have participated in Manomet's u360 program. Would your business like to support Manomet's U360 Business Sustainability program by being interviewed by one of our students?