During June 2019 fieldwork in the Arctic National Wildlife Refuge, Manomet scientists made an unexpected and exciting discovery: an unusually high concentration of Whimbrels nesting in the Katakturuk River Valley.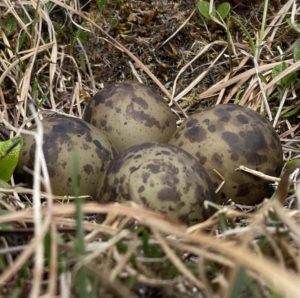 These shorebirds are normally isolated and solitary nesters, so finding 14 to 16 of them clustering their nest sites in one area of this Arctic valley presents a unique opportunity for research—scientists have never before observed a tightly-packed nesting location of Whimbrels, indicating the significance of this particular location and group of birds.
From satellite transmitters that Manomet scientists placed on some of these Whimbrels—super lightweight tracking devices worn like tiny backpacks by the birds—we received data indicating that birds migrating south from this nesting site made different decisions about which routes to take. Some birds were tracked making their way south via stopover sites along Pacific flyways, while other birds traveled south along the Atlantic coast.
The Arctic National Wildlife Refuge and this critical habitat for Whimbrels and other species in the Katakturuk River Valley are at risk from a warming climate and from oil and gas development. Research into how the Whimbrel, an already-declining shorebird species, uses this habitat could provide insight into how this site could be managed and protected for generations of Whimbrels to come.
How You Can Help
You can make a direct impact by supporting fieldwork in the Arctic. Our research on these nesting Whimbrels is just one of several Manomet projects in the Arctic that will help us understand the potential impacts of future oil and gas development.
By making a donation today, you will help enable Manomet scientists to survey shorebird populations, measure nest success, and use cutting-edge tracking technology to uncover migration routes, stopover sites, and wintering locations along the Pacific and Atlantic coasts. You'll also help us gain valuable knowledge about threats to the survival of shorebirds and other species that use the same habitat—knowledge we can use to help inform future conservation actions.
Contribute to Arctic research now