To protect a local fishery, harvesters, researchers, NGOs, and state and federal agencies come together to share information and engage Maine communities.
By Emily Renaud
River herring are resilient little fish. Every spring, these aquatic powerhouses migrate from the ocean through rivers and streams to spawn in freshwater ponds and lakes, making them one of just a few anadromous species that use New England's marine ecosystems. They also play an essential role in coastal food webs; many species rely on river herring as part of their diet, including birds, other fish, mammals, and people.
Like many species in the Gulf of Maine, river herring populations have been declining for decades, with climate change, overfishing, and human development as the main threats driving numbers down. As the people who depend on these fish as part of their livelihoods begin to feel the effects of dwindling populations, local community members are seeking ways to collaborate on management efforts. River herring are quick to rebound when access to their habitat is restored, and recent years have seen local increases in river herring populations thanks to collaborative restoration efforts.
Earlier this fall, the Gulf of Maine River Herring Network launched a website designed to store data, host tools, and provide a space for network members and other stakeholders to collaborate on river herring management and monitoring. The network—comprised of fishers, community members, researchers, state, federal and tribal agencies, and nonprofits—aims to "advance collaborative research and co-management of river herring in the Gulf of Maine" through targeted communication and engagement.
This website is the network's latest feat toward bringing decision-makers together for the good of Maine's river herring and, ultimately, the communities that rely on them. We asked Emily Farr, Manomet's senior fisheries program manager and Gulf of Maine River Herring Network facilitator, to tell us more about the network, how this website plays a role in river herring restoration, and why she thinks these fish are so neat.
Q&A with Emily Farr
Tell us more about river herring and the pressures they face in the Gulf of Maine.
 Farr: River herring is a term that refers to two different species; alewives and blueback herring. They both spend most of their lives in the ocean and then migrate into rivers and streams in the spring and spawn in ponds and lakes from Florida up to Canada. They're important ecologically because they serve as the base of the food chain for many other species. They also play a really important role in transporting nutrients between saltwater and freshwater environments. They're just a neat ecological connector in this ecosystem.
The biggest threat to river herring historically and currently is blocked barriers to fish passage. That means dams, culverts, and other structures that prevent them from reaching their spawning habitat. Climate change is also a major threat; an assessment from 2016 looked at several different species and their vulnerability across the northeast U.S., and river herring were found to be highly vulnerable to climate change because they have such a complicated life history. They spend some of their lives in the ocean, some in rivers, and some in ponds, so they're impacted by various climate stressors throughout these different parts of their life cycle.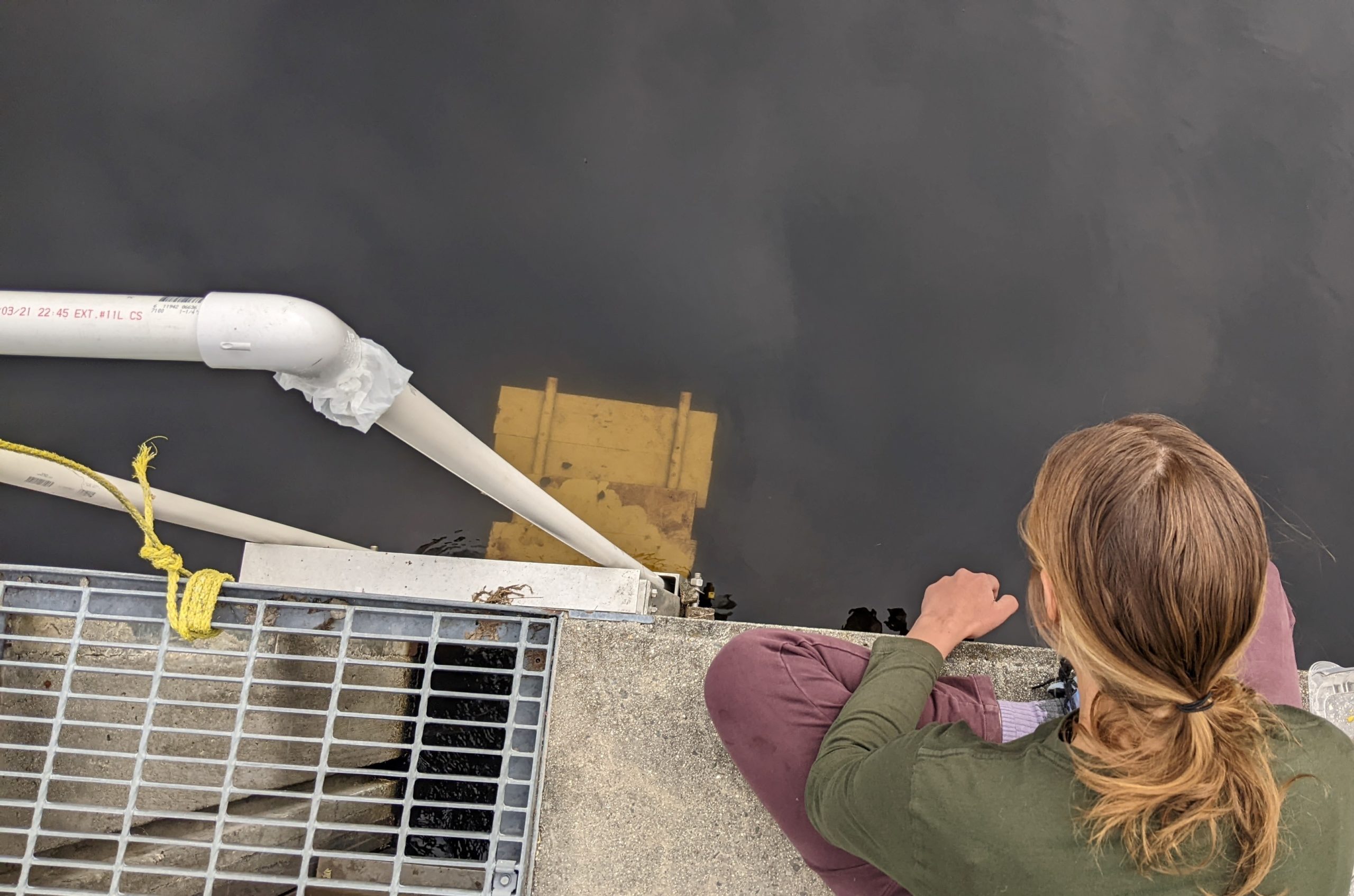 How are river herring currently managed in the state of Maine?
Farr: Maine is the only state that currently allows commercial harvest of river herring, so it's unique in that way. What's interesting about how river herring are managed in Maine is that they use this amazing model where the fishers who harvest them are responsible for collecting data on their run—the fish's migratory paths—to share with the state to inform management decisions. This creates a collaborative relationship around the management of the species. But what we've found is that while we have all these people working in this shared space, we don't have regular channels to communicate and learn about what everyone is doing.
What is the Gulf of Maine River Herring Network?
 Farr: The Gulf of Maine River Herring Network is a group of people working on river herring across the Gulf of Maine, mostly in Maine and Massachusetts, from a variety of different perspectives. It's comprised of different stakeholders, including harvesters, community volunteers, federal agencies, state agencies, nonprofits, and several university researchers that are all working on restoration, research, monitoring, and management.
Having this network of invested people has been a great way to bridge all of these different perspectives on a regular basis. We meet a couple of times a year and even piloted a few collaborative monitoring projects last year.
Tell us about the network's new website. How will it help drive river herring restoration in the Gulf of Maine?
Farr: Since the network's inception in 2020, members identified a need for platforms to communicate with each other and also share information more broadly with the public. This website does both of those things: it's a place where people can add data resources, tools, and information to collaborate and learn from each other. It's also a place for more general information about what river herring are, how harvesting works, how they're managed, and resources for anyone who's interested in learning more.
I think it's an exciting starting point to bring data together that has historically existed in disparate places. Just this past season we gathered river herring counts from volunteers at different runs across Maine into a data dashboard that can be found on the website. I look forward to building on that and using this as a place to pull information together that's easily accessible all in one place.
You mentioned that community science plays a critical role in river herring monitoring. Why is volunteer participation necessary in achieving the network's goals?
 Farr: River herring and shellfish are both fisheries that are co-managed, meaning there are different levels of people involved in their management. It's a collaborative effort between government agencies, towns and communities, and stakeholders. River herring are harvested (and managed to a certain degree) at the town level and managed by the state, which follows guidelines set by the federal government.
In the end, it's a very local fishery. For any of that management to happen, there needs to be local engagement and community monitoring to collect data that the state can then use to inform the federal government to make decisions about the resource. There's very limited capacity at these government agencies, and they rely on the local communities to collect this information and steward this resource.
But it's also a cool fish that brings people together around the river, and I think that naturally drives the community to want to protect and restore them.
What do you hope people will gain from the network's new website?
Farr: The goal of the network is to build greater collaboration and communication across all the people that are working on river herring from different angles. Our hope is that this website provides a space to facilitate that connection and a resource for people to continue to use, add to, and learn from, and treat as an ever-evolving resource. It's really for the people, by the people.
I also want to mention that building this website was a collaborative effort with partners at the Maine Center for Coastal Fisheries. This work wouldn't be possible without them, and we're just excited for people to explore and use these tools for themselves as they go out and help monitor river herring in the Gulf of Maine next year, or just enjoy their local river herring run.
Explore the Gulf of Maine River Herring Network website and the tools, research, and community engagement opportunities it offers here.