All that's needed now for Thursday's Business Sustainability Student Competition is you! On May 3, our 2nd annual event will take place at The Downtown Harvard Club and will feature insights into small business sustainability, networking, and an inspiring glance at the promise held by the next generation.
Our judges for this year—Ashley Davis, Senior Manager, Global Corporate Responsibility, Cole Haan; Carol Fulp, President and CEO, The Partnership, Inc.; and Cathy Minehan, Managing Director, Arlington Advisory Partners; Chairman, Board of Trustees, MGH—are readying their questions for our three competing students, who were just selected on Saturday, April 28.
Aurora Diaz, University of New England; Rachel Rymaszewski, University of New Hampshire; and Julie Stasiuk, University of Vermont were chosen to head to Boston and compete for Manomet's Next Generation Award and Scholarship. The students will be presenting to our judges and the audience their sustainability recommendations for types three businesses: a salon and spa, a pharmacy and an indoor mini-golf course.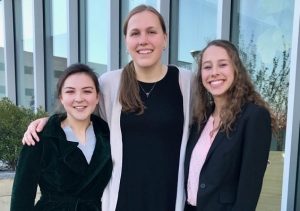 "What impressed me most about the competition this semester was the incredible diversity of small businesses the students engaged," exclaimed John Hagan, President, Manomet.  "Through these young rock stars, Manomet is really bringing new people into the sustainability conversation across the U.S.  I'm looking forward to the final student competition on May 3 at the Downtown Harvard Club!"
We hope that you can join us on Thursday evening to enjoy a truly one-of-a-kind event. We promise that everyone in the room will walk away with a bit more hope for the future. This event is also a chance to network with Boston-area business leaders before and after the student presentations. Plus, one of these talented, entrepreneurial students might just be your next employee or colleague!
More about our judges:
Ashley Davis
Senior Manager, Global Corporate Responsibility, Cole Haan
Cole Haan is a global shoe and accessories company that was founded in 1928. Ashley Davis joined Cole Haan in 2008 as their HR Coordinator, and over the past decade has been promoted into diverse leadership positions that manage sustainability and social responsibility within the company. As their Sustainable Business Analyst, she established a sustainable infrastructure in her workplace, embedded environmental awareness and action among corporate and retail employees, and initiated and led the Cole Haan Green Team and Cole Haan Community Garden.
Since being promoted to her current position as Senior Manager of Global Corporate Responsibility, Ashley has led several corporate responsibility initiatives. These include Cole Haan's first global fundraisers; engaging different stakeholders in local communities to design an innovative social performance and evaluation program; and leading the improvement of social performance and chemical management programs. Ashley holds a BS in Marketing from Providence College with further training through the Harvard Business School Executive Education Program. She is an Island Steward and Board Member for the Kennebunkport Conservation Trust in Maine, is a member of the Maine Island Trail Association, and she holds a Master Captain's License. She is a past board member of Maine Businesses for Sustainability.
Carol Fulp
President and CEO, The Partnership, Inc.
Carol Fulp is the President and CEO of The Partnership, Inc.—New England's premier organization dedicated to enhancing the competitiveness of the region by attracting, developing, retaining, and convening multicultural professionals. Prior to The Partnership, Carol was Senior Vice President of Corporate Responsibility and Brand Management at John Hancock Financial. She serves on the Board of Trustees for Eastern Bank, as well as the Board of Directors for: the American Student Assistance Corporation; Beth Israel Deaconess Medical Center; Boston University; and Citizen's United for Research in Epilepsy. She is also a founding co-chair of the Massachusetts Conference for Women—the largest professional women's conference in the country.
Carol is the recipient of many honors, including the Greater Boston Chamber of Commerce Pinnacle Award, and the Museum of Afro-American History's Living Legend Award, to name a few. Boston Business Journal has listed Carol as one of the "50 Most Influential Bostonians" and she was named one of Boston Magazine's "50 Most Powerful People in Boston" in 2015. Given her leadership in business and public service, President Obama appointed Carol as a Representative of the United States to the 65th Session of the United Nations General Assembly. Carol is a graduate of the University of the State of New York and recipient of honorary doctorates from New England Law Boston and Salem State University.
Cathy Minehan
Managing Director, Arlington Advisory Partners; Chairman, Board of Trustees, MGH
Cathy Minehan is the Managing Director of Arlington Advisory Partners LLC and has over 45 years of experience at various executive and CEO levels in major commercial activity, healthcare, and education. Cathy retired from the Federal Reserve Bank of Boston in July 2007 after 39 years with the Federal Reserve System, having served as the President and Chief Executive of the Boston Bank and a member of the Federal Open Market Committee from July 1994 on.
Cathy is now a director of Bright Horizons Family Solutions LLC, The MITRE Corporation, and the Brookings Institution. She is Chair of the Board of Trustees of the Massachusetts General Hospital and co-chair of the Boston Women's Workforce Council. She also serves on the boards of Partners Healthcare System, the Museum of Fine Arts in Boston, and WGBH, a public broadcasting station in Boston.
She is an elected fellow of the American Academy of Arts and Sciences and was named the Public Company Director of the Year (New England NACD 2012), NACD Top 100 Directors in 2013, and 2015 Shattuck City Champion (Boston). Cathy is a graduate of the University of Rochester and is a member of the University's Board of Trustees. She holds an MBA from New York University and was named a distinguished Alumna from there in 1995.