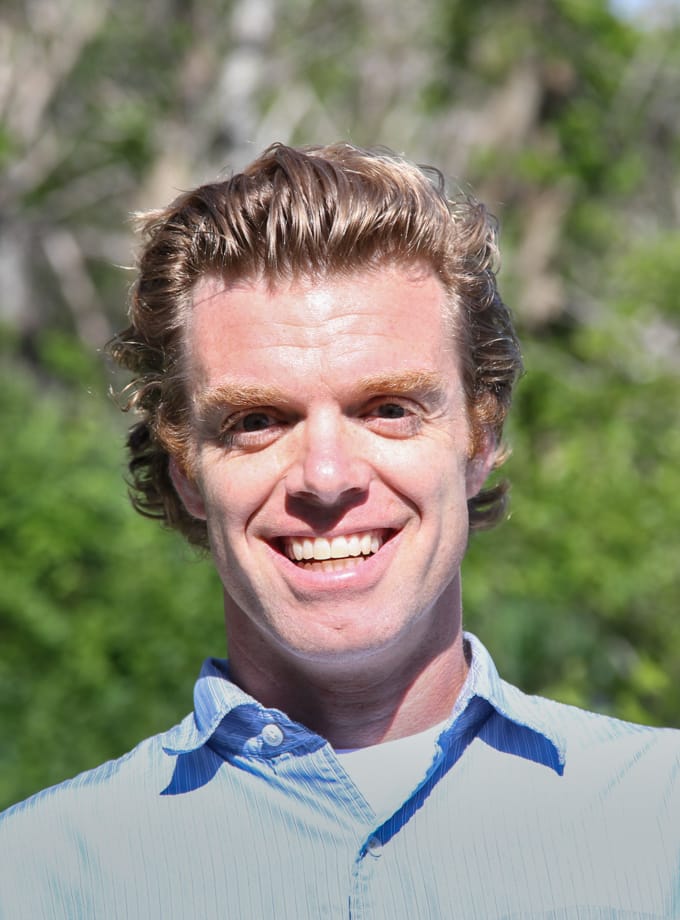 Peter Cooke
Program Manager, Grocery Stewardship Certification
The business sector has been stepping up on sustainability—consumers want it, it helps a business manage for risks, and it just makes good sense for the bottom line.
One sector stands out as being able to deliver more benefits on sustainability than all the rest—the grocery industry. You probably visit the grocery store at least twice a week and spend more than 5% of your household income at your local supermarket. You write your shopping list and when you're in the store, consider the price, sustainability, and nutrition benefits for the products that you're putting into the basket. But most of us don't think about the actual building that we're walking around and the actions of the people working there.
If the planet is going to be more sustainable, both grocery stores and their customers need to start thinking about the future. The grocery store of today, and the future, plays a big role in our local community—and has an even bigger role in sustaining our planet.
Better for the planet
Out of all business sectors, the grocery industry has one of the greatest opportunities to reduce resource use and the greenhouse gas (GHG) emissions that contribute to climate change. Grocery stores have the highest intensity of energy use of buildings in any sector. According to ENERGY STAR, for an average-size (50,000 square foot) store, this equates to more than $200,000 annually in energy costs and results in 1,900 tons of CO2 being emitted into the atmosphere—equivalent to the emissions from 360 vehicles in one year!
Looking beyond energy usage, the grocery sector is responsible for over 20% of food waste in the U.S. Grocery stores generate waste from packaging, standard business operations and food production, which is either incinerated or landfilled creating GHG emissions. Grocery stores can significantly reduce waste through effective recycling and diversion programs for cardboard, plastic, metals, and food.
Finally, one of the biggest impacts that grocery stores have on the environment is through their use of refrigerants. Refrigerant gases used at grocery stores are thousands of times more potent than CO2; a typical grocery store leaks 25% of its refrigerant each year. (Think about this stat the next time you wish you had a sweater with you as you walk down the dairy aisle!) Grocery stores can significantly reduce energy and GHG emissions by increasing the efficiency of their refrigeration, which is now mandated by new refrigeration standards.
Helps create a more sustainable food system
A truly sustainable food system starts at the farm and continues when food and related products like packaging are disposed of. While people may be purchasing some of their food from farmers markets or convenience stores, or going out to eat at restaurants more, the average person shops at a grocery store just under twice per week. The grocery store is right at the center of the American food system.
There are many ways that your local food retailer can enable our entire food system to be more sustainable. The grocery store where you shop can make decisions to support local farmers; to manage the efficiency of product transport to their stores and distribution centers; be transparent about ingredients and their supply chain; to reduce packaging in products they sell, or to highlight more ecologically friendly products over conventional products.
Better for your wallet and community
Grocery stores operate on a razor-thin margin and their profits can be influenced by a wide range of things out of their control. But with more sustainable operating practices, grocers can substantially reduce their energy and water costs and even generate revenue through practices like recycling cardboard.
That's great for the food retailer, but why does it matter for consumers? Because every dollar that a grocery store spends on energy or water ends up in the price of the food and other items you buy. According to research by the EPA, grocery stores need to sell $18 worth of product to cover every dollar of inefficient energy use. By reducing overhead expenses, grocery stores can pass back some of those money savings to their customers. Additionally, many grocery stores play a vital role in our communities, sponsoring local little league teams, providing funding for schools, and working with nonprofits. By cutting costs, they have more to reinvest in these important projects in your community.
The grocery industry is facing lots of challenges but operating sustainably doesn't need to be one of them. Manomet's Grocery Stewardship Certification Program is working with nearly 900 stores to help grocers make better-operating decisions that will help to create a more sustainable food system.