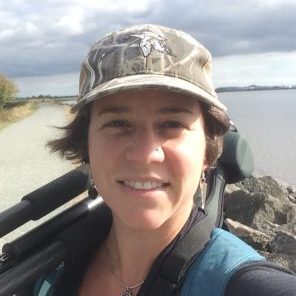 Monica Iglecia
Assistant Director, Shorebird Habitat Management
Manomet's Habitat Management Division and The Nature Conservancy of Kansas held a Shorebird Conservation Action Symposium at Cheyenne Bottoms in early May 2018. The Symposium brought together managers of public and private wetlands, employees of the Kansas Department of Wildlife, Parks, and Tourism, and representatives of Ducks Unlimited and other National Wildlife Refuges from the surrounding states of Nebraska, Missouri, and Oklahoma.
Cheyenne Bottoms is one of the largest interior marshes in the United States. It has been a Site of Hemispheric Importance in the Western Hemisphere Shorebird Reserve Network (WHSRN) for 30 years, and the symposium celebrated this milestone by presenting certificates to the site partners. Migratory shorebirds passing through the mid-continent are subject to unpredictable weather patterns and a landscape of ephemeral wetlands in which to find their food. Water levels at Cheyenne Bottoms still vary on a regular basis, but the basin provides some of the most reliable food resources for shorebirds migrating through the center of the continent.
Of the 52 shorebird species that occur in North America, 37 are found in the Great Plains – and half of these species are considered of high conservation concern or worse. Download our Shorebird ID Guide to learn more about the shorebirds found in Cheyenne Bottoms.
The three-day workshop focused on techniques for managing habitat with multiple priorities. Field visits included Cheyenne Bottoms and Quivira National Wildlife Refuge. Read more about the workshop here.