This is an excerpt of an article published in the Summer 2018  Manomet magazine; to read the complete interview, click here.
Manomet is working with Hancock Agriculture Investment Group (HAIG), one of the largest institutional agriculture investors of U.S. farmland, to create a comprehensive set of indicators for measuring and managing for environmental sustainability on their approximately 290,000 acres of diverse farmland across the U.S.
Hancock Natural Resource Group's (HNRG) Brian Kernohan sat down with us to share how this project came about and why it's so important in today's world.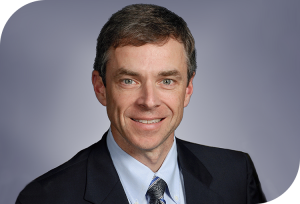 As Director of Policy & Environmental Advocacy, Brian serves across HNRG's global operations and across all three of its businesses—forestry, agriculture, and renewable energy.  In this capacity, he directs Hancock's global sustainability program, development of policies and environmental compliance mechanisms, and government relations.  He also advises the company on third-party forest and farmland certification and supporting ecosystem services revenue development and conservation transactions.
How did you first become involved with Manomet?
It must have been 12 or more years ago when John Hagan and I started crossing paths in the forest certification arena.  I'm a wildlife biologist by training and back then I was keenly interested in biodiversity and landscape management components of forest certification.  John and Manomet were providing cutting edge science information on those topics.
Where is agriculture on the path to sustainability compared to forestry?  What could agriculture learn from forestry to jump ahead?
Farmers do great work every day as stewards of the land. When it comes to sustainability more broadly, however, agriculture is arguably 10-15 years behind forestry. For context, however, forestry was under tremendous pressure by the environmental community in the mid-1990's. This fueled the drive to view forestry through a more holistic sustainability lens.
The agriculture sector, particularly in the United States, is in the "coalescing" stage on the path to sustainability.  Farmers today have many commodity specific or "niche" certifications to choose from in today's market.  We're seeing interest by segments of the food system supply chain to bring about a more common approach to demonstrating sustainability of the sector.  Interestingly, the impetus in agriculture is coming from the brand owners and retailers.
Farmland sustainability can learn a lot from forestry's experience.  Since most of the challenge is figuring out how to create credible proof points for sustainability, farming has 20+ years of lessons learned from forest certification.  Even the fact that third-party certification is an effective and efficient proof point is something the agricultural sector can pick up immediately from forestry.  Beyond that, forestry can provide insights into the structure of certification standards, stakeholder involvement in standard setting processes, and deployment of operationally efficient management systems, to name a few.
Manomet's mission is applying science and engaging people to sustain our world. In your work, how does Manomet's mission help your company to solve these challenges?
John Hagan, in his article "Profiting with Purpose" stated that "[t]o meet the demands of the growing human population, we will have to produce as much food in the next 50 years as humans have produced in the last 10,000 years."  John went on to write that "[t]he challenge requires changes in the way food is produced, stored, processed, distributed, and accessed.  In essence, the food system will need to be transformed."  We at HNRG agree with the need to transform the world's food system, just as we agreed more than 20 years ago that the forest sector needed to transform into a sustainable forestry sector.  Hancock was there at the beginning of forestry's journey and we are proud to be at the beginning of farming's journey.
Back to your question, we find Manomet's mission to be complementary to ours and appreciate their ability to provide practical, science-based solutions to managers of working forests and farms.  That's why we approached Manomet in 2015 to help us develop credible, science-based sustainability metrics for our growing portfolio of farms.  We have since structured the metrics into a certification standard based on our collective learnings in forestry – lessons learned over years of a strong partnership.