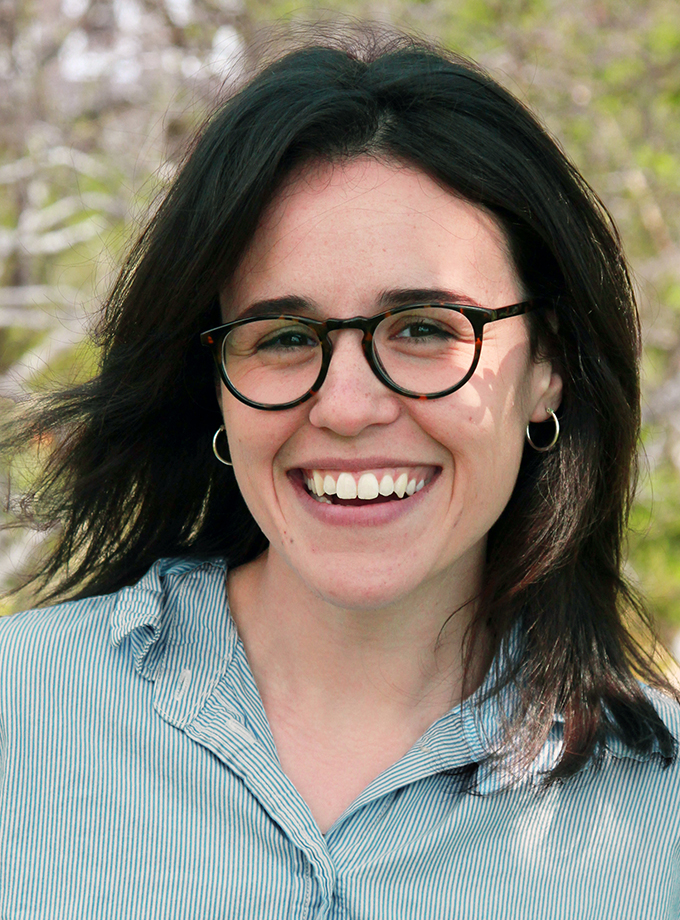 Emily Renaud
Communications Coordinator
Mass Audubon held its annual Birders Meeting in Worcester, Mass., on Sunday, March 8, inviting vendors, presenters, and organizations from around the country to join together and celebrate all things birds and birding.
We were excited to attend again this year, not only to reconnect with our friends, partners, and supporters, but to receive the honor of Mass Audubon's Hemenway and Hall Wildlife Conservation Award, which is presented every year to a new recipient during the Birders Meeting. This award is named for Mass Audubon's founders Harriet Hemenway and Minna Hall, who organized a national campaign in 1896 to stop the needless slaughter of birds for their plumage.
The award recognizes "excellence in wildlife conservation and celebrates an organization or individual whose research and related ecological management successes have amply demonstrated and provided a significant and lasting wildlife conservation benefit."
"Manomet has been celebrating five decades of active support for birds and other wildlife, a worthy legacy that Harriet Hemenway and Minna Hall would certainly appreciate and applaud," said Gary Clayton, President of Mass Audubon, the state's largest nature conservation nonprofit.
"From monitoring shorebirds internationally to studying forest habitats regionally, this organization continues to play an important role in protecting and enhancing biodiversity in Massachusetts and beyond," Clayton added. "So, Mass Audubon is very pleased to present Manomet with the 2020 Hemenway and Hall Wildlife Conservation Award."
Our own Brian Harrington, Manomet Scientist Emeritus, (pictured below on the left with Jeff Collins, Mass Audubon Director of Conservation Science. Credit: Stephen Broker) the award before a crowd of a few hundred, many of whom raised a hand after being asked if anyone in the room had some connection to Manomet.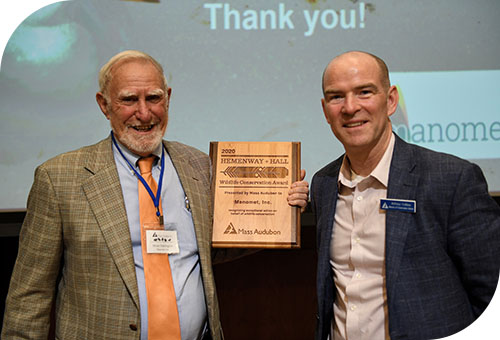 "We've had a long-standing intern program at Manomet," said Brian while accepting the award. "Kathleen Anderson, Manomet's founder, calculated that over a quarter of attendees at the 100th Anniversary Meeting of the American Ornithologists' Union had some prior connection to Manomet."
We are honored to receive such recognition by our friends at Mass Audubon and consider this to be a great milestone in celebrating our 50th anniversary this year.
In addition to the excitement surrounding the award, Manomet held a place among other organizations and vendors with a table promoting upcoming events (many of which will be postponed or moved to a virtual setting due to COVID-19), programs, and the re-institution of the Massachusetts Young Birders Club.
"As part of Manomet's mission to connect people to nature, we seek to expand opportunities for youth to engage meaningfully with their peers in a safe environment," says Evan Dalton, Lead Instructor of Landbird Conservation. "The Massachusetts Young Birders Club seeks to fill a gap in regional opportunities for young people to meet and experience the natural world together."
Follow the Massachusetts Young Birders Club on Facebook and visit them online at massyoungbirders.org or contact Evan at edalton@manomet.org to learn more.
The Mass Audubon Birders Meeting is a staple in Manomet's annual event attendance schedule and we are always pleased to be asked to be a part of it. Looking forward to 2021!