On behalf of the entire Manomet staff
It is with heavy hearts that we share the passing of Johanna Alderfer (Nan) Harris on Sunday, January 27, 2019. Nan will be remembered here at Manomet for her passion for nature and shorebirds, as well as her positive attitude and warm and generous spirit.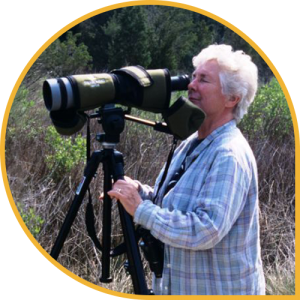 Nan was an enthusiastic supporter of the Western Hemisphere Shorebird Reserve Network during her more than two decades on Manomet's board.  Her love of migratory shorebirds drew her toward finding solutions to their dramatic declines, and she deeply supported WHSRN's approach of identifying critical habitats and working toward their voluntary protection so shorebirds can survive their long migratory journeys.  John Hagan, Manomet's Present said, "Nan was a trustee I would always look to for common-sense answers.  She made my job so much fun.  And she inspired the entire Manomet staff because she loved what we do."
Her deep commitment led her and her husband Bill to create the Nan and Bill Harris fund for WHSRN, which endowed support for WHSRN in perpetuity.  This support has been critical to the success of WHSRN in the many years since, and will continue as a lasting legacy of Nan and Bill's vision as long as shorebirds are still winging their way down the coastlines of the hemisphere.
"Nan always gave tirelessly to Manomet," Dean Steeger, then-Board Chair, said in 2012. "But more than that, she's the model of a person society needs in order to prepare for the future. She understands how important it is for humans to figure out how to live sustainably on a finite planet, and that it will take a diversity of voices to find lasting solutions."
For more on her life, read here.