By Alan Kneidel
This April, a flock of Manomet shorebird scientists descended on the Gulf Coast. Our arrival coincided with that of thousands of Whimbrel to the coastal plain of Texas and Louisiana. These birds, arriving after a nonstop flight from their tropical wintering grounds, stage in this region during the months of April and May before continuing onto their tundra breeding grounds in the Arctic. 
Whimbrel have been identified as a conservation priority in the Atlantic and Midcontinent Flyway, with a population that has declined by 50 percent between the early 1990s and the mid-2000s at key Atlantic staging areas. Manomet and a team of partners are working together to gather all the information we need to apply conservation actions that safeguard these Whimbrel populations.
While we've been working with Whimbrel on the Atlantic Coast for over a decade, we've recently expanded our focus to include the Gulf Coast. Our goals for our 2022 trip? To continue our identification of the key staging areas. This included following up on sites identified in 2021, such as Louisiana, while also broadening our search to include new areas of interest.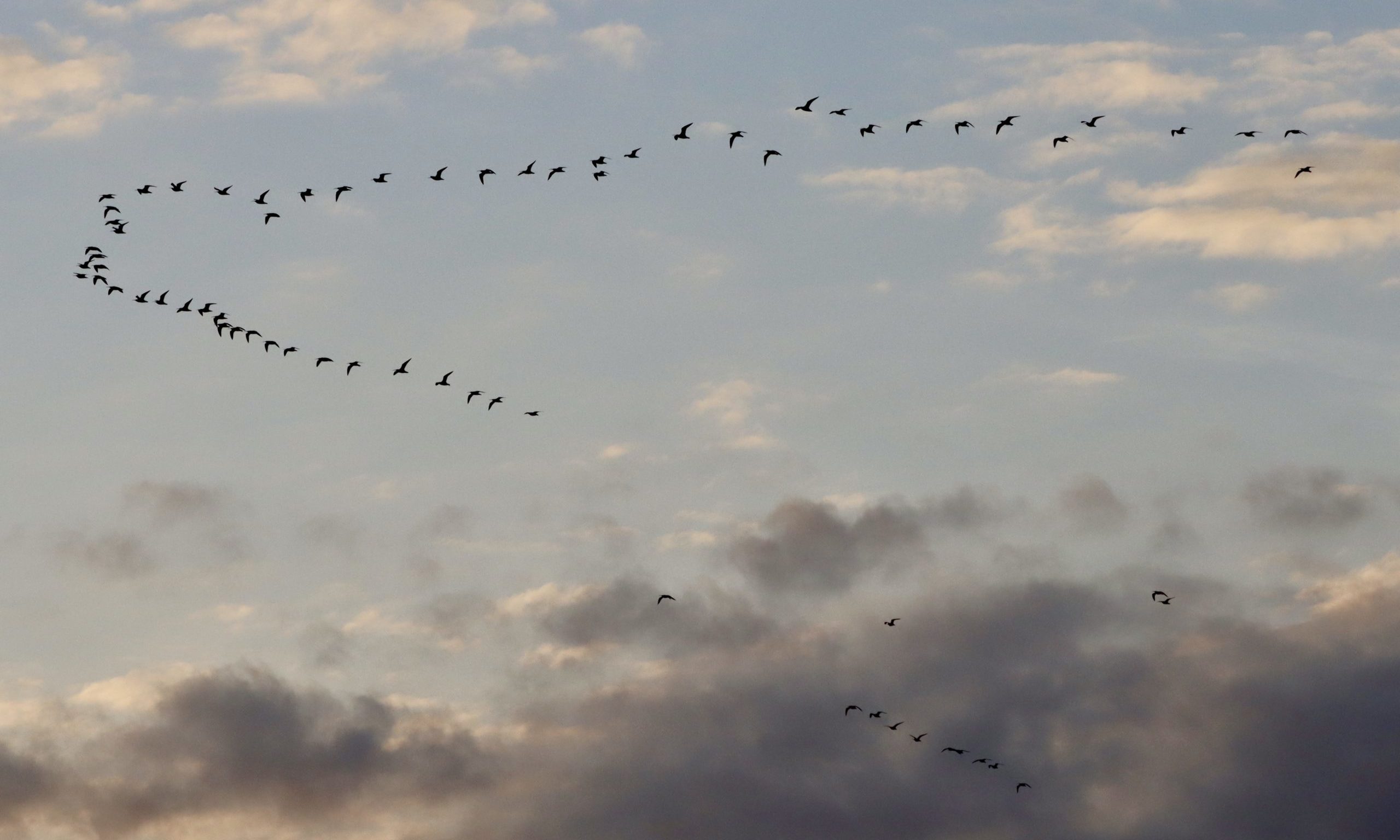 One of these areas includes the Laguna Madre ecoregion—a Western Hemisphere Shorebird Reserve Network (WHSRN) site of international importance that supports more than 100,000 shorebirds, including up to 20% of the world's population of endangered Piping Plover (Charadrius melodus)​—spanning southernmost Texas and northeastern Mexico. A combination of satellite transmitter tracking data and public sightings through eBird highlight this vast coastal prairie-salt lagoon system as an important one for Whimbrel—though just how many make use of this site is still unknown. 
Texas-based Manomet scientist Sam Wolfe and I spent three days scouting for Whimbrel in this area, meeting with local conservation experts to get a better handle on the situation. What did we learn? From what we could tell, the majority of Whimbrel were out in salty coastal prairie habitat, foraging on fiddler crabs alongside Long-billed Curlew, Wilson's Plover, and Gull-billed Tern. While we didn't see any concentrations larger than 50 birds, the vastness of this habitat type suggests that there still may be significant numbers here.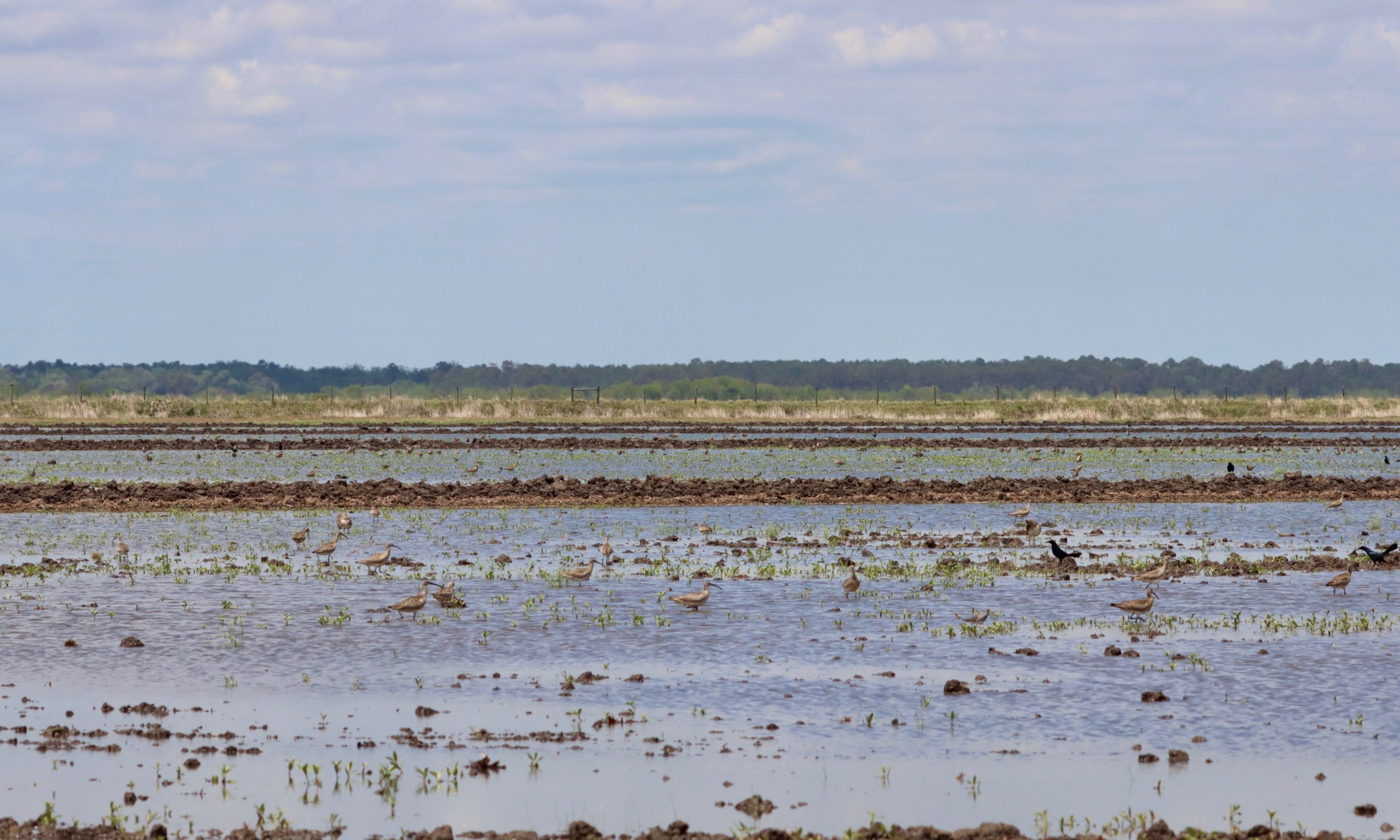 After Laguna Madre, Manomet VP of Resilient Habitats Brad Winn and I headed to Louisiana and continued monitoring efforts around the Rockefeller Wildlife Refuge area, where we identified a Whimbrel roost of more than 3,000 individuals last year. We also engaged with Louisiana Audubon to survey east of Rockefeller and met with Louisiana Department of Wildlife and Fisheries biologists to discuss next steps for Louisiana Whimbrel research. 
On April 25, our field crew grew in numbers as Senior Shorebird Scientist Shiloh Schulte and Manomet Field Technician Kirsti Carr joined Brad, Sam, and me on the outskirts of Anahuac NWR to join in on an exciting collaborative project with University of Oklahoma (OU) researchers. OU principal investigator Jeff Kelly and graduate student Paula Cimprich, bolstered by National Science Foundation funding, are studying the biological rules and mechanisms of long-distance flight by migratory birds in the Midcontinent Flyway. As part of this project, Paula selected the Whimbrel as an ideal "mid-sized" study species that is likely to perform long-distance, nocturnal flights through the flyway.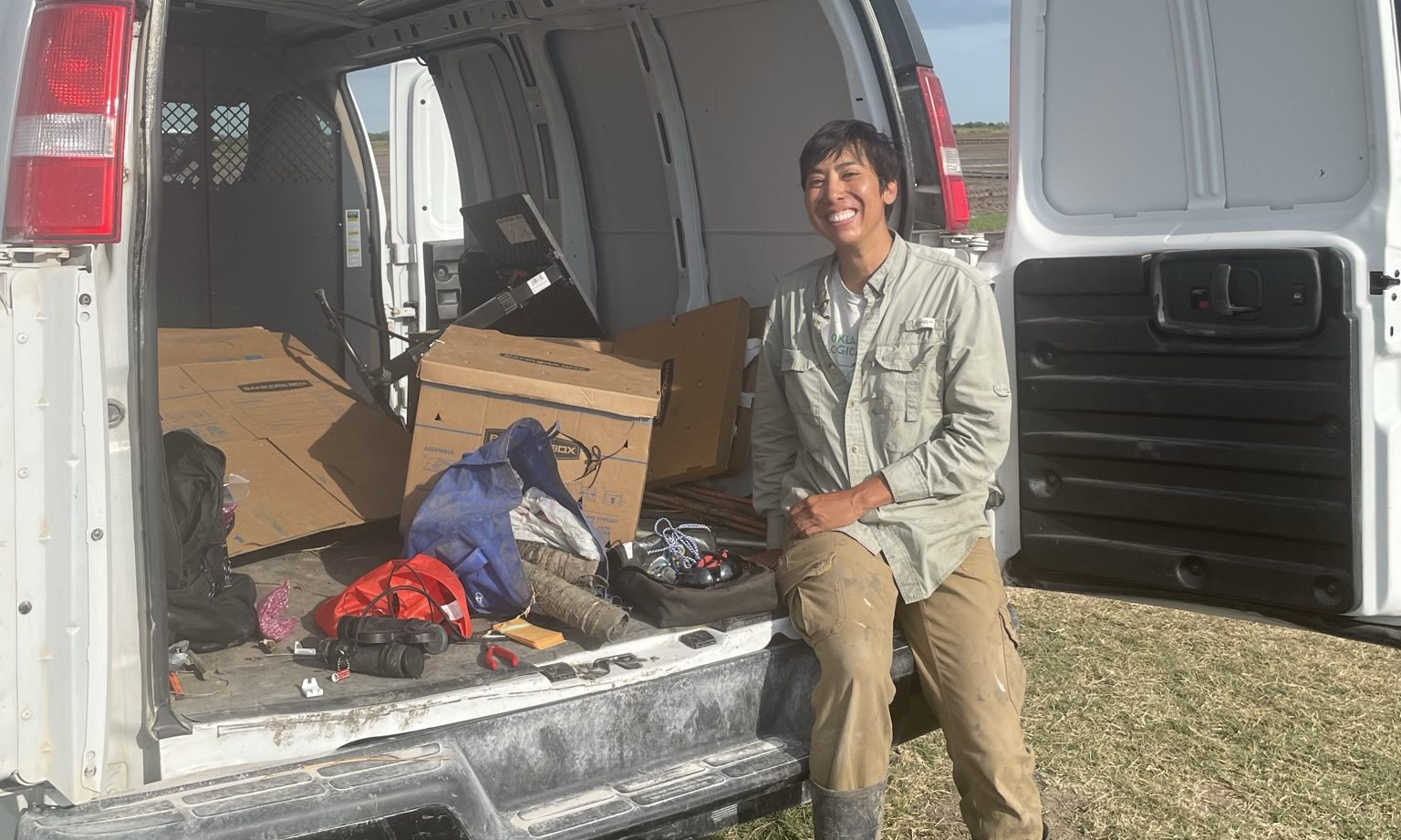 OU's goal for April 2022? To deploy 20 state-of-the-art GPS tags ("Ornitelas") on Whimbrel in the Anahuac National Wildlife Refuge, a WHSRN site in east Texas and staging area of global importance, supporting several thousand Whimbrel each spring. By tracking these birds on their subsequent flights to their Arctic breeding grounds, the OU researchers will receive ground-breaking data on how the birds behave in the atmosphere on such an epic journey. 
One year ago, Paula reached out to us to see if we would be interested in collaborating with her on this effort. The pairing seemed logical—Manomet could provide expertise in Whimbrel natural history and tagging/capture knowledge, and OU would make available the tracking data to contribute toward our conservation goals.
In April 2021, Brad and I headed down to Texas and Louisiana to begin our Whimbrel work. We coordinated with Paula to gather preliminary count and habitat-use data, and then spent the winter of 2021-2022 on Zoom calls planning how to ensure that the field season in 2022 was a successful one in terms of catching birds and outfitting them with trackers. Cannon nets? Whoosh nets? Noose carpets? Decoys? Mist nets? We were going to need it all!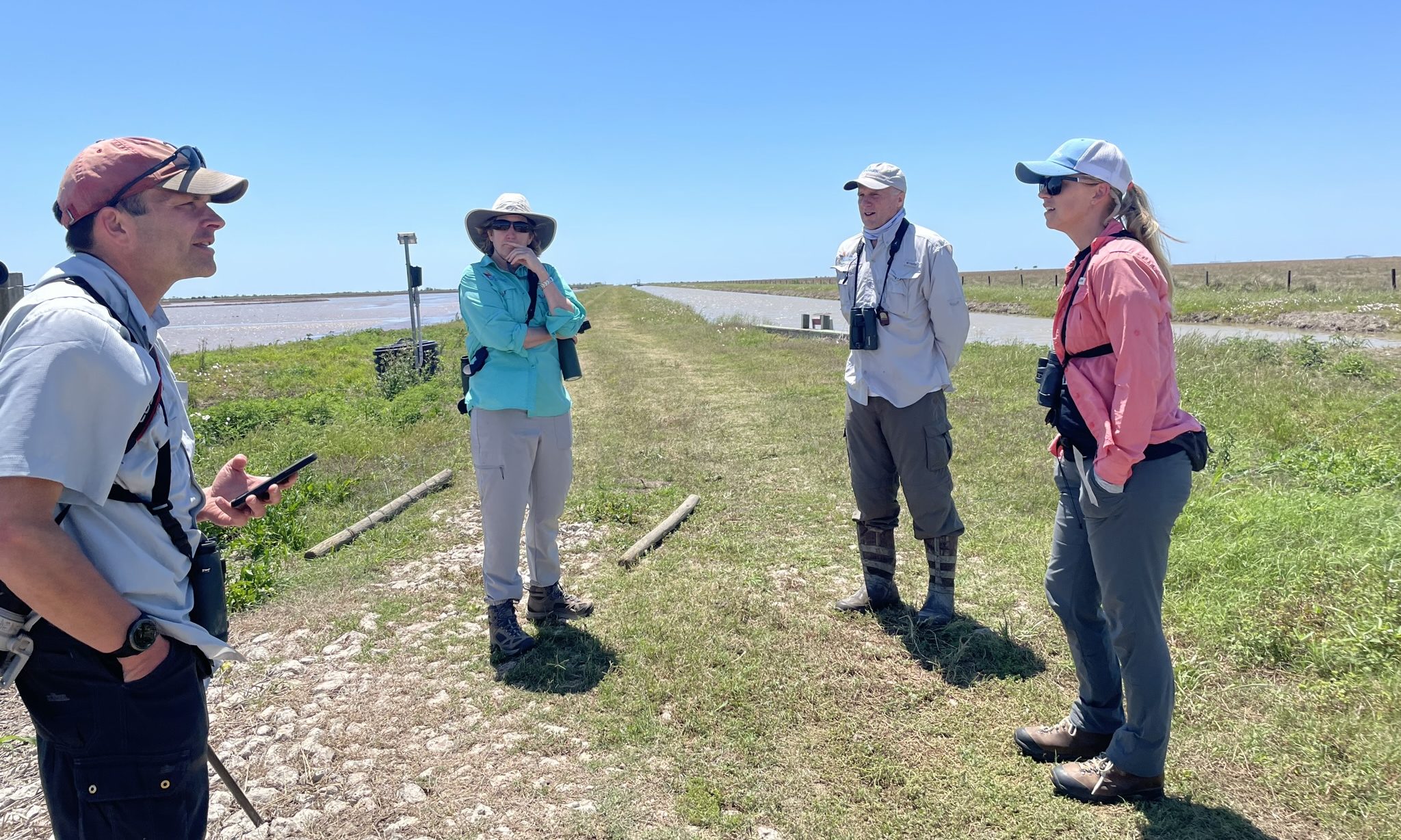 What we fully expected to be a daunting task, however, turned out to be quite the opposite; by the time our full team arrived on April 25, Paula's team of two had already successfully deployed 17 of the 20 tags. We were giddy with delight as she relayed updates to us—"two today!" or "just another four today!"
On April 26, we used the live tracking data to follow the birds to their feeding locations, typically freshly planted rice fields with shallow water, conditions that create a shorebird buffet full of crawfish. We ended up on a dusty road southeast of Winnie, Texas, and were immediately greeted by the tremulous calls of Whimbrel all around us. We estimated about 100 Whimbrel in the field, not to mention nearly 20 other shorebird species! After contacting the landowner to get permission for access, we spent the next five hours using our trapping strategy to capture foraging birds. One after another, we successfully caught three birds and were able to deploy the final three tags.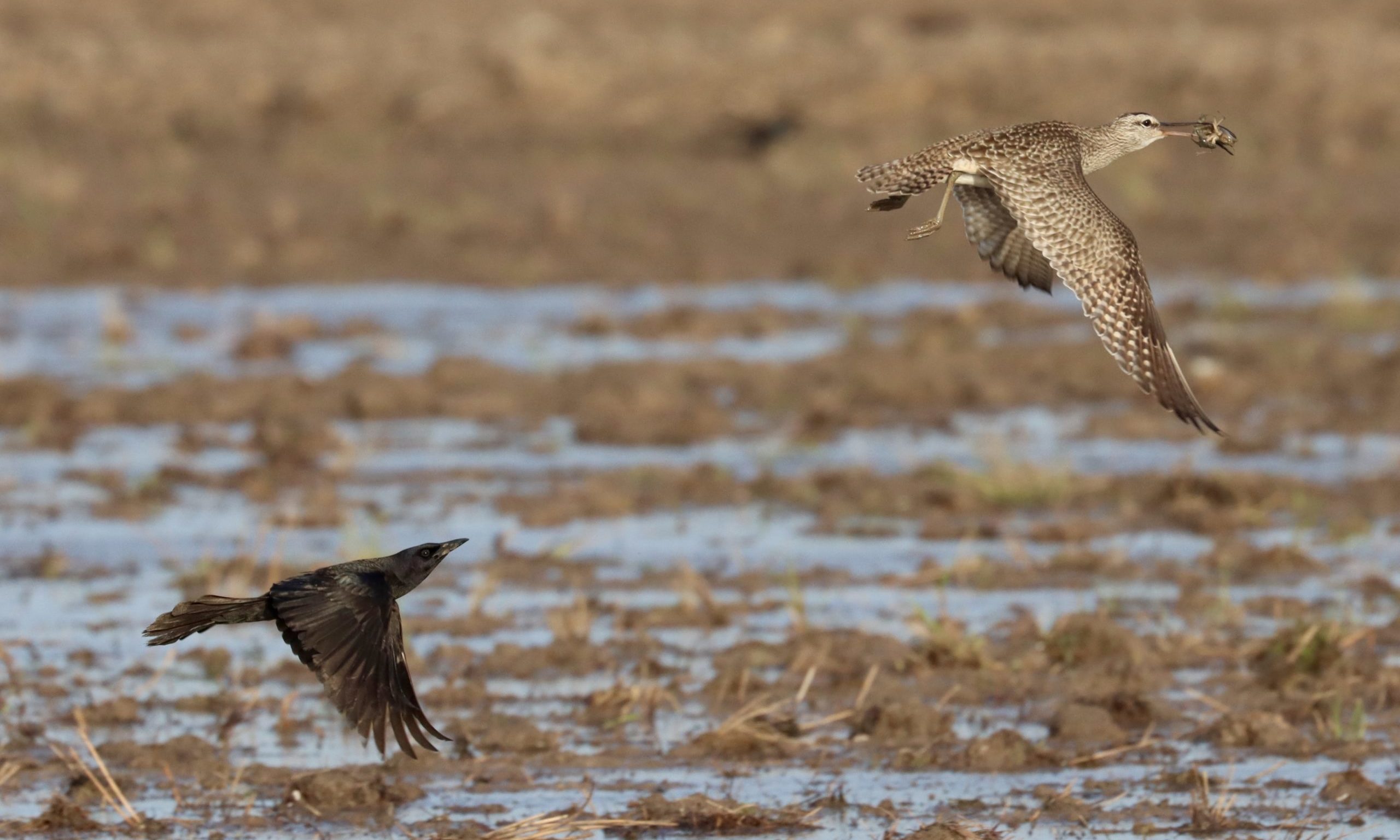 Given the tremendous efficiency of tag deployment, we shifted gears. One of the many benefits of the Ornitela tags is that they relay several fine-scale GPS quality locations per day, all of which are immediately accessible online if the tags are within decent cell phone reception. This allowed us to do same-day tracking of birds' movements, and start to immediately investigate how Whimbrel were behaving in these lands.
By tracking birds down to their feeding sites, we could start answering some of our key questions regarding this staging site: In what types of habitat are these birds feeding? How long do they stay at an individual feeding site? How large are their congregations? What other species are associated with them? During these site visits, we also engaged with the landowners to learn more about how this complex ecosystem operates and empower them with shorebird information when possible.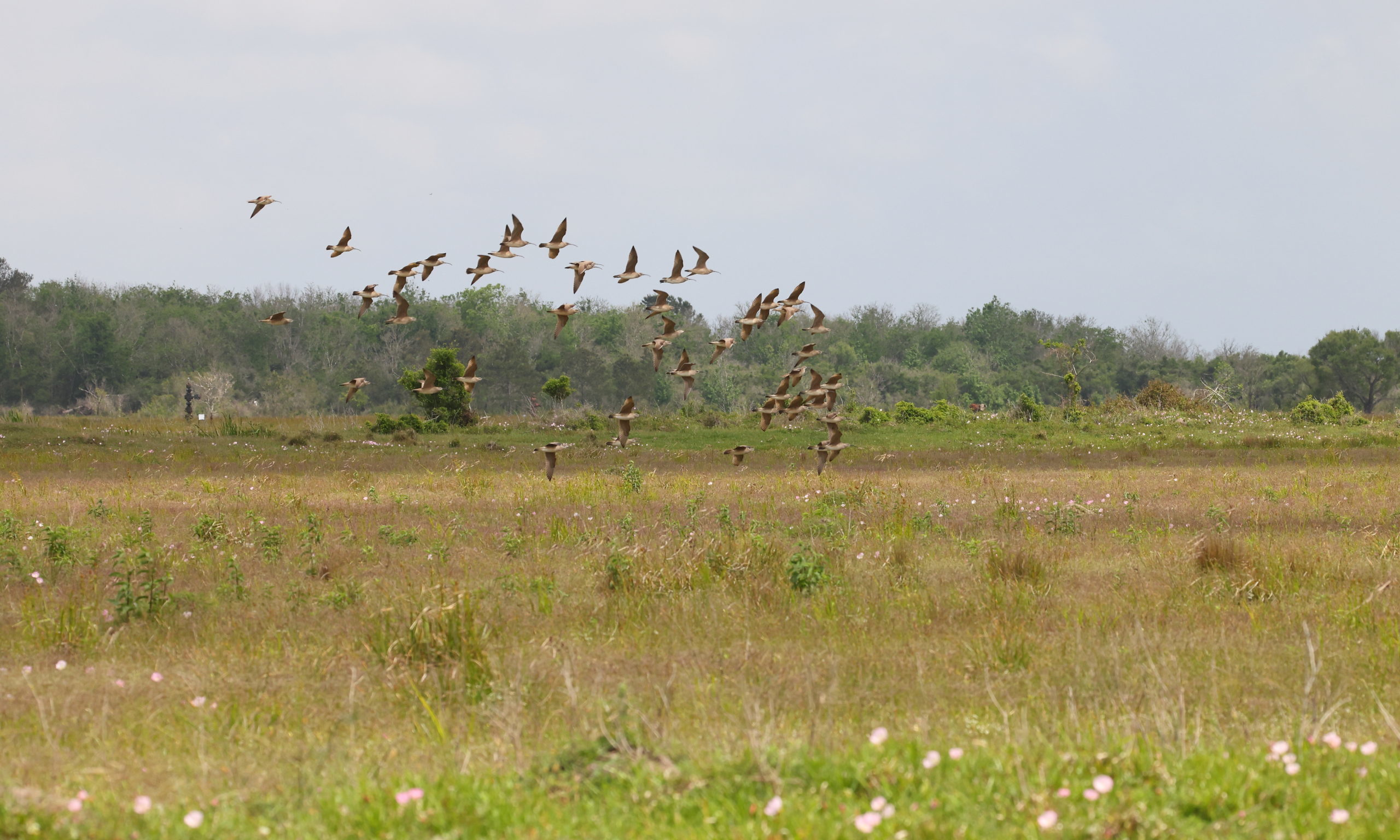 Now, a few weeks later, it's still thrilling to think about how much has been accomplished on this front in the last year. At the same time, it still feels like it's just the beginning, as we continue to gather the information to inform targeted conservation efforts. We know that our task is a daunting one, and to successfully curb Whimbrel population declines will require a unified front of partnership engagement, applied science, and habitat management.
Many thanks to the Knobloch Family Foundation for making this work possible.