The New Year is a great time to go even greener by signing up as a Manomet Sustainer. As a Sustainer, you will increase your impact on our work and minimize your impact on the environment!
Sustainers are a very special group of supporters who provide Manomet with an ongoing, monthly gift. They are steadfast in their commitment to help build a more sustainable future, and their generosity provides consistent, reliable support for increased work in conservation, sustainability, and science education.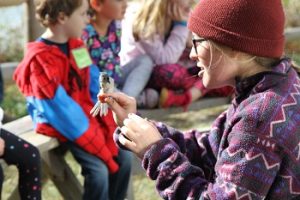 Since your gift is charged automatically to your credit card each month, you will receive less mail from us—saving paper, reducing costs, and ensuring more of your gift goes directly to supporting a sustainable future. And as a Manomet Sustainer you're always in control, which means it's easy to change or suspend your monthly gift at any time.
Best of all, you'll enjoy our exclusive member benefits for as long as your regular gifts continue, like a subscription to our Partnerships for Sustainability magazine, discounts on workshops and programs, and invitations to member-only events like Manomet in the Field.
We have a lot planned for this year: connecting even more children to nature, improving 100,000 acres of shorebird habitat, enrolling five million additional acres in our Climate Smart Land Network, and building on our work to help fisheries in Maine adapt to a changing climate.
Make a lasting impact on our world by becoming a Manomet Sustainer today!