Why are invasive green crabs, native to Europe, so capable of thriving in Maine's Atlantic waters? Local biology students are getting involved in researching the species and its impacts on the Gulf of Maine's coastal ecosystem. At Casco Bay High School in Portland, Maine, ninth grade biology students recently wrapped up a classroom-based study of green crabs. 
Through Manomet's partnership with the Gulf of Maine Research Institute (GMRI), students brought green crabs into their classroom and observed their behavior and molt patterns in tank experiments. This GMRI-led project is part of the Ecosystem Investigation Network, which works to connect organizations studying climate-related change in the Gulf of Maine with local communities and classrooms. During their study, students observed green crabs displaying aggressive behavior patterns relating to food and during interactions with other native and invasive crab species. 
The students also compared green crab behaviors to those of Asian shore crabs and Jonah crabs to understand why green crabs might be such successful invaders. One student's hypothesis: green crabs thrive because they are so competitive with each other and with other species.
Mapping shellfish access points for harvesters
With spring season in full swing, Manomet's Fisheries team has been thrilled to get back onto Maine's mudflats and the beginning of our work with five Casco Bay communities to map out shifting intertidal access points for shellfish harvesters. The work is part of a new project, working with municipal shellfish committees, harvesters, and town officials, to help ensure a sustainable and resilient future and livelihood for wild shellfish harvesters who work along Maine's coast.
In recent years, it's been increasingly challenging for shellfish harvesters to access intertidal mudflats, driven in part by rapid changes in coastal property ownership. When a property changes hands, it often impacts the "handshake" agreements that harvesters had with the previous owners to cross their property to reach the mudflat. Sea level rise and a lack of infrastructure also create access challenges. This issue, which causes cascading effects for coastal communities that depend on shellfish resources, has been highlighted through conversations across the Casco Bay Regional Shellfish Working Group and the Marine Resources Committee of the Maine State Legislature, and in recent reports by the Island Institute and Maine Coast Fishermen's Association.
Working alongside local harvesters, we are mapping current access points, sites where access may have been lost over the past few decades, and current or potential access points that should be a high priority to protect or enhance. We hope our initial findings in partnership with these five towns will improve access to shellfish flats in these communities and beyond.
We are also developing new methods for managing shellfish through the sequencing and analysis of environmental DNA, or eDNA as it's called. As animals and other living organisms move through their environment, they shed DNA in the form of scales, feathers, skin cells, feces, and other biological material. Using eDNA sequencing, we can identify which species are present in the environment from small water or sediment samples. 
Species management with eDNA technology
Since summer 2021, we've been working with eDNA to better understand quahog spawning events and to evaluate how eDNA can be used as a tool in shellfish management. In partnership with Pete Countway of Bigelow Labs, we spent last summer and fall collecting environmental samples from shoreline in Georgetown, Maine, and storing them in Bigelow's -80˚C freezers. We're currently still processing all of our samples–to see what that work looks like you can watch a short behind-the-scenes video we created during a Bigelow visit in January. During that trip, we tested out our portable eDNA field reader, and validated the standard quahog DNA that we are now using to identify quahog in the rest of our samples.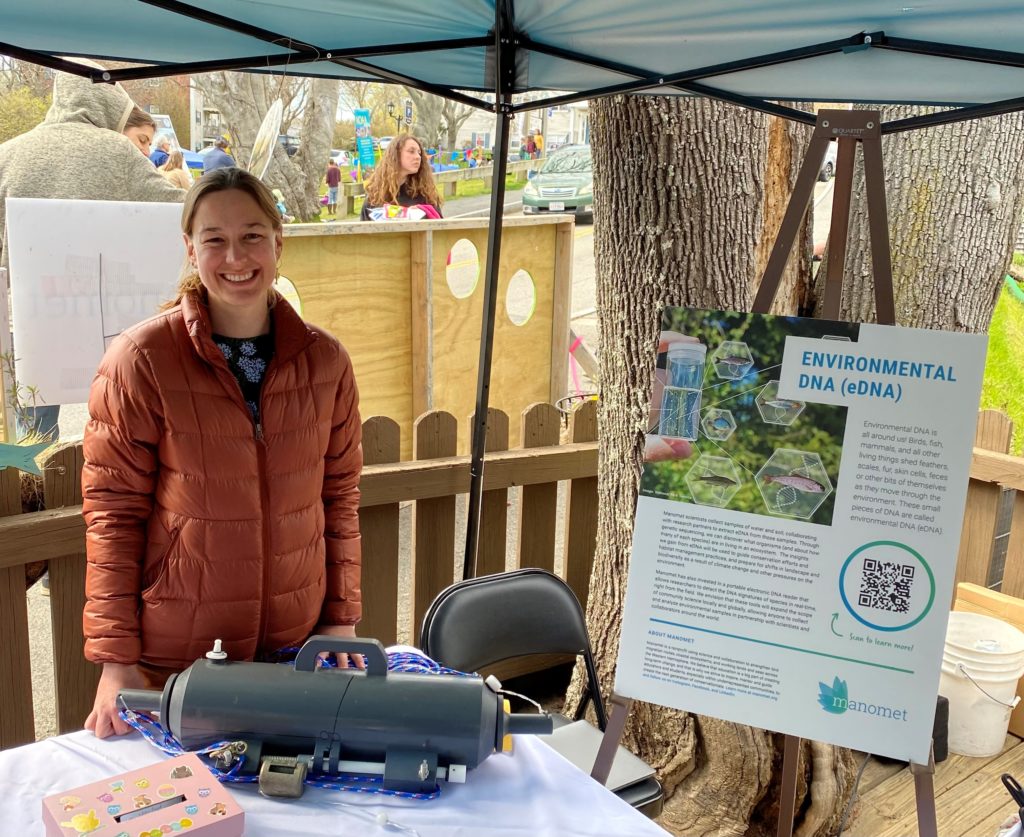 Our portable eDNA reader will also come in handy for researching other species, including a shorebird diet study that Manomet is launching on Cape Cod this summer. And with spring migration in full swing, river herring are busy making their return migration from the ocean into freshwater lakes and ponds to spawn.
On April 23, our senior fisheries program manager Emily Farr visited Manomet's headquarters team in Plymouth, Massachusetts, taking part in Plymouth's annual Herring Run Celebration at the Plimoth Grist Mill. At the celebration, she gave visitors a demonstration on how eDNA technology works, and explained how it could be used to monitor river herring and the effectiveness of habitat management tactics like removing dams that have blocked herring's upriver routes for decades. 
Recently, Farr also contributed to a panel on sustainable oceans as part of an event organized by Wharton School of Business–watch the panel discussion online to learn about coastal economies, ecosystems, and how these issues connect to you.