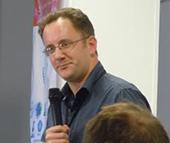 Rob Clay
Director, WHSRN
This article was co-written by Rob Clay, Director, WHSRN; Laura Chamberlin, Assistant Director for North America, WHSRN; and Monica Iglecia, Assistant Director of Shorebird Habitat.
Shorebirds are, by definition, birds of shorelines. Although many shorebirds breed in grasslands and similar habitats (e.g. the Arctic tundra), a select group of species is dependent on grassland habitats during the nonbreeding season. Grassland habitats are one of the most threatened habitat types in the Americas because of conversion to crops (especially corn and soy), but also overgrazing and too frequent fires, along with invasive non-native plants (e.g. African grasses).
"Grass pipers," as these shorebirds are affectionately called by many shorebird lovers, include some of the most threatened shorebird species, from the most-likely extinct Eskimo Curlew to the little-known Tawny-throated Dotterel. The future of the remaining "grass pipers" is dependent on the maintenance and wise management of grassland habitats.
A study recently published in the journal of Rangeland Ecology & Management investigated habitat selection by Buff-breasted Sandpipers and American Golden-Plovers on their wintering grounds in Uruguay and compared their needs with those of livestock production. The study sought to understand habitat selection by examining grass height, grassland type, tree cover invertebrate density in different paddocks based on location and height of grass. The results enabled the authors to make specific management recommendations that balance the needs of grassland shorebird species with the needs of livestock production.