Danielle Smaha
Director, Marketing and Communications
The Board of Trustees of Manomet Inc. announced today that it has selected Elizabeth (Lizzie) Schueler as its next President, effective April 20. Ms. Schueler succeeds John Hagan, who served as President for over 11 years.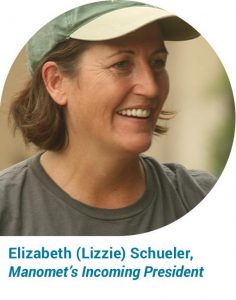 Ms. Schueler will lead Manomet's impressive conservation portfolio which includes world-class bird research and habitat restoration, and an emerging body of work focused on growing sustainable practices in forestry, fisheries, agriculture, and other businesses.
Ms. Schueler has had an impressive career that spans the nonprofit, corporate, and government sectors, with a particular emphasis on building and sustaining mission-driven public/private partnerships. Most recently, Ms. Schueler served as Vice President, Markets and Supply Chains, overseeing World Wildlife Fund's work to eliminate, reduce, or mitigate the key threats caused by commodity production globally. Previously, Ms. Schueler worked for Microsoft Corporation where she led two different corporate social responsibility programs, first in the Middle East and Africa, and then globally. She also worked for the United States Agency for International Development, and Waste Management International. A Massachusetts native, she is a graduate of the University of Massachusetts, Amherst, and Tufts University's Fletcher School of Law and Diplomacy. She is a self-professed "amateur yet enthusiastic" birder, and an avid outdoorswoman enjoying hiking, biking, kayaking, fly-fishing, and Nordic skiing.
"We are pleased to welcome Lizzie to Manomet," said Nancy Dempze, Manomet's Board Chair and a member of the Search Committee. "Her deep commitment to science-based sustainability and extensive networks in the conservation communities will be a terrific asset for Manomet.  Ms. Schueler's strategic and entrepreneurial abilities, team-building and management skills, pragmatism, and drive for excellence and results make her a perfect fit for Manomet and our vision for the future."
"I am honored with the trust the Board has placed in me and am thrilled to be joining an organization with such a storied history and deep roots in science-based conservation," says Schueler. "I look forward to working closely with the talented staff and partners to help shape the future of Manomet to address the rapidly evolving issues related to habitat loss and climate change."
About Manomet
Founded in 1969, Manomet is a science-driven, sustainability nonprofit organization that believes people can live and work today in ways that will enable our world to thrive and prosper tomorrow. Manomet's mission is to apply science and engage people to sustain our world. Visit www.manomet.org for more information.