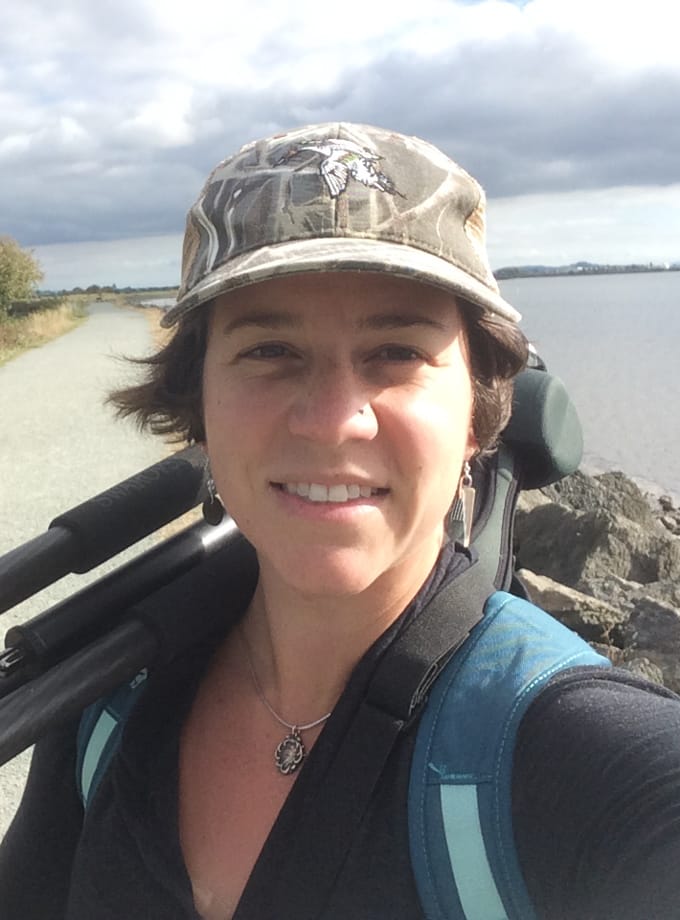 Monica Iglecia
Assistant Director, Shorebird Habitat Management
In April 2017, Manomet's Habitat Management Team hosted a Shorebird Ecology, Habitat Management and Conservation workshop in General Daniel Cerri near the city of Bahía Blanca with a focus on the estuary of Bahía Blanca, Argentina. The  Bahía Blanca Estuary was designated as a Western Hemisphere Shorebird Reserve site of Regional Importance in 2016 and is composed of six subsites, with a proposed seventh, managed by multiple authorities.
Over the last year, site partners participated in a Site Assessment Tool workshop and a Good Governance Workshop coordinated by the WHSRN Executive Office. The April Workshop built upon the foundation laid at these previous workshops. Pablo Petracci with the Grupo de Estudios en Conservacion y Manejo (The Group for Studies in Conservation and Management) and Universidad Nacional del Sur (The National University of the South) was our local lead for coordinating the workshop along with Martin Sotelo of the Organismo Provincial para el Desarollo Sostenible (Provincial Organization for Sustainable Development).
This workshop was larger than normal with 40 participants and there was a waitlist of approximately 20 additional people. Workshop participants represented a wide variety of organizations in Argentina including the local Port Authorities, protected areas, birding, fishing, and nautical clubs, University, federal agencies, and representatives from other Argentinian WHSRN sites.
The workshop was truly a community effort. The Port Authority provided boats and captains for field excursions into the large estuary and the workshop was held at Puerto Cuatreros, a fishing club in General Cerri. A local artist made crocheted shorebirds for each participant.
Workshop presentations and discussions included the regional Bahia Blanca Conservation Plan, and ways to reduce regional threats to shorebirds using the estuary. The workshop, and its goals to convene local stakeholders in shorebird conservation efforts, was dedicated to the memory of Allan Baker for his significant conservation efforts in southern Argentina.
—-Spanish—
Taller Bahía Blanca
En abril de 2017, el equipo de Manejo de Hábitat del Manomet, realizó un taller de Ecología, Manejo del Hábitat y Conservación de Aves Playeras en General Daniel Cerri, una pequeña localidad costera que forma parte de la ciudad de Bahía Blanca, el cual estuvo focalizado en el Estuario de la Bahía Blanca, Argentina.
El Estuario de la Bahía Blanca fue designado como Sitio de Importancia Regional de la Red Hemisférica de Reservas para Aves Playeras (RHRAP) en el año 2016 y está compuesto por 6 subsitios, con la propuesta de un séptimo subsitio a ser incorporado. En el área convergen distintas jurisdicciones y por este motivo está administrado por múltiples autoridades.
Durante el año pasado, administradores del sitio y sus socios, participaron de los talleres de Evaluación para Sitios y de Buena Gobernanza, coordinados por la Oficina Ejecutiva de la RHRAP. El taller realizado en el pasado mes de abril, fue la continuación de las bases construidas durante estos talleres previos. Pablo Petracci desde Gekko-Grupo de Estudios en Conservación y Manejo de la Universidad Nacional del Sur fue el líder local a cargo de la coordinación del taller junto al Guardaparque Martin Sotelo del Organismo Provincial para el Desarrollo Sostenible  de la provincia de Buenos Aires.
Este taller tuvo una participación algo superior a lo acostumbrado, con más de 40 personas y una lista de espera de más de 20 cupos. Los asistentes al taller representaron a una amplia variedad de organizaciones de Argentina incluyendo a las autoridades del puerto local, áreas protegidas, clubes de observadores de aves, clubes de pesca y náutica, ongs, universidades, estudiantes de biología, guardaparques, agencias federales, municipales y representantes de otros sitios de la RHRAP de Argentina.
El taller fue un verdadero esfuerzo comunitario. Las autoridades del Puerto de Ing. White proveyeron de botes y capitanes para las salidas de campo para poder recorrer uno de los estuarios más grandes de Sudamérica teniendo como base del taller las instalaciones del Club de Pesca y Náutica de Puerto Cuatreros en General Daniel Cerri. Una artista local diseño y realizo hermosos presentes para cada uno de los participantes y docentes del taller, pequeñas aves playeras hechas en crochet.
Las presentaciones del taller y discusiones incluyeron el plan de conservación regional para el Estuario de la Bahía Blanca y las formas de reducir el impacto de las principales amenazas que enfrentan las aves playeras en el ecosistema. El taller y sus objetivos, que buscaron reforzar las acciones tendientes a reforzar el involucramientos de los distintos actores locales en la conservación de las aves playeras, fueron dedicadas a la memoria del Dr. Allan Baker por sus esfuerzos en la conservación de estas aves en el sur de la Argentina.
Videos
https://www.youtube.com/watch?v=u5u4RU3AnQA
https://www.youtube.com/watch?v=QPDxuI6teD4
https://www.youtube.com/watch?v=Y-SDmkmJV2I&feature=youtu.be
News
http://www.lanueva.com/el-pais/900663/tercer-taller-sobre-aves-playeras-en-cuatreros.html