Thank you for your generous support of Manomet!
We are grateful for your commitment to our shared vision of building a better, more sustainable world.
As a member and donor, you make our science possible, and we want you to see firsthand how you are helping us change the world. Our biannual series of Manomet in the Field events allow you to do just that. These exclusive, member-only events are focused on education, conservation, and sustainability, and they allow you to experience our mission in action.
Space is limited and spots tend to fill up quickly, so be sure to register as early as possible. After you sign up, you will receive an email confirmation that will include additional information on meeting location, time, and other pertinent details.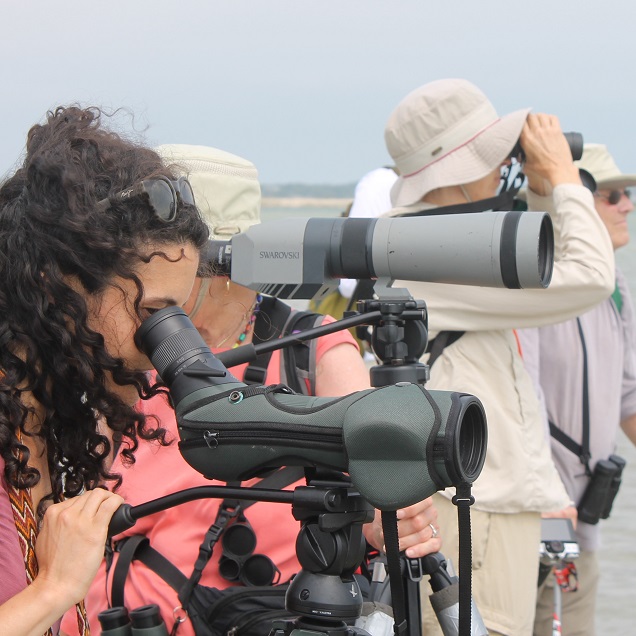 To register, please log-in below or contact Justin Barrett, Senior Manager of Development Operations at 508-224-6521, ext. 237, or jbarrett@manomet.org. Please do not hesitate to call if you have any questions.
We hope to see you at one—or all—of this spring's Manomet in the Field events!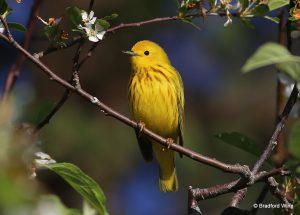 Spring Warbler Extravaganza
Mount Auburn Cemetery, Cambridge, Mass.
Thursday, May 9 (Rain date is May 16)
7:00 – 9:00AM
Led by: Trevor Lloyd-Evans, Director of Landbird Conservation
Join Manomet for a trip to Mount Auburn Cemetery for the start of spring songbird migration. We will explore the varied natural habitats and multitude of bird species in a magnificent and lovely setting. Mount Auburn Cemetery, with its beautiful rolling terrain, is a premier location to see an abundance of migrant birds.
Trevor Lloyd-Evans will lead us on a walk around the cemetery grounds as we test our "birding by ear" skills, and we will have ample opportunity to enjoy the spectacular feathered gems we know as wood warblers. We hope you can join us for what is sure to be a delightful spring experience in a wonderful setting.
Meet at 7:00AM at Mount Auburn Cemetery. Don't forget to bring comfortable walking shoes, binoculars if you have them (we will have a few pairs for sharing), and water. If you're interested in carpooling with Manomet, please call Chris Boudreaux at (508) 224-6521, ext. 226 or email cboudreaux@manomet.org.
Cost: $45 per person
Limit: 12 participants
May on the Bay
Fortescue Beach, NJ
Saturday, May 11 (Rain or Shine)
3:00 – 6:00PM
Led by: Laura Chamberlin, Assistant Director for North America, WHSRN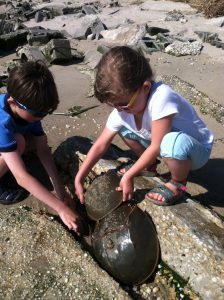 Help us kick off the May on the Bay season with an afternoon of shorebirds and horseshoe crabs on World Migratory Bird Day!
Our driving tour begins at high tide at Fortescue Beach—one of the best spawning beaches on Delaware Bay for horseshoe crab viewing—before continuing to nearby beaches and salt marshes to see what shorebirds we can find. Afterward, we will return to Fortescue Beach, where we will help any stranded horseshoe crabs that need rescuing.
This event is a great opportunity to learn more about the important conservation work being done on Delaware Bay, get up-close and personal with the horseshoe crabs coming ashore, and see beautiful shorebirds returning to the Arctic after a winter in South America.
We will meet at the far end of the large parking lot at Fortescue Beach at 3:00PM (map to be provided once you RSVP). Be sure to bring your own snacks, water, sunscreen, and insect repellant.
Cost: FREE for Manomet members
Limit: 15 participants
Nauset Marsh and Salt Pond Hike
Salt Pond Visitor Center, Eastham, Mass.
Wednesday, May 29
9:00 – 11:00AM
Led by: Eric Walberg, Senior Program Leader, Climate Services Program
Enjoy a refreshing, morning hike with Manomet in one of the most scenic parts of the Outer Cape. Eric Walberg, who heads Manomet's Climate Services Program, will lead us on a hike of the Nauset Marsh Trail, a 1-1/4 mile loop appropriate for hikers of all ages and skill levels. The trail winds along Salt Pond and Nauset Marsh, offering spectacular scenery and the opportunity to see a wide variety of both native and migrating birds.
Nauset Marsh, like all of Cape Cod, is part of the Atlantic Coastal Pine Barrens ecoregion, and Eric Walberg will offer his insights into how Manomet is working to improve planning and management of this important region through a green infrastructure analysis. This hike is a chance to learn more about an important Manomet program, the pine barrens, and regional conservation efforts.
Park at the Salt Pond Visitor Center and meet us at the adjacent amphitheater where the trail begins. The visitor center is located off Route 6 at 50 Nauset Road in Eastham. Be sure to pack water, sun screen, and bug repellent. And don't forget your binoculars and camera!
Cost: $20
Limit: 15 participants
Taste of Green Crabs
Georgetown, Maine
Wednesday, June 26 (Rain date is June 27)
9:30AM – 2:30PM
Led by: Ethel Wilkerson, Senior Program Manager, Sustainable Economies, and Marissa McMahan, Senior Fisheries Scientist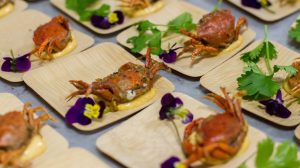 You may have heard or read about Manomet's work to find an edible solution to the green crab problem in Maine by creating a market for this invasive species. Now, we're giving you the chance to taste it for yourself! Join us on beautiful, scenic Georgetown Island for a special green crab tasting and an insider's view of the work Manomet is doing to create healthy and resilient fisheries in the Gulf of Maine.
Marissa McMahan will take us on a behind-the-scenes tour of our green crab sorting and storage facility, where you'll have the chance to get your hands dirty pulling traps and sorting crabs. We'll then travel to the Heal Eddy Clam Farm for a seaside picnic (bring your own lunch) and samples of dishes prepared from green crabs. After lunch, Ethel Wilkerson will lead us out onto the clam flats for a closer look or you can spend some time in the intertidal area searching for green crabs.
Meet at 9:30 AM at the Park & Ride located at State Road and US Route 1 in Bath, Maine. If you're using a GPS for directions, use the address 8 State Rd., Bath, Maine. Don't forget to bring muck boots or shoes you won't mind getting muddy, a bag lunch, sunscreen, and water.
Cost: $20
Limit: 12 participants