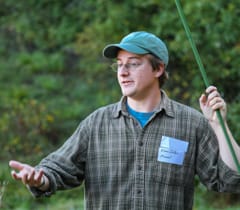 Evan Dalton
Lead Instructor, Landbird Conservation
Join Manomet for a series of all-inclusive birding crash courses and to celebrate the return of our favorite spring migrants!
Over 25 species of warbler can be found during migration in the Northeast,
each with unique plumages, songs, and habits. This course will
run through the species you can expect to see this spring and offer
many useful tips for warbler finding and identification.
$10 for members
$20 for nonmembers
Don't miss out—participation is limited and spots will fill quickly!