Chris Boudreaux
Director of Development
As you think about what's important to you and the causes you care about, we hope you will remember Manomet and the difference you can make in our world when you support our work.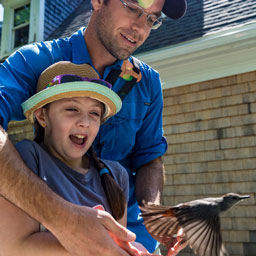 Whether you make a gift today or anytime this holiday season, you can take comfort knowing your generosity helps us use science to create a healthier, more resilient world and makes possible important work such as…
Researching shorebird decline in the Arctic and working to protect their habitat throughout the Americas.
Working to restore fisheries throughout the Gulf of Maine.
Helping to prepare more than 33 million acres of forest in North America for the effects of climate change.
Connecting people of all ages to the wonders of the natural world and training the next generation of climate leaders. And so much more!
So please, consider a year-end, tax-deductible gift to support Manomet, our work, and our commitment to science. With your help, we can build a better future, where ecosystems and the people who live in them can thrive together.