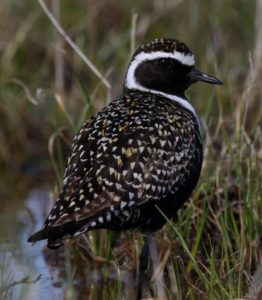 With the unequivocal warming of our climate and alarming threats to Earth's biodiversity, science has never been more important, and neither has your support for Manomet and our work.
For more than 50 years, Manomet has been using science to make our world a better, more resilient place.
It's why we're in the Arctic researching shorebird decline and working with partners throughout the Americas to protect their habitat.
It's why we've operated our banding lab since 1969, collecting 50 years of valuable migration data used by scientists around the world.
It's why you'll find Manomet in Maine's small towns working to restore fisheries, and in rural communities throughout North America helping to prepare forests for the effects of climate change.
When you support Manomet, YOU make this possible. YOU allow us to find science-driven solutions to the challenges we face. And YOU help us create a better, more resilient world.
So please, consider a gift to support Manomet, our work, and our commitment to science. With your help, we can build a better future, where ecosystems and the people who live in them can thrive together.
Thank you.
Every year, Manomet scientists and partner researchers fit new Whimbrels with GPS trackers to monitor their migratory patterns
Knowing where birds go throughout their annual lifecycle provides scientists with insights into regions where habitat management and conservation efforts have the most impact on rapidly declining shorebird species.
For more than 50 years, Manomet's Banding Lab has been connecting people of all ages to nature.
Manomet's intertidal green crab research is often conducted with students and community scientists.
By understanding climate science, forest managers can develop science-based approaches to maximize the vitality and resilience of forests in a rapidly warming climate.
Conducting research to protect Patagonia's Magellanic Plover and the future of the species