Manomet is part of the teams awarded the Assawompset Ponds and Plympton action grants.
89% of Communities Participating in Municipal Vulnerability Preparedness Program
FITCHBURG – Continuing its historic investment in climate change resiliency, the Baker-Polito Administration today announced $11.1 million in grants to cities and towns through the Municipal Vulnerability Preparedness (MVP) Program. This announcement brings total state investment in climate change resilience through the MVP program to over $44 million since 2017. The popular grant and designation program provides communities with funding and technical support to identify climate hazards, develop strategies to improve resilience, and implement priority actions to adapt to climate change. The grants were announced by Governor Charlie Baker and Lieutenant Governor Karyn Polito in Fitchburg as part of the Baker-Polito Administration's celebration of Climate Week in the Commonwealth.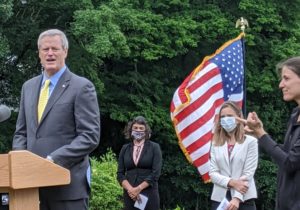 "Projects like those receiving awards today are not only critical for the resilience of our communities, but also create local jobs, contribute to the economy, and avoid future costs," said Governor Charlie Baker. "As we celebrate Climate Week, I am proud of the $44 million we've invested to date through MVP, and we look forward to continuing the strong partnerships we've built with cities and towns to prepare for climate change impacts throughout the Commonwealth."
"The continued success of the MVP program shows how important building resiliency in Massachusetts communities is to our municipal partners and residents," said Lieutenant Governor Karyn Polito. "We are thrilled to reach 89 percent participation in this voluntary program and are excited to continue to invest in efforts to build climate resilience in the Commonwealth."
With this announcement, 89% of Massachusetts cities and towns, or 312 municipalities, are now enrolled in the MVP program, which pairs local leadership and knowledge with a significant investment of resources and funding from the Commonwealth to address ongoing climate change impacts like sea level rise, inland flooding, storms, and extreme temperatures. The program was created was created in 2017 as part of Governor Baker's Executive Order 569.
The $11.1 million announced today will go towards MVP Planning Grants and Action Grants. Planning Grants support communities in working with a state-certified technical assistance provider to lead a community-wide planning workshop to identify key climate-related hazards, vulnerabilities and strengths, develop adaptation actions, and prioritize next steps. Results of the workshops and planning efforts inform existing local plans, grant applications, and policies.
Communities are then eligible for competitive MVP Action Grant funding to implement priority on-the-ground projects. Projects are focused on proactive strategies to address climate change impacts and may include retrofitting and adapting infrastructure, actions to invest in and protect environmental justice communities and improve public health, detailed vulnerability assessments or design and engineering studies, stormwater upgrades, dam retrofits and removals, culvert upgrades, drought mitigation, energy resilience, mosquito control initiatives, and that focus on implementing nature-based solutions such as wetland restoration and floodplain protection.
"In this fourth round of MVP Action Grants, we are seeing the continuation of many projects we helped fund in the planning stage that are now ready for on-the-ground implementation," said Energy and Environmental Affairs Secretary Kathleen Theoharides. "We are pleased to see the hard work of our municipal partners pay off in this way and are also excited for the many new communities that are just starting to take action to build resilience to climate change through the MVP planning process."
The following communities will receive funding to complete the MVP planning process in 2020-2021:
Ashburnham Central $22,000
Ashby Central $27,000
Berkley Southeast $15,000
Carlisle Northeast $27,000
Cheshire Berkshires & Hilltowns $32,000
Chester Berkshires & Hilltowns $26,500
Foxborough Greater Boston $17,000
Granville Berkshires & Hilltowns $27,000
Hampden Greater Connecticut River Valley $40,000
Hardwick Greater Connecticut River Valley $20,000
Heath Berkshires & Hilltowns $27,000
Holbrook Greater Boston $32,000
Hopedale Central $15,000
Leyden Greater Connecticut River Valley $27,000
Mount Washington Berkshires & Hilltowns $20,000
New Braintree Greater Connecticut River Valley $20,000
Otis Berkshires & Hilltowns $20,000
Petersham Greater Connecticut River Valley $20,000
Richmond Berkshires & Hilltowns $20,000
Stockbridge Berkshires & Hilltowns $38,000
Upton Central $20,000
West Brookfield Greater Connecticut River Valley $20,000
Westhampton Berkshires & Hilltowns $20,000
Whitman Greater Boston $29,000
Wilbraham Greater Connecticut River Valley $32,000
Wilmington Northeast $31,000
Total (26) $644,500
The following communities were awarded Action Grants:
Agawam – Agawam Stormwater Master Plan – $216,750
Arlington & Resilient Mystic Collaborative –  Wicked Hot Mystic – $186,200
Athol & North Quabbin Community Coalition – Lord Pond Plaza Improvement Project – $117,760
Auburn – Leesville Pond Water Quality Protection and Community-Wide Resiliency Improvements – $209,895
Belchertown – Enhancing Water Supply Reliability: Resilient Water Storage and Water Conservation – Design & Implementation – $698,356
Blandford – Resilient Community-Driven Master Plan + Resilient Regulatory Work $102,824
Bolton, Harvard, & Devens – Apple Country Ecological Climate Resiliency and Carbon Planning Assessment – $250,000
Boston – City of Boston Heat Resilience Planning Study – $280,070
Braintree  -Monatiquot River Restoration – Construction – $750,000
Cambridge & Metro Mayors – Building Resilience to Climate Driven Heat in Metro Boston – $268,820
Chelsea  -Urban Heat Island Mitigation Project – $262,996
East Longmeadow – Comprehensive Master Plan – $84,833
Easthampton – Green Infrastructure Planning and Resiliency Design for Cherry Street – $175,957
Fall River, Dighton, Somerset, & Swansea – Regional Emergency Water System Interconnectivity Analysis – $100,650
Fitchburg – John Fitch Highway – A Resilient Road Corridor – $271,787
Granby – Resilient Regulatory Work and Refocusing on Climate Resilience Pathway in Master Plan – $34,272
Great Barrington – Climate Action, Resilience, and Equity Great Barrington (CARE GB) – $70,400
Haverhill – Little River Dam Removal Feasibility Study – $129,693
Holyoke – Holyoke Urban Forest Equity Plan – $135,032
Lakeville, Middleborough, Freetown, Rochester, Taunton, & New Bedford -Assawompset Ponds Complex Watershed Management and Climate Action Plan  -$93,236
Lawrence – Flood Study and DPW Yard Adaptation Plan – $213,418
Leominster – Monoosnoc Brook Bank Stabilization Project – $200,661
Lexington & Resilient Mystic Collaborative – Upper Mystic River Watershed Regional Stormwater Wetlands – $670,000
Littleton Watershed Protection for Climate Resiliency- Brown's Woods Acquisition – $763,050
Lowell – Claypit Brook Climate Resilience Stormwater Management Capital Improvement Plan – $138,000
Lynn – Strawberry Brook Green Infrastructure Implementation $199,090
Malden Malden River Works – $150,015
Medford – Conceptualization and Community Building for Equitable, Community-Driven Resilience Hubs in Medford – $202,485
Milford – Green Stormwater Infrastructure in Milford Town Park – $419,123
Millbury – Armory Village Green Infrastructure Project – Phase II – $125,600
Natick & Charles River Watershed – Building Resilience Across the Charles River Watershed – $264,171
Newburyport – Resilient Critical Infrastructure: Adapting a Wastewater Treatment Facility, Underground Electric Lines, and Public Rail Trail to Future Sea Level Rise and Storm Surge – $1,000,000
Plympton – Building a Municipal Resilience Portfolio: Assessment of Critical Land in the Winnetuxet River Corridor – $41,929
Provincetown – Permit Level Design of the Ryder Street Outfall Relocation and Drainage Improvements – $70,465
Revere – Coastal Resilience Feasibility Study for the Point of Pines and Riverside Area – $210,689
Salisbury – Resilient Rings Island: Preventing a Neighborhood from Being Stranded by Flooding – $250,000
South Hadley – Climate Resilient South Hadley – $105,000
Springfield – People-Focused Resilient Redesign and Retrofits for Community/Civic Infrastructure and Critical Facilities – $210,422
Stow & Hudson – Assessing the Health of Lake Boon – A Key to Climate Resiliency in Stow & Hudson, MA – and Beyond – $154,000
Williamstown & Mohawk Trail Woodlands Partnership – Mohawk Trail Woodland Partnership Forest Stewardship, Resilience, and Climate Adaptation – $164,575
Windsor – River Road Site 1 Culvert – $460,000
Total (41) $10,452,224
MVP supports implementation of the State Hazard Mitigation and Climate Adaptation Plan,released in September 2018, which provided a national model of integrating hazard mitigation priorities with forward-looking climate change data and solutions. The plan is implemented within state government by the Resilient MA Action Team, an inter-agency team led by the Executive Office of Energy and Environmental Affairs and the Massachusetts Emergency Management Agency and staffed by designated Climate Change Coordinators from each Executive Office. The Resilient MA Action Team provides guidance and decision-making for Plan implementation, further refines priority actions, and ensures actions are integrated into agency practice and policy. The RMAT is also developing climate resilience standards and guidelines for state agencies and a project climate risk screening tool for the annual capital planning process and state-funded infrastructure grant programs to ensure that investments are climate-smart. These tools are anticipated to be launched on ResilientMA.org in early 2021.
"I am proud to be able to partner with the Governor, Lieutenant Governor, and Secretary Theoharides to promote the MVP program in the Worcester Middlesex District," said State Senator Dean Tran (R-Fitchburg). "The grants issued under this program by the Baker-Polito Administration will tremendously assist cities and towns in planning for climate change resiliency and implementing priority projects."
"The Municipal Vulnerability Preparedness (MVP) Program is vital to helping cities and towns address climate change at the local level," said State Representative Natalie Higgins (D-Leominster). "I am excited that Leominster secured funding for the Monoosnoc Brook Bank Stabilization Project through the MVP Program this year."
This year's Climate Week marks four years since Governor Baker signed Executive Order 569 which lays out a comprehensive approach to further reduce greenhouse gas emissions, safeguard residents, municipalities and businesses from the impacts of climate change, and build a more resilient Commonwealth. More recently, the Administration has committed to investing $1 billion in climate resiliency by 2022 and achieving net-zero greenhouse gas emissions by 2050.The Commonwealth is working to determine how best to achieve this emissions limit through its 2050 Roadmap, a nation-leading quantitative and qualitative planning effort that will chart multiple technical and policy pathways by which the Commonwealth can equitably and cost-effectively achieve net zero emissions by 2050, and will conclude with the publication of a long-range 2050 Roadmap report. Additionally, the Administration is working with municipalities throughout the Commonwealth to prepare for the impacts of climate change through the nation-leading Municipal Vulnerability Preparedness (MVP) Program, which has now enrolled 89 percent of cities and towns.
Recently, the Massachusetts Emergency Management Agency announced a new federal funding opportunity through FEMA that is designed to reduce, minimize or eliminate the increasing and varied natural hazards that result from our changing climate. The Building Resilient Infrastructure and Communities (BRIC) grant program will fund construction projects might include floodplain restorations, stormwater drainage and culvert upgrades, structural retrofits and floodproofing for community lifelines, and much more. Projects funded under the program are expected to include the incorporation of nature-based approaches to mitigating hazards whenever possible. More information on the BRIC program can be found by visiting MEMA's website.